The average delay between mental health symptom onset and treatment is 11 years.[1]
Why so long? It may be the lack of licensed clinicians. By 2025, the U.S. will have a 10,000 FTE shortfall of mental health professionals (SAMSHA). Or they're ashamed. Or they don't know where to turn.
There are so many barriers to mental health care.
And in the meantime, depression and anxiety disorders cost the global economy $1 trillion each year in lost productivity.
But what if all those barriers to mental health care could be removed?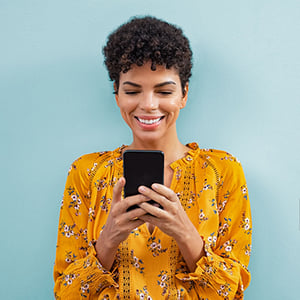 Now they can, with two innovative mental health services designed to make professional mental healthcare as accessible and affordable as ordering a pizza.
Introducing Animo, a digital behavioral health solution, and TextCoach, message-based coaching aimed at people who can't or prefer not to access traditional therapy.
Complete the form to speak with a WellRight representative about these exciting new solutions and how they can help you make mental health care more accessible for your employees.
What Is Animo?
Animo is a digital behavioral health platform built on a foundation of cognitive behavioral therapy (CBT), and helps by:
Providing round-the-clock access to mental health resources via the web or mobile devices.
Meeting the needs of people who are unable to participate in traditional CBT.
Delivering care in areas where mental health professionals are in short supply.
Animo users begin by taking an emotional fitness survey based on the scientific DASS-21 scale. The system then recommends CBT-based modules that address issues such as depression, anxiety, and stress.
Animo offers a library of emotional fitness tip sheets, flash courses, and games to:
Teach practical skills and coping strategies.
Create behavior change informed by the principles of CBT.
Conduct pre- and post-assessments to measure improvement.
What Is TextCoach?
TextCoach provides mental health counseling with a certified coach via secure text messaging that boosts emotional health and well-being. Participants can text with their coaches at any time using their mobile devices or desktop computers.
TextCoach is:
Effective, convenient, and stigma-free.
Available without appointments, wait times, or judgment. Participants can begin texting immediately.
There are no restrictions on messages between participants and coaches.
All communication between participants and coaches is encrypted and stored securely.
TextCoach and Animo are available to employers, brokers, and health plans looking to offer comprehensive, real-world, accessible mental health support to wellness program members.
To learn more, please complete the form and a WellRight representative will be in touch!
---
1 https://www.nami.org/NAMI/media/NAMI-Media/Infographics/NAMI-Mental-Health-Care-Matters-FINAL.pdf