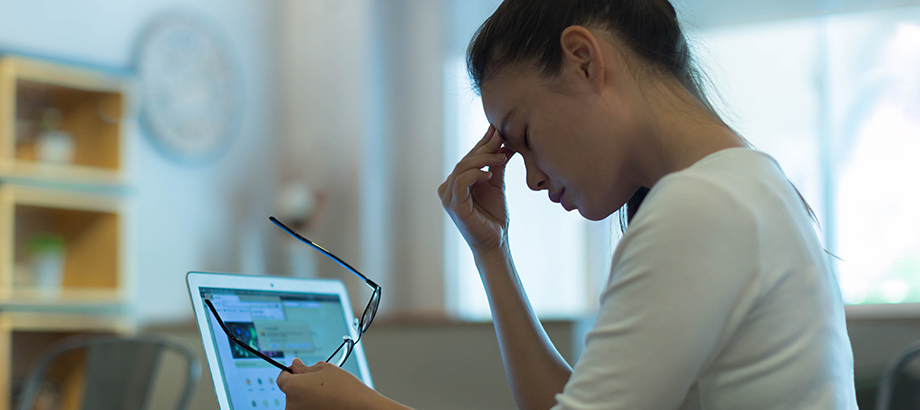 Information overload isn't a new concept, but the stakes have gotten higher over the last year.
In early 2020, the pandemic forced entire companies to go remote or downsize in a matter of weeks. Employees took the brunt of the stress, having to suddenly juggle work and home responsibilities at the same time.
Add to that the mother of all information overloads—a constant stream of data about the deadliest global pandemic in over a century during one of the most politically divisive times in U.S. history—and it's no wonder your employees are overwhelmed.
Pandemic and politics notwithstanding, information overload is a very real danger in today's workplaces. Between days full of Zoom calls and fielding Slack messages and emails after hours, today's employees never seem to be able to clock out. They are stressed out, burned out, and mentally drained.
In our webinar
Recognizing and Overcoming Pandemic Stress: What We've Learned One Year Later
, Dr. Samoon Ahmad, founder of the Integrative Center for Wellness discusses how pandemic-related stress can impact your employees' physical and mental well-being. It's a great starting point to help your organization understand the magnitude of this issue and validate how employees are feeling.
In this blog, we'll look at the impact of information overload and how your workplace wellness program can help employees cope with this new reality.
Information Overload and Burnout
Employees were already experiencing the impacts of burnout before 2020 hit, but it has become so prevalent the ICD-10 (International Classification of Diseases) now considers it an "occupational phenomenon." It's defined as a "syndrome conceptualized as resulting from chronic workplace stress that has not been successfully managed."
While it's not considered a medical condition, burnout is a common reason why employees seek mental health and coaching assistance.
In the fall of 2020, Jennifer Moss, workplace expert and author of The Burnout Epidemic (HBR Press, September 2021), teamed up with fellow researchers to conduct a study on the impact of workplace burnout among employees at or above the supervisor level. Their findings highlight how critical this phenomenon has become:
89% of respondents said their work life was getting worse.
85% said their well-being had declined.
56% said their job demands had increased.
62% of the people who were struggling to manage their workloads had experienced burnout "often" or "extremely often" in the previous three months.
57% of employees felt that the pandemic had a "large effect on" or "completely dominated" their work.
55% of all respondents didn't feel that they had been able to balance their home and work life—with 53% specifically citing homeschooling.
25% felt unable to maintain a strong connection with family, 39% with colleagues, and 50% with friends.
Only 21% rated their well-being as "good," and a mere 2% rated it as "excellent."
Information overload in the workplace has intensified burnout in two areas: Zoom calls and emails.
Zoom Burnout
Let's face it, the mental load associated with Zoom call after Zoom call can be overwhelming. Ask any remote teacher how many times they have to ask students to turn their cameras on, and you'll understand how quickly people tire of being on screen.
Taking a break from being onscreen in the business setting, however, is frowned upon. Employers may worry that it creates even more distance between remote employees. Or they may be the untrusting sort who want to make sure staffers remain focused on the call at all times. Employees are subsequently forced to be uncomfortable on camera for hours every day … while still maintaining the same levels of productivity off camera.
When it comes to the physical impacts, Zoom burnout manifests in insomnia, blurred vision, eye strain, nearsightedness and other issues associated with an overuse of screen time. Much of this may be going untreated, depending upon your employees' threshold for doctor visits and social distancing.
Related to Zoom burnout is email burnout, which also takes a toll on employee wellness.
Email Burnout
Numerous studies have shown how much of a stressor email can be on employees. Unfortunately, it has become one of the most direct ways for people to communicate when they can't be together in person and they don't want to be on a Zoom call. The result—bulging inboxes with more emails than anyone has time to read.
The other reason why email is a common cause of information overload? It's not limited to working hours. Remote working has blurred the lines between home and work, making it even more common for employees to find themselves checking emails after hours and on weekends. And with mobile devices making email accessible at any time, your employees are likely checking their emails—whether they want to or not—at all hours of the day and week. This creates a silent stressor that employees may not even realize they're experiencing.
This is where your workplace wellness program can truly prove its value.
How to Combat Information Overload and Improve Employee Wellness
While you can't completely put an end to the information overload your employees experience, you and your leadership team can alleviate it quite a bit by combining some thoughtful management practices with your employee wellness program.
No-Meeting Time Blocks
A great challenge for teams as well as individual employees involves encouraging managers and team leaders to identify blocks of time when employees can be free of meetings.
To make sure this no-meeting time is taken seriously, employees and managers need to schedule no-meeting time blocks in their calendars. How each team structures the time blocks depends on what works best for their members and responsibilities. For some, it may be best to block out every Thursday afternoon, so there's time to make headway on big projects before the weekend. For others, blocking out 90 minutes at the end of each day may help them finish up that day's work so they're not stuck working evenings.
It might seem easy, but this new world of information overload has made it difficult for everyone to set boundaries and separate work time from free time. With a time scheduled in their calendars, it's not only a reminder to say no, but it can also block anyone else from scheduling meetings during that time.
Agenda Adherence
There's nothing more frustrating than being in a long meeting with no clear purpose, especially when it's the fifth Zoom meeting in a day. Create a challenge that encourages teams and leaders to have a concise agenda for every meeting. Add extra points for every minute shaved off the total meeting time without abandoning agenda items.
This challenge can really help your employees spend their time on calls smarter and more efficiently. It also alleviates the stress and frustration that comes with meandering meetings.
Don't Forget Wellness Coaching
A great way to help employees manage information overload is through professional wellness coaching.
While in-person coaching isn't always possible right now, technology has made online and as-needed coaching services easier than ever to access. And it's still highly effective: A January 2021 study in Telemedicine Journal and E-Health revealed that 61.9% of subjects demonstrated "reliable improvement" in perceived stress and well-being after receiving cognitive behavioral coaching through video or telephone.
With a coach, employees can discuss how to better manage their time, get help handling the stresses of work and personal life, and address the burnout associated with information overload.
Making sure your employees have access to workplace wellness tools is essential for productivity and well-being. Make sure to check out our webinar Recognizing and Overcoming Pandemic Stress: What We've Learned One Year Later for more information about the stresses your employees are experiencing and how to address them.