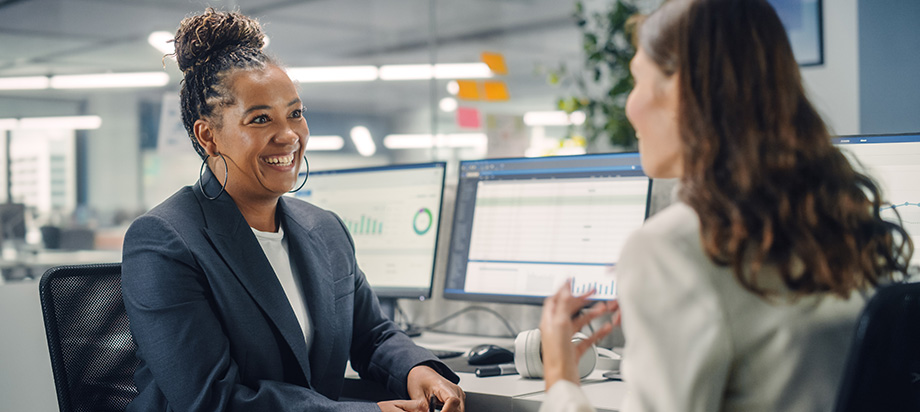 Employee wellness platforms are most valuable if they're flexible and can adapt as your company goals and employee needs evolve over time. Just because a platform has all the bells and whistles doesn't mean it will still be relevant in five years—or even one year.
Among the essential factors to consider when choosing a corporate wellness platform is the ability to integrate with additional health and well-being partners. The more seamlessly you can integrate your platform with other solutions your business will need, the more effective your wellness program will be.
If the pandemic has shown us anything, it's that everything about how your company operates can change in a matter of weeks. Your wellness platform must be nimble enough to adapt during times of change and growth.
We talked to our own Senior Director of Customer Success, Tracy Roth, to find out what she's hearing from companies about their integration needs.
Seamless Integrations Add Value to Wellness Platforms
As the focus on mental health and well-being services in organizations and advocacy groups increases across the country, third-party wellness solutions are popping up everywhere. Because employee needs continue to evolve, the availability of current services will need to evolve with them.
"Integrations mean different things to different clients," says Roth. "WellRight offers integrations with best-in-class partners to round out our clients' wellness programs."
She adds that the value of integrations increases when your wellness platform has the flexibility to adapt over time.
Adaptable Wellness Programs Last
At the beginning of any wellness program implementation, ample thought must be put into strategy to ensure the program starts off on the right foot. For example, you may want to start with offering biometric health screenings and health coaching as part of your one-year plan to establish a baseline of wellness for your employee population.
However, it's important to remember that even the best-laid plans can get knocked off-course.
For example, during the pandemic, in-person health coaching ceased. For some wellness program vendors, it became difficult to offer support to employees stuck at home. But, with an adaptable platform like WellRight, program admins were able to pivot and offer online coaching and mental health resources to employees in need.
Flexible Solutions and Partnerships
Health and benefits programs are growing increasingly complex as employers try to piece together multiple point solutions to meet the needs of their employees. All of these partner relationships are often put in place before a company chooses a wellness platform—which means the platform itself needs to be flexible enough to accommodate other solutions or partners.
"Clients come to us with programs in place to support diabetes, mental health, or whatever they're bringing to the table, and it's important for us to be able to integrate with those vendors to create a cohesive and meaningful experience for employees," Roth highlights.
A flexible wellness platform can serve as an umbrella for many additional programs, creating a one-stop shop for employees to find everything related to their health.
"Any HR professional will tell you that the hardest part about managing corporate benefits is making sure employees know what benefits and resources are available and how to access them," Roth adds.
Top Employee Wellness Program Integrations That Actually Work
Employee wellness programs have evolved over the years to encompass the entire spectrum of wellness: physical, mental, emotional, financial, occupational, and social. In order to thoughtfully accommodate each area of wellness, it's vital that your program can seamlessly integrate with point solutions so employees can access whatever resources they need, whenever they need them. Roth recommends utilizing the following strategic integrations as you build a brand for your wellness program that matches the needs of your employees and also increases engagement.
"In my previous experience as a health and benefits consultant, I helped many companies create a brand for their benefits programs with a consistent look and feel. So if a member received a communication with that brand, they knew exactly what it applied to and were more likely to engage."

– Tracy Roth, Senior Director of Customer Success at WellRight
Rewards and Incentives Marketplace
Rewards and recognition are essential for retaining top talent, engaging employees, and improving organizational culture. Centralizing employee rewards and recognition in a marketplace helps employees feel connected and encourages them to adopt healthy habits at work and home.
WellRight's partner Achievers creates a holistic experience that seamlessly connects wellness programs and reward redemptions. It also helps employees feel connected to the mission and values of their organization by promoting performance recognition.
Digital Mental Health Solutions
Providing mental health services to employees in remote environments has become much easier, thanks to digital mental health solutions like Animo and TextCoach™.
Animo
Animo is a digital behavioral health platform that leverages the principles of cognitive behavioral therapy (CBT) to:
Provide round-the-clock access to mental health resources via the web or mobile devices.
Meet the needs of people who are unable to participate in traditional CBT.
Deliver care in areas where mental health professionals are in short supply.
After taking an emotional fitness survey based on the scientific DASS-21 assessment, employees receive a recommended set of CBT-based modules that address issues such as depression, anxiety, and stress.
TextCoach™
TextCoach™ is a secure, SMS-based mental health counseling service that allows employees to connect with an independently licensed clinician via secure text messaging. Because employees can text with their clinicians at any time using their mobile devices, the service is:
Effective, convenient, and stigma-free.
Available without appointments, wait times, or judgment. Participants can begin texting immediately.
There are no restrictions on the number of messages between participants and coaches.
All communications between participants and coaches are encrypted and stored securely.
Educational Learning Platform
Engaging and effective learning has to be practical and applicable. For employees, that means being able to apply new skills and ideas that appeal to their everyday lives.
In other words, one-size-fits-all professional development sessions no longer fit the bill.
Companies should consider incorporating on-demand educational content like WellRight Learning Labs, which are taught by recognized thought leaders through video content, assessments, practice activities, tracking, reporting, and gamification. This curated programming is designed to increase employee motivation and engagement.
Data Analytics and Reporting
Roth stresses the importance of data analytics and the ability to use that information to measure the effectiveness of a program. Regardless of the integrations your company offers, you should be able to measure the impact those programs have on your employee population overall.
At WellRight, we partner with Springbuk to dig into the data that goes well beyond how many employees are logging in. Customizable reports and dashboards allow wellness program managers to slice and dice data by user segments and other criteria to get a comprehensive picture of program effectiveness.
No. 1 Key to Making Integrations Successful
You can have all the best integrations available for your wellness platform, but without an experienced and dedicated team to ensure things are done right, those integrations may not be used to their fullest potential.
Why a Dedicated Customer Success Team Matters
To ensure that your integrations are properly implemented, it helps to have a dedicated resource from your wellness platform provider who can answer strategic questions based on your program goals and objectives. They'll share best practices, communication plan templates, and strategies to help you hit your targets.
Another important resource to have is someone whose sole focus is on wellness program implementation. Their expertise will ensure that plans become reality, which involves setting up different integrations that are part of the implementation.
Lastly, you'll want a resource who works directly with end users to troubleshoot programming questions, device connections, and anything else that relates to a member or employee.
At WellRight, our Customer Success team consists of tenured and certified wellness professionals who bring experience from a wide range of industries. Because they possess a deep knowledge of our platform, our clients rely on them as trusted advisors.
For enterprise organizations whose needs warrant big-picture, strategic guidance and greater organizational change, WellRight also offers the expertise of our well-being strategy consultants. Their backgrounds include high level wellness plan design, meaning they can help you take advantage of features like WellRight's white labeling capabilities to create a unique brand for your wellness program that is fully integrated with your existing third-party vendors.
If your company is considering which integrations to include in your wellness program offering, our well-being strategy consultants are here to help.