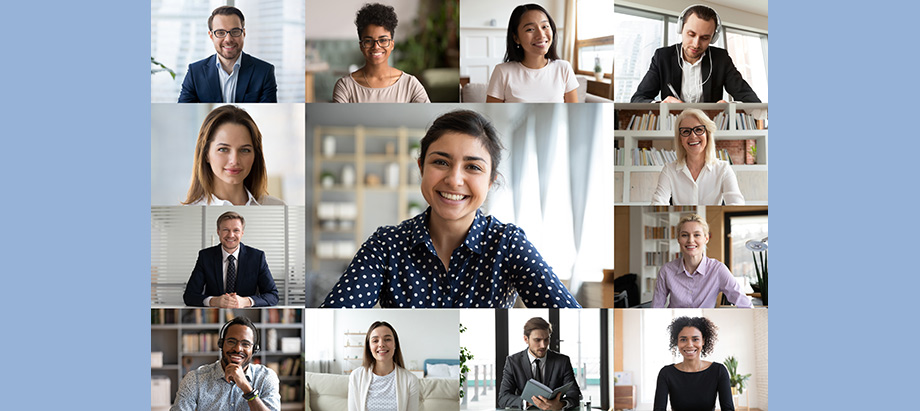 The worldwide distribution of coronavirus vaccines has begun, but it seems as if remote work is here to stay.
Here at WellRight, we've let our employees know we plan to stay fully remote through at least September 2021. Major employers, such as Google, have done the same.
Working from home during the pandemic has helped keep employees safe and healthy—and even after the virus finally recedes, many employees will want to continue working remotely because of the work-life flexibility it affords.
But for all its benefits, a remote workforce may make it more difficult to foster the sense of belonging that is so critical to building an inclusive workplace culture.
What Is Belonging?
In July, we wrote about integrating diversity, equity, and inclusion (DEI) into your corporate wellness program. DEI is a common framework companies use to create a welcoming environment for people with less-privileged identities and backgrounds.
In our article, we defined "inclusion" as meaning "not just having a diverse workforce but also a workforce in which every member feels like a full participant."
At first glance, that definition would seem to imply "belonging." But the two concepts are subtly different in crucial ways. Belonging is a human need. We all yearn to feel accepted for who we are. Inclusion helps fill that need.
"When employees are truly included, they perceive that the organization cares for them as individuals, their authentic selves," says Gartner Managing Vice President Lauren Romansky in an article on building belonging in the workplace.
Innovation consultant Krys Burnette places belonging at the center of a diagram where inclusion, equity, and diversity overlap. In other words, belonging is what people feel when their employers genuinely accept and include them equally in every possible sense.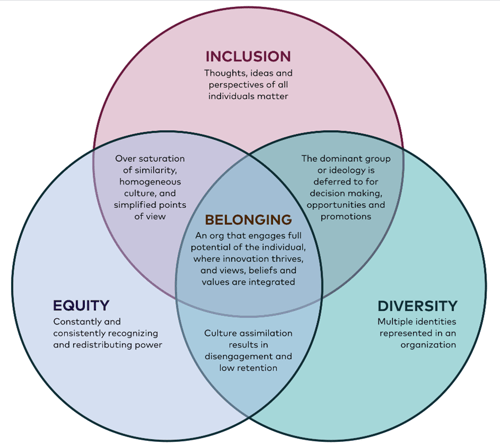 (image source)
"Belonging is the outcome of holding space where everyone truly feels empowered to speak up, make change, and shift the culture," Burnette writes.
Why Belonging Matters
Helping your employees feel a sense of belonging at work is both the right thing to do and a reward all its own. But there is a business case to be made for belonging, as well.
When employees feel that they belong, they tend to be more engaged, productive, and satisfied with their work. This can translate into tangible bottom-line benefits.
According to Gartner, organizations with sustainable diversity and inclusion strategies (which are key for creating an inclusive culture of belonging) see:
A 6.2% increase in on-the-job effort.

A 5% increase in employees' intent to stay with the organization.

A nearly 3% increase in individual employee performance.
Methods for Promoting Belonging in Remote Work Environments
Traditionally, managers and co-workers build belonging by getting to know and understand each other through in-person interactions, such as dropping by a colleague's workspace to check-in, informal chats over coffee, and work-sponsored social gatherings. None of this is possible with all your employees working from home and the COVID-19 pandemic preventing human contact.
Work isn't just a source of income for most people; it's a critical social support. As the pandemic drags on, feelings of isolation and loneliness are on the rise among workers, leading to higher rates of depression and other mental health issues. Productivity and engagement also suffer.
What can you do as an employer to help your remote employees feel like they belong?
Here are a few suggestions:
Bring Your Team Together (Remotely) to Achieve a Shared Wellness Challenge
Teamwork is a time-honored technique for uniting diverse groups. Few experiences bring people together more effectively than triumphing over a shared challenge.
An annual wellness challenge is an excellent way to engage all your employees—from senior management to entry-level workers—in a collaborative project. Popular options include walking a certain number of steps over a month, covering a certain distance, or exercising for a certain amount of time. But feel free to get creative!
A modern wellness platform like WellRight will let your employees log their progress wherever they're located and cheer each other on remotely. Regular recognition from management (with specific callouts by name) will help nurture a sense of belonging among challenge participants.
Hold Virtual Social Events
Before-work coffee hours and after-work happy hours are out for the time-being—in person, anyway. But while virtual events may be a bit more complicated to organize, they can bring a much-needed sense of community to connection-starved employees. Additionally, remote meetups give us a glimpse into the homes and everyday lives of our colleagues. This online socializing can be a valuable tool in breaking down silos and building camaraderie.
For example, you may have a staff member, Jamie, who is considerably older than most of the rest of your staff and has never really fit in. During a remote coffee break, Jamie's coworkers may discover a shared love of baseball (go Cubs!) because of a banner on her wall. Or an interruption by her pet may lead to the whole group bonding over their admiration of Irish Wolfhounds.
These small things may seem superficial, but a key part of belonging is being seen—not just as "Jamie the Operations Manager," but as Jamie, a person who loves Irish Wolfhounds, roots for the Cubs, and really misses her mom. Getting to know each other as people creates the emotional bonds that build a sense of belonging and engagement.
Lean on Your ERGs
Employee resource groups (ERGs) are groups of employees who volunteer to champion diversity and create safe spaces for members of minority groups. ERGs are typically made up of members who share certain characteristics—such as ethnicity, religious affiliation, or lifestyle—as well as allies.
ERGs often lead the way in promoting diversity and inclusion in the workforce and serve as advocates for the groups they represent. If your organization has ERGs, now would be the time to rely on them.
These groups can provide valuable insight into how your employees are handling the epidemic. They can offer suggestions for how to reach employees who may be struggling with feeling alone.
ERGs are especially effective at helping new employees feel like they belong. This is incredibly important now, as many new employees starting work in a remote environment may find it hard to establish relationships with their new teammates without meeting face-to-face.
What Are Safe Spaces?
Safe spaces are often misunderstood, with its detractors claiming that they coddle people, promote homogenous thinking, and detract from free speech.
In truth, a safe space has historically been a physical place or group of people that provide respect and security, where people in marginalized and oppressed groups could lower their vigilance and be their authentic selves without fear of harm.
Making your workplace a safe space that values respect and openness can go a long way toward ensuring your employees find belonging
Provide Mental Health Resources
As we noted above, feelings of loneliness and isolation are rising among employees everywhere. The U.S. Centers for Disease Control reports that over 40% of Americans struggle with mental health issues related to the COVID-19 pandemic.
Your employees need to know your company understands what they're going through and supports them emotionally. There are a number of emotional wellness resources you can provide as an employer—and most are remote-work friendly.
For example, WellRight recently introduced a new service that lets employees interact with certified mental health counselors by text. Another option offers round-the-clock online access to mental health resources for people who are unable or unwilling to participate in traditional cognitive behavioral therapy.
For more tips on supporting your employees' emotional wellness while they work remotely, visit our guide to work-life integration—and most critically—fostering a sense of belonging during times of crisis.