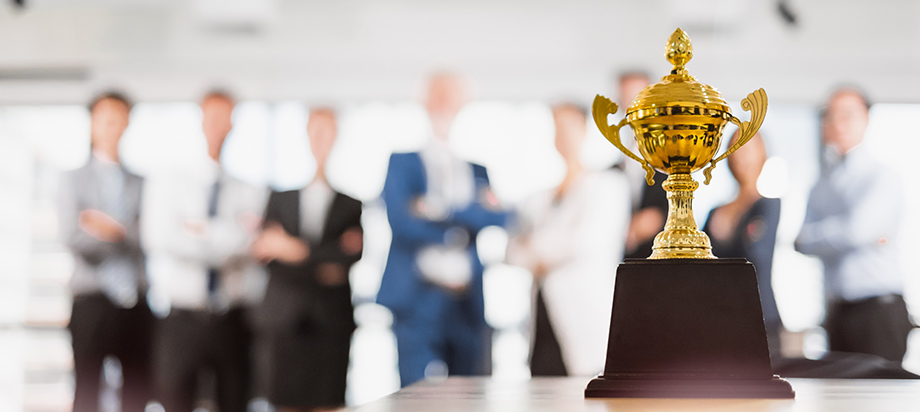 I've noticed there's a lot of talk in the business world about engaging employees and improving morale, but a large percent of the workforce continues to be actively disengaged. According to a recent Achievers report, only 19 percent of employees consider themselves "very engaged." In addition, employee burnout is hitting an all-time high with more than two-thirds, or 69 percent, of employees experiencing burnout symptoms while working from home. What can we do to address disengagement? Start with employee recognition.
As the CEO of Achievers, I strongly believe in the power of recognition. Including Employee recognition has the ability to increase both engagement and your bottom line. Let's take a look at some key findings:
Are you ready to build a culture of employee recognition across your organization? Below are five ideas to get started.
1. Play with points-based recognition
Try points-based recognitions so employees can redeem points for rewards of their choosing. This ensures employees are excited about their reward and can have something to look forward to by being able to accrue points. Let employees redeem their points from a large catalog of offerings, whether it be merchandise, digital and physical gift cards, or experiences. This type of rewards experience has a lasting impact because every time people will look at their chosen rewards, they will be reminded of the recognitions they received to achieve it. This type of personalized experience also enables employees to be recognized and rewarded multiple times throughout the year as opposed to receiving a generic years of service mug.
Without getting too deep into science, the reason why personalized rewards are important is due to human brain reward pathways that control a person's responses to rewards. When employees earn pleasing rewards, the pathways tell the person to repeat behaviors to get the reward again.
2. Attach employee recognition to company values
What are you rewarding your employees for? Is it for time spent at work, the basis for compensation, or to promote certain behaviors that reflect corporate values, like teamwork or innovation? Employee recognition should inspire people to act in a way that supports your company values. Give employees the opportunity to tie their recognitions to specific company values. This reinforces key behaviors and aligns your culture with your company values.
At Achievers, we have a saying, "What gets recognized, gets repeated." If you have specific values and behaviors you want to see exhibited by employees every day, attach recognitions to specific company values. Dr. Cameron Sepah said, "As the company grows… employees begin to act according to what their managers either actively reinforce through praise and promotion or passively reinforce by allowance."
3. Publicly spotlight employees
Everyone enjoys public acknowledgement of success. Spotlight certain employees on your company website, employee engagement platform, intranet, or corporate social media pages. You can spotlight employees for various accomplishments or contributions. You don't have to limit your employee spotlights to solely top performers either. Consider awarding employees for being the:
Most recognized employee
Top recognizer
Best team player
Most active listener
Top culture driver
The list is endless. Have fun with your employee spotlights and find unique ways to tie them back to your specific organizational culture. For example, if your organization is focused on strengthening its Diversity and Inclusion (D&I) initiatives, consider having an employee spotlighted for leading by example when it comes to D&I in the workplace.
4. Personalize your recognition
The best employee recognitions are ones that have personal meaning. When an all-star employee deserves recognition, make sure to send a recognition in real time that is specific and genuine. The most impactful recognitions are the ones that are personalized and unique. No one wants a generic message that can be sent to hundreds of other employees. When sending your recognition, remember to attach a fun gif or photo. Whether your gif or photo ties to an inside joke or interest of theirs, it will show you put thought behind your recognition. And don't wait too long to send your recognition to colleagues – they can lose meaning the longer you wait.
The more employees receive personalized recognitions, the more they will want to do the same for others. Also, the more employees see thoughtful recognitions sent across a company-wide newsfeed, the more they will want to participate and jump into the recognition to add an extra like or comment.
5. Think outside the box
Think outside the box when it comes to employee recognition. Offer employees a fun reward such as making them a boss for a day, passing around a moving trophy, or delivering custom quality swag. Recognition should be playful, so offer an experience or item that is truly special and matches the recipient's wants.
There's no limit when it comes to brainstorming recognition and rewards ideas. It can be monetary or non-monetary, and can be something as traditional as a bonus or something specific such as a certain amount of PTO days they can use to focus on their work-life balance. Discover what types of recognition experiences and rewards your team desires the most by sending out a company-wide pulse survey to gather employee feedback.
Celebrate!
As simple as this idea sounds, the reality is that employees want fast recognition for accomplishments. Gallup's data shows that effective recognition doesn't have to be a high-cost act, but it must be a meaningful one. Approximately 24 percent of those surveyed said the most memorable recognition comes from the CEO, and 28 percent said it comes from their manager. Blend leadership recognition with small acts like employee spotlights and personalized words of appreciation, and employees will know they're in what Gallup calls a "recognition-rich environment."
A final suggestion is to turn recognition into a celebration. Dale Carnegie and MSW Research studied 1,500 employees and identified three factors that drive employee engagement: relationship with immediate supervisors, belief in senior leadership, and pride in working for their company. An engaging and impactful employee recognition strategy puts all three engagement drivers into action.
Did you hear the latest news? Achievers, an award-winning employee recognition and rewards solution, recently launched an integration with WellRight to streamline employee rewards, recognition, and wellness. Learn more by checking out our press release.
By: Jeff Cates

Jeff Cates serves as CEO and President of Achievers, an industry-leading employee voice and recognition solution that accelerates a culture of performance. After being named CEO in April 2019, Jeff quickly led Achievers to new product and global growth. Jeff's passion for creating environments where employees can do the best work of their lives has helped Achievers receive multiple employer awards: Top 50 Best Workplaces™ in Canada, Best Workplaces™ for Women, and Best Workplaces™ for Inclusion.
He was formerly the CEO and President of Intuit Canada, leading the growth of Intuit's TurboTax, QuickBooks and Mint brands since 2011. During his tenure, the company was named a top "Great Place to Work" in Canada year after year, and was also recognized as a top employer for women and millennials leading in diversity initiatives.
Jeff's background includes innovative marketing, product leadership and entrepreneurship. Prior to Intuit, Jeff worked at Apple Canada leading their enterprise business, and Hewlett Packard as vice president of their consumer division. He earned an MBA from the Schulich School of Business at York University and a Bachelor of Commerce degree from McMaster University.
Testament to his passion for the start-up industry and advocacy efforts for entrepreneurialism, he currently holds a role on the board of Start-Up Canada. Jeff also sits on the board of CUSO, a not-for-profit organization focused on midwifery and economic development in third world countries.