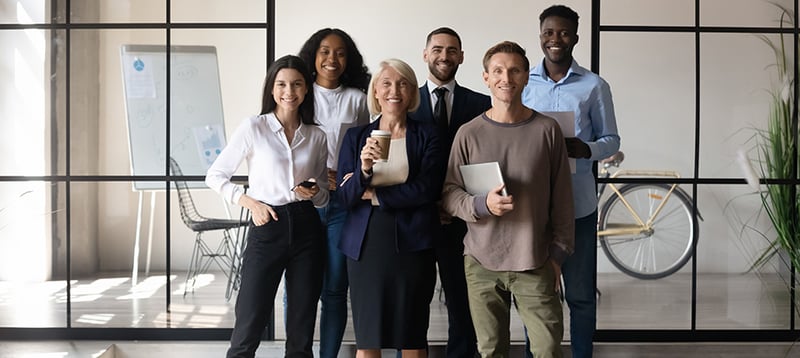 Diversity, equity, and inclusion: For some companies, these are corporate buzzwords, to be hashtagged into some timely social media posts.
Other companies, however, recognize that celebrating and encouraging differences, making success attainable to all, and creating supportive communities are not only the right thing to do, they're the formula for a stronger, better workplace.
The thing is, diversity, equity, and inclusion (DEI) don't just magically happen because of good intentions. For DEI to truly become part of an organization, it must be integrated into everything a company does, including corporate wellness programs.
In this article, we'll examine ways to incorporate the concepts of diversity, equity, and inclusion into your corporate wellness program. We'll start with a definition of DEI.
What Is DEI?
DEI is a framework to help companies organize their efforts to create a welcoming environment for people with less-privileged identities and backgrounds. It has three components:
Diversity, according to Independent Sector, can refer to "all the ways in which people differ, encompassing the different characteristics that make one individual or group different from another." Definitions of diversity can include characteristics such as race, gender, age, religion, disability, sexual orientation, and marital status. Some organizations also strive for a diverse representation of ideas, perspectives, and values.
Equity (notably, not the same as "equality") means providing "fair treatment, access, opportunity, and advancement for all people," while identifying and toppling barriers–institutional, historical, economic, and otherwise–that prevent members of certain groups from achieving the same success as others.
Inclusion means not just having a diverse workforce but also a workforce in which every member feels like a full participant. "It's important to note that while an inclusive group is by definition diverse, a diverse group isn't always inclusive," writes Independent Sector.
How to Incorporate DEI into the Workplace and Your Wellness Program
Including all employees–regardless of background or identity–in your company's culture and decision-making isn't just the right thing to do; it's necessary for employee wellness.
Imagine, writes people and culture consultant Jane Fordham, how bad it feels to be invited to a party, but not invited to dance or to share in group conversations. You're allowed in, but not truly included. Now think about feeling that way every day at work. Combined with the already high stress levels of the average employee, the mental health effects can be devastating.
This is why incorporating DEI into your wellness program starts by being inclusive and diverse in the way your company recruits, trains, develops, engages, and promotes people. Leela Srinivasan, CMO of recruiting software company Lever told The Economist that it is difficult to appeal to diverse talent without an already-diverse staff, and that microaggressions and homogenous internal networking can keep diverse talent from succeeding … or even from sticking around.
Tech industry veteran and entrepreneur Maynard Webb suggests thinking about the company you want to build, not just the positions that are currently open. Diversity, equity, and inclusion aren't short-term projects. They are constant processes of improvement and self-reflection.
The Importance of Education, Training, and Development
One thing coming out of the current nationwide conversation on race is a growing understanding that most of us, no matter how accepting we think we are, hold unconscious biases that influence our interactions with and attitudes about members of minority groups. As we move toward a more inclusive society, we all must learn to recognize and unlearn these biases.
Over the past decade, more and more employers have started to offer bias education and other forms of training focused on diversity and inclusion. This hasn't stopped as companies switch to work-from-home arrangements during the COVID-19 pandemic. In fact, diversity training may be increasing.
One workplace trainer recently told Axios she has seen an uptick in wellness-related initiatives since the pandemic began. That includes interest in topics related to diversity, equity, and inclusion. Another expert told Axios, "I've noticed people are deeply reflective, much more so being at home than being at work."
It's also important to ensure that anti-bias education and training is mandatory for leadership teams, to ensure that neither employees nor customers suffer from leadership's bias. For example, a healthcare company where leadership actively engages in anti-bias training will not only become a more equitable and inclusive place to work, it will also help keep patients from suffering from dangerous–sometimes deadly–biases against marginalized people.
Whatever form your employee training takes, the key to success is proper follow-up. When it comes to changing perspectives, you may be working against centuries of cultural prejudice and lifetimes of subconscious bias. A one-time training just to check a box won't get the job done.
Bringing in Experts
One of the best first steps you can take toward increasing diversity, promoting equity, and encouraging inclusion in your workplace is to create an employee resource group (or a diversity and inclusion committee).
An employee resource group (ERG) is a group of employees who volunteer to champion diversity and create safe spaces for members of minority groups. Most ERGs are made up of members who share certain characteristics, such as ethnicity, religious affiliation, or lifestyle. ERGs may also have allies as members.
ERGs are effective drivers of change; 90% of Fortune 500 companies have them. But if your company needs help getting an ERG off the ground, you might consider bringing in a professional expert to advise and assist the group.
Your wellness program can contribute to the work of your ERGs by making certified onsite wellness coaches available for consultations. You can also host guest speakers to lead discussions on DEI topics. These conversations are often uncomfortable, so it's important to find speakers with the experience and training to address these issues with sensitivity and compassion.
Are Your Benefits Inclusive?
Your company's benefits package–including your wellness program–may discriminate against particular groups of employees in subtle, yet harmful ways. It's a good idea to regularly assess your benefits package to make sure it's inclusive of all employees. Bring your ERGs and other stakeholders into the discussion.
Areas to look at include:
Holidays. Due to differences in religion, ethnic background, values, and other factors, not everyone celebrates the same holidays. Consider offering flex time and floating holidays rather than strictly following the calendar of national holidays.
Family medical leave policies. Families need the latitude to share the responsibility for child-rearing and taking care of sick family members equally.
Individual needs. Equity is not about giving the same things to everyone. It's about lifting people up and doing your best to mitigate their barriers. A hearing-impaired employee who doesn't have coverage for hearing aids may struggle to stay in the workforce. A transgender employee without coverage for hormonal treatments or surgeries may experience poor emotional health as a result. When negotiating benefits, don't simply look at what is needed by most, but what is most needed by some.
There will always be more to do to ensure diversity, equity, and inclusion in the workplace. But at WellRight, we applaud you for taking the first steps. Let's all work together to create a more inclusive future.