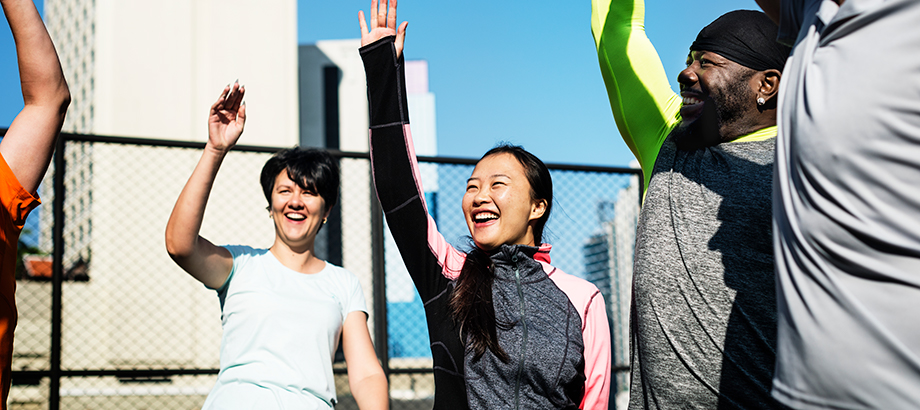 A thriving wellness culture doesn't just happen overnight. It's something every organization has to build—sometimes from the ground up. A Wellness Champion Network can help you get there faster, with more buy-in throughout your organization.
What is a Wellness Champion Network? It's a team of people working toward the same goal: making your company a healthier place.
The members of a Wellness Champion Network are ambassadors for your employee wellness program. They help plan and promote wellness challenges, biometric screening events, health coaching services, educational seminars, and any other wellness program initiatives or projects.
Today we'll introduce a six-step plan for recruiting and empowering a Wellness Champion Network at your organization. (This article is just an overview. For an in-depth breakdown of each step, download a free copy of our complete "Guide to Building Your Wellness Champion Network.")
1. Identify the Right People
One of the best reasons to create a Wellness Champion Network is to ensure that your company's wellness culture is driven not just by the human resources team, but by a cross-section of employees spanning departments, tenure levels, and generations. Additionally, diversity in race, gender, and health status are vital, to make sure everybody's needs are heard and represented.
What all members of your Wellness Champion Network should have in common is the time, commitment, and eagerness to improve your company's culture of wellness. So, don't simply assign Wellness Champions—ask for interest, instead.
2. Set Expectations
If this team is new to your organization, the participants will want to know what's expected of them. By clearly defining the requirements of the role, you are more likely to have enthusiastic members.
There are no set-in-stone rules for being a Wellness Champion. But in general, your network's goal will be to develop your organization's wellness program based on stakeholder feedback and your company culture. More specific goals will depend on the unique needs of your organization.
Our guide includes a framework for outlining expectations for Wellness Champion Network members. We recommend kicking off the first meeting by describing and discussing these expectations.
3. Promote Creative Sharing
Your Wellness Champion Network doesn't exist simply to rubber-stamp the ideas proposed by the wellness program administrators in your HR department. Wellness Champions should be encouraged to offer suggestions of their own. The more creative, the better.
Additionally, Wellness Champions should be empowered to offer critique of ideas and highlight any factors or needs not being considered. The more collaborative your Wellness Champion Network, the better your wellness program will serve your entire employee base.
Stuck for ideas? A good starting point is to review our list of over 400 pre-built wellness challenges.
4. Train First, Communicate Often
Your Wellness Champions should be your organization's go-to experts when it comes to explaining the technology of your wellness platform dashboard and the components of the program, such as challenges and completion requirements.
We recommend scheduling a 30-minute training with your Wellness Champion Network and your wellness program account manager. During the training, your champions can review the high-level platform features and have their technical questions answered.
Next, consider a "soft launch" of your wellness program that will allow your Wellness Champions to spend time using the platform before the organization-wide launch. Not only will this help them learn the system, but it will get your champions excited about promoting the program to colleagues.
5. Give Them Ownership
Once you've set expectations and completed training, give your Wellness Champions the latitude to run with the program. Encourage them to take their ideas from concept to reality by launching an activity for the entire organization.
The idea here isn't just to take some of the pressure off you (although that's part of it). When your Wellness Champion Network takes ownership of your wellness program, they become more engaged. The members will be more likely to stick with their duties and will be more enthusiastic about promoting the program.
6. Require Full-Time Leadership
What's the secret to 80% wellness program engagement? The statistics say that if you commit at least one full-time employee to your program's direct management and execution, you can achieve (or exceed) that desirable engagement level.
The most successful wellness programs have a dedicated point person. This person should be a part of the Wellness Champion Network and could be any level of employee, whether a middle manager, HR team member, or an executive.
Now that you've got the overview, are you ready to go deeper and start developing a Wellness Champion Network of your own? Click here to download your free guide to get started.