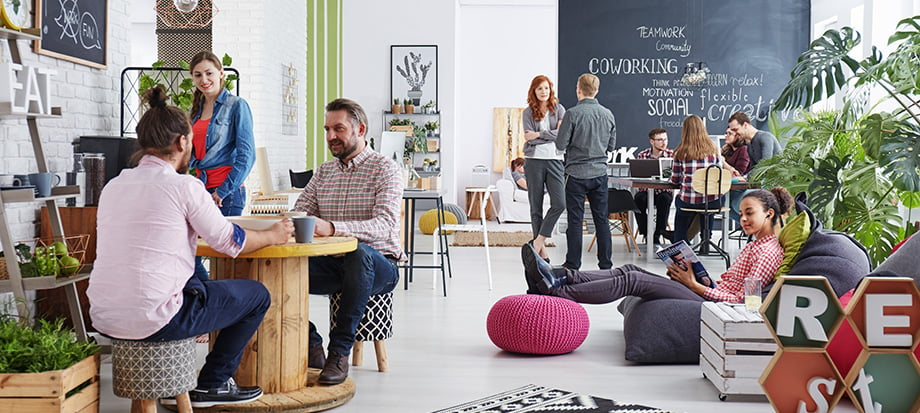 Over the last few years, the concept of an "ideal" workplace has started taking shape in the minds of employees. Now, workers are looking to have more agency over their preferred work environments than ever before.
For employers, that can be good news and bad news.
Companies that have prioritized flexibility, personal values, and personalization are already well-positioned to find out what that ideal workplace looks like for their employees.
But some organizations are still playing catch up, either because they're trying to force employees to conform to outdated work environment paradigms or because they simply don't know what their employees want.
The result? Employers are finding themselves understaffed and struggling to fill positions.
Now is the time to start aligning your company's work environment, values, communication, and wellness benefits with what your employees want. Building that "ideal" workplace of the future means paying close attention to each of those areas, starting with your work environment.
It's Not About Space, It's About Flexibility
To quote Dee Anthony, a leader in workplace experience and solutions, the workplace of the future is:
"…not a cubicle. It's not an office. It's not even the makeshift office you converted out of your spare bedroom or kitchen table during the pandemic. The workplace of the future is not a place at all. Rather it's an ability — the ability to work from any place and almost anytime using the tools of choice. Anywhere, anytime, any platform."
Regardless, plenty of businesses have been determined to reestablish the status quo, whether they're offering perks to coming back into the office or authoring thought leadership pieces skewing the effect of working from home on company culture.
As it turns out, however, companies can benefit more from ensuring employees have the resources and tools they need to complete their work in any location rather than trying to get employees to come back into the office.
Workplace Accommodations Are Key
Work environment flexibility has become an essential part of the ideal workplace. When we look at the results of Deloitte's Global 2022 Gen Z and Millennial Survey, it's easy to see where the future is headed—75% of Gen Z and millennial employees prefer to have the flexibility of working in hybrid or remote work environments.
These findings are echoed in Slack's Future Forum Winter 2021/2022 Pulse Survey, where researchers found the following preferences to be the new reality:
Only 30% of global workers are in the office every day.
The percentage of workers who have hybrid arrangements has increased from 46% in May 2021 to 58% in 2022.
Teams are spending less time exclusively working in the office or from home.
Flexible work environments and accommodations are especially critical for traditionally underrepresented groups, including BIPOC employees, women, and working mothers. In the Slack survey, hybrid or fully remote work environments were preferred by:
86% of Hispanic/LatinX employees
81% of Asian/Asian American and Black employees
52% of women
50% of working mothers
What's critical for employers to note is that 72% of employees who want a more flexible working environment than their current one said they plan to begin searching for another job in the next year.
And if that doesn't add enough pressure on companies, employees also want to feel more connected and have a greater sense of belonging. One way employers can match these needs is by practicing what they preach with regard to employees' values.
Connection and Belonging Can Happen Anywhere
For younger generations, experiencing a sense of belonging and making personal connections with coworkers and managers are important. In fact, tech company Cognizant reports that 93% of Gen Z workers consider this a top priority.
In other words, employers are tasked with prioritizing connection and belonging … with more employees working remotely than ever before. It's easy for organizations to fall into pre-pandemic ways of thinking and assume that camaraderie, development, networking, and engagement are nearly impossible to achieve when workers aren't physically in the same place.
Though challenging to accomplish, the pandemic has proven that building connections is definitely possible in hybrid work environments. Plus, when you think about how millennials, Gen Z, and even many Gen X employees interact with friends and family in their personal lives—using social media, video chatting, and texting—it may simply mean that companies need to allow their employees to lead the way.
Instead of trying to impose the "old way" of building office culture, consider including younger employees in workgroups that strategize how to best foster those connections. Enable them to make suggestions and spearhead initiatives that you will then help carry out. Not only will you put them in the driver's seat to satisfy their needs, but you'll also discover some tactics that may have otherwise been overlooked.
Employee and Company Values Must Coincide
Another priority for employees is how well a company aligns with their personal values. That includes environment and societal impacts, as well as an inclusive culture.
A growing trend among employees—especially Gen Z and millennials—is to find environmentally responsible companies to work for. According to international recruitment agency Robert Half®, over half of young employees won't work for a company they consider unethical, while 22% of Gen Z consider corporate values to be more important than compensation.
Additionally, a 2022 Mercer report found that 96% of employees expect their company to pursue a sustainability agenda:
As a record number of employees switched jobs last year, what influences people to join a new company is critical. After job security, organizational brand and reputation is now the No. 2 reason that people joined their current employer. Current and prospective employees expect a company to be clear on what it stands for. They look for company values to shine through in its brand, reward philosophy, benefits, and overall employee experience.
What You See Has to Be What You Get
Employees prioritize transparency. There has to be a "what you see is what you get" experience or they will leave. We asked Carmen Thomas, Vice President, Creative Recruiting at AccruePartners, for her thoughts on the importance of transparency from employers.
"We continue to see employees leaving employers for a multitude of reasons," she says. "But employers are more likely to experience strong retention of their teams if they can be clear on several fronts."
What are those fronts Thomas considers important for transparency? Here are seven questions to ask when evaluating your organization's transparency with your employees:
How seamless is our onboarding process?
Do our employees' work experiences match what they heard in onboarding?
Are day-to-day tasks the same as when they were explained during the interview process?
Do employees have access to the tools (technology, equipment, knowledge bases, etc.) they need to succeed?
Is feedback from management consistent and clear?
Are work expectations and development opportunities clearly communicated?
Are paths for upward or horizontal mobility available and accessible?
The last thing an employer wants is to spend time, resources, and budget onboarding and training an employee—only to lose them quickly because of a bait-and-switch or unmet promises.

Mental Health and Preventive Care Are Table Stakes
In Deloitte's survey, researchers discovered that Gen Z and millennials rank financial wellness highly among their essential needs. Gen Z employees consider mental health a top five priority, and preventive care is in the top three for millennials.
But the most important benefits a company can provide Gen Z employees? Health insurance and mental health benefits.
Thomas feels that companies are starting to make progress in this regard:
"We are seeing visible progress in mental health services with companies allocating the resources and commitment to add these benefits. These changes include adding employee health and wellness as a function of HR or as an outsourced service. They've also enhanced mental health insurance coverage, mental health days off, and much more."


– Carmen Thomas, Vice President, Creative Recruiting, AccruePartners
Employees Need Room to Grow
Ideal workplaces offer their employees ample opportunities for growth.
An April 2022 article from Fast Company affirms many of the same tactics we've highlighted already. But it also stresses the need for supporting employee growth—both personally and professionally.
On a personal level, that means providing coaching services to help employees achieve financial, health, and personal development goals. Offering mentorship opportunities between seasoned employees and new workers can help everyone build connections and gain a better understanding of the bigger picture. This is especially successful when the mentor is not the employee's supervisor or even works in another department.
Employers that want to attract and retain employees need to create the ideal workplace of the future. To learn more about how you can make that happen in your company, reach out to WellRight. We're here to help.