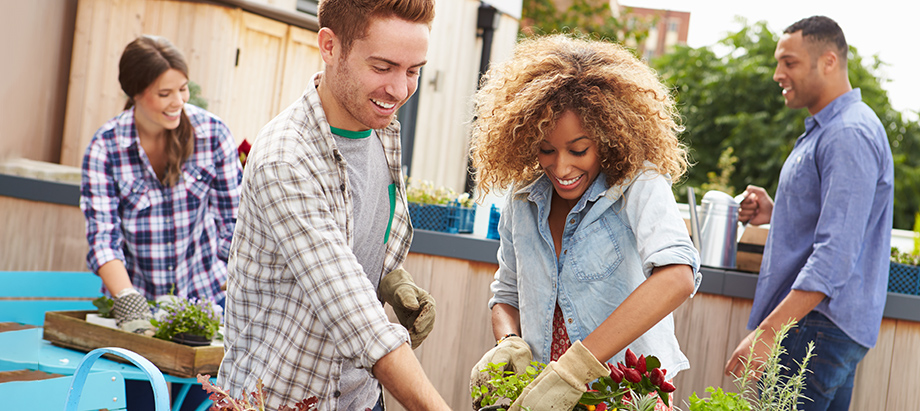 From baby bunnies to budding daffodils, spring is the time of renewal. Unfortunately, spring is also often the time when the motivation to keep up with New Year's resolutions starts to fade and employees begin to slip back into old, unhealthy habits.
But it doesn't have to be that way.
Use the opportunity presented by springtime's longer, warmer days to encourage employees to renew their enthusiasm for wellness. Here are seven of our favorite wellness challenge ideas for channeling spring's energy and brightness into your employee wellness program.
1. Clean Up the Community
Show pride in and a commitment to the local community while also getting outdoors by planning a community cleanup day or adopting a local park. By planting shrubs, digging up weeds, and picking up trash, employees can feel good about making a difference in their local community while also enjoying some exercise and fresh air.
Don't forget to encourage involvement by posting pictures of your event on social media (a hot new trend is posting before and after pictures of your cleanup, tagging them with #trashtag). After all, picking up even small amounts of debris can make a huge impact on the area in which we live. Not sure where to start? The Litterati app identifies problem areas near you that can use your help.
2. Improve the Mood With Fresh Flowers
Encourage employees to bring fresh flowers for their desks, or consider springing for arrangements for common areas—science shows it's worth the splurge. Research indicates that when fresh-cut flowers are present, people exhibit more compassion toward others, feel less worried and anxious, and have fewer depressive symptoms. Seeing these blooms first thing in the morning can even improve the "morning blahs" and energize workers. (Just make sure nobody has allergies first. To play it safe, consider low-pollen flowers like hydrangeas, daffodils, and irises).
Even employees who don't see the flowers might benefit: Staffers who see the blooms and feel brighter can pass those good vibes on. This "mood contagion"—when positive, happy people transfer their feelings to others—can have an amazing effect on productivity, job satisfaction, and overall mood.
3. Get to Gardening
Not only does gardening offer stress relief and mild and moderate exercise, but there are some unexpected health benefits that come with growing a vegetable garden or taking care of some containers of tomato plants on an apartment balcony:
Puttering around with shears and trowels can maintain hand strength and dexterity—something that frequently diminishes as we age. Plus, using the nondominant hand in these activities can also stimulate brain functioning.
Employees benefit from the satisfaction (and nutrition) that comes from eating something they've grown on their own. This gains extra importance if your employees live in "food deserts" where fresh produce is hard to come by.
Working in the sunshine just may give mood a boost, too. "Horticultural therapy" is proving to be effective at helping individuals cope with anxiety, dementia, eating disorders, and depression and manage other psychological and physical disorders.
Get employees started by having an expert come in from a local gardening center to give tips on how to start and maintain a vegetable or a container garden.
4. Start a Walking Club
With warmer weather approaching, encourage employees to get moving and get outdoors by starting a lunchtime walking club. Walking can help employees manage their weight and prevent or manage issues like heart disease and high blood pressure—plus, it's easy on the body, so almost everyone can participate. In addition, walking is proven to lower stress and boost creativity, both of which improve employee engagement and performance.
Nominate leaders who can organize daily walks at different times of the day, accommodating a range of work schedules. Leaders can identify shorter and longer routes and can even add in other challenges, like inclines and interval training. Don't forget to give your employees explicit permission to take this 15- or 20-minute break from work—it demonstrates your support of their wellness efforts.
5. Become an Early Bird
Have you ever wished for more hours in a day? Well, we can't give you more than 24, but we can help you and your employees feel like there are more hours in the day. The trick? Simply waking up earlier. Start an "Early Bird" or "5 a.m." challenge in the office, encouraging employees to gradually wake up a little earlier each day. Of course, the beginning of the challenge may be tough—especially now that it's darker in the morning. But after an earlier wakeup that's gradually implemented over the course of a few weeks, employees will enjoy the extra time they have to exercise, meditate, read, journal, or just get a jumpstart on their day. Participants often report that with that extra hour, they sleep better at night, feel more motivated and productive during the day, and experience an improved mood.
6. Take the Exercise Outdoors
Now that the snow is melting and the temperatures are rising, taking exercise outdoors can work wonders on an employee's mood and reinvigorate their exercise routine.
Encourage employees to participate in the Air 1,000 challenge, in which they exercise outdoors for 1,000 minutes in a month, or roughly 33 minutes a day. This exercise can come from your walking club or community cleanups, or from individual activities like a daily run, bike ride, paddle, or even a game of fetch in the park with a happy pooch.
Not only will this challenge get employees moving more, but research shows that just spending more time outside can improve other areas of life, like engagement, socialization, emotional stability, and focus.
7. Do Some Spring Cleaning
Doing a deep clean every year of their home or office can give employees a definite sense of accomplishment, but they probably didn't know it's good for their health, too. A thorough cleaning can help reduce the amount of pollen, pet dander, and other allergens that may have accumulated in their home since the last deep cleaning.
And if they're pairing a deep clean with some Marie Kondo-style decluttering, they can donate items to a local charity or shelter. Giving to others—even when it's a donation of used items—can improve self-esteem and increase overall happiness. The end result—a cleaner, neater home, and workspace—will also improve focus, since employees won't be distracted or derailed by clutter.
Wellness can be found in the most unexpected of places—from a well-tended garden to a newly cleaned junk drawer—and springtime offers you and your employees ample opportunity to grow, become healthier and bloom into vibrant and well-rounded people.