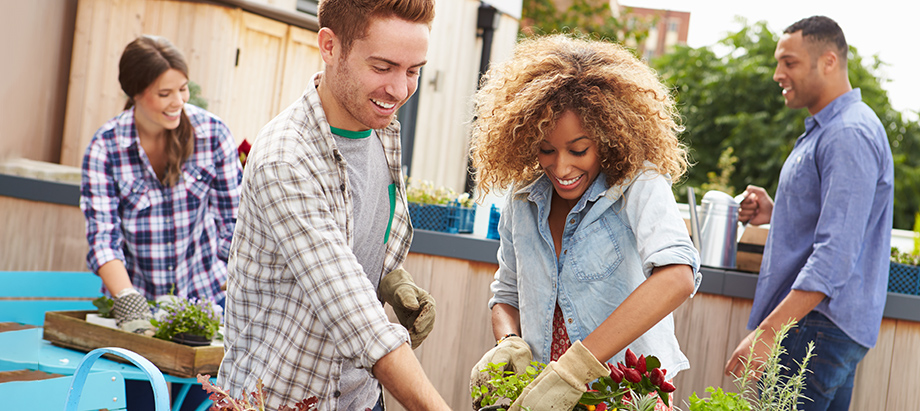 Editor's Note: We recently updated this post with new insights.
Spring is the true restorer of the seasons. Known as a time of sunshine, rebirth, and creativity, spring breathes life, energy, and motivation as we gear up for summer.
The arrival of spring also serves as a time of possibility, where we can take stock of the habits that hold us back and form new habits that help us become better versions of ourselves.
Now is the perfect time to revisit wellness program goals and offer fun, unique, and inviting challenges to ease burnout, relieve stress, and refocus on personal well-being.
If you want to pay your health and well-being a little extra attention this spring, but don't know where to start, here are nine tips to get you started.
6 Energizing Springtime Wellness Challenges

Social: Walkie Talkie
After months of long-distance Zoom meetings, Slack channels, and emails, employees are craving in-person interactions.
One way to enjoy these interactions is as simple as taking a walk.
Walking carries a wide range of benefits for both the body and the mind. That's why the American Heart Association recommends it so strongly, calling it "one of the safest and easiest ways to improve fitness and health, including heart health."
Walking can also reduce stress and improve mood, especially when done with enjoyable company. Spending time with friends is one of the best things employees can do for their health, as it lowers stress levels, improves mood, and even turbocharges the effects of exercise.
The Walkie Talkie challenge provides that one-two punch of healthy social energy. Employees are invited to walk with someone else for 500 minutes in one month (which breaks down to an average of 17 minutes per day). Talking on the phone with a long-distance friend or co-worker while walking works as well.
To make this challenge even more engaging, consider making it a team challenge with an automated leaderboard and photo gallery.

Occupational: Clean Desk
Some employees may already be in the habit of keeping a reasonably tidy workspace. Others work more efficiently with familiar decór like coffee mugs, half-burned scented candles, their kids' drawings, and notebooks that are too pretty to write in.
Clean Desk challenges employees to carve out time at the end of the day to clean off and organize their spaces as best as they can five days per week for four weeks.
Clean desks not only look nice and prevent clutter—they're also good for employee health and well-being. Regular cleaning reduces the amount of pollen, pet dander, and other allergens that build up in spaces with heavy foot traffic.
If employees are pairing their tidying with some Marie Kondo-style spring cleaning, suggest the idea of donating items to a local charity or shelter. Giving to others, even if it's simply a donation of used items, can improve self-esteem and increase overall happiness.
💡 Pro tip:
Remind employees to also
clean their keyboards
while tidying their workspaces, as they're often one of the germiest spots in offices and households.

Financial: Frugal Chef
With the cost of food increasing with inflation, employees may be struggling to stretch their food dollars to the next paycheck, if they aren't already.
The Frugal Chef challenge helps employees fill their pantries for less by inviting them to track their food expenses for 30 days, whether it's through an app or on paper. This challenge puts employees' food expenses in black and white, potentially revealing opportunities to save and ease the strain of rising food costs.

Emotional: Excuse Me
According to the National Science Foundation, the average person can have up to 60,000 thoughts per day—80% of which are often negative and overly critical.
The statements we tell ourselves not only reflect the way we think—but also how we feel and act. Negative self-talk is one example of how toxic thoughts lead to spikes in anxiety and depression, which carry over into the workplace and affect morale.
Negative self-talk also increases the likelihood of employees experiencing:
Limited thinking—When people frequently tell themselves they can't do something, they're more likely to believe it.
Self-sabotaging perfectionism—Negative self-talk often promotes the false belief that "great" is never as good as "perfect," even though perfection is unattainable.
Relationship challenges—Constant self-criticism fuels feelings of insecurity and disguises negative habits as productive, which can affect an individual's ability to communicate and relax in interpersonal relationships.
Excuse Me challenges employees to catch themselves before they start to talk or think negatively about themselves. If a negative thought or statement sneaks through, employees must say something positive and move forward productively.
Remind employees that while their thoughts and feelings are valid, they can also be skewed, subjected to biases, and influenced by mood. Challenging inner critics and spinning negative thoughts into neutral or positive affirmations has been proven to lead to personal and professional success.

Physical: Hello Sunshine
Research indicates that taking in one hour of natural light every day can help people sleep better at night.
Because sunshine tells the body when to increase and decrease melatonin, ample exposure to daylight optimally conditions the body to produce melatonin when it's time to go to sleep.
In addition to improving sleep quality, a healthy amount of sun exposure also:
Reduces stress and burnout
Maintains strong bones
Strengthens the immune system
Eases seasonal depression
Hello Sunshine asks employees to get out in the sun for at least 100 minutes to reset and recharge. What they choose to do out in the sun is up to them and doesn't need to be physical exercise—just as long as they can take in some vitamin D to rejuvenate.

Purpose: Litter Bug
Picking up trash is a small act of kindness that significantly benefits our planet. But did you know it also boosts mental health, concentration, and focus?
Evidence has shown that people who spend time outside picking up trash experience a variety of psychological health benefits such as reduced stress, restored cognitive ability, and increased connection to nature. Research also shows that the practice of finding and picking up trash better positions individuals to live in the present moment and practice mindfulness.
The Litter Bug challenge invites employees to set aside a little time each day to pick up litter in their neighborhoods. Only one piece of litter needs to be picked up each day, but employees are welcome to pick up more and leave a bigger impact.
Spring Ahead to Improved Employee Wellness
Are these springtime challenges a walk in the park?
That depends on whom you ask—every employee's experience with these challenges will vary, based on their current levels of well-being. Supporting your employees with resources like wellness coaching and an intuitive, accessible platform will go a long way toward helping every employee brush the snow off, open up, clean out clutter, and bloom into their best selves.