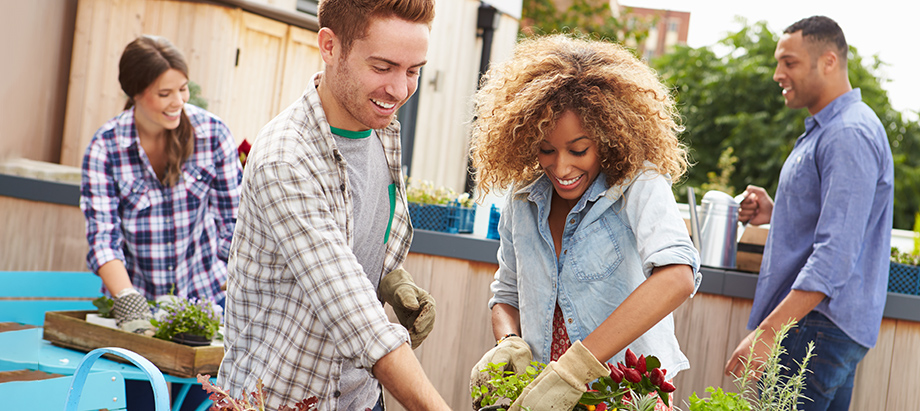 There's just something about spring. Everything feels reborn as Mother Nature breaks through the detritus of winter and begins to bloom again.
Spring is full of possibilities, making it the perfect time to shake up your wellness program and offer fun, meaningful challenges to help employees break through their winter doldrums and reach for the sun.
Nature-inspired analogies aside, many employees are at least somewhat the worse for wear after the past couple of years, and they could use the opportunity to make a fresh, energizing start to the spring that lets them reconnect with others—and themselves.
6 Energizing Springtime Wellness Challenges

Social: Walkie Talkie—Walk With Someone Else for 500 Minutes
After months of Zoom calls in their home offices or living rooms, employees are eager to see people face-to-face. And one of the best ways to see them is by taking a walk together.
Walking has long been proven to carry a wide range of benefits for both body and mind. That's undoubtedly why the American Heart Association recommends it so strongly, calling it "one of the safest and easiest ways to improve fitness and health including heart health."
Walking can also reduce stress and improve our mood, especially when done with enjoyable company: Spending time with friends is one of the best things employees can do for their health, as it lowers stress levels, improves mood, and even turbocharges the effects of exercise.
This challenge provides that one-two punch of healthy social energy: Employees are invited to walk with someone else for 500 minutes during a month (which breaks down to an average of 17 minutes a day). Talking on the phone while they walk works, too—it's all about spending quality time chatting with a friend while stretching their legs. Employees should track how many minutes they spend walking and talking each day, tracking 500 minutes or more to complete the challenge.

Occupational: Clean Desk—Clean Off Your Desk Every Day
Some employees are already in the habit of keeping a reasonably tidy desk, while others work among teetering stacks of empty mugs, half-burned scented candles, their kids' drawings, and notebooks that are too pretty to write in.
Clean Desk challenges employees to carve out time at the end of the day to clean off and organize their desk tops (as best as they can—sometimes it makes sense to leave work out to tackle in the morning) five days a week for the next four weeks. They need to track "Yes" 20 times throughout the challenge to complete it.
Not only does a clean and serene desk look nice, but it's also good for employees' health: Regular cleaning will help reduce the amount of pollen, pet dander, and other allergens that build up. (Remind them to give their keyboards a good wipe as well, as they're often one of the germiest spots.)
If they're pairing their tidying with some Marie Kondo-style decluttering, employees can donate items to a local charity or shelter. Giving to others, even if it's simply a donation of good used items, can improve self-esteem and increase overall happiness. The end result—a cleaner, neater workspace—will also improve focus, since employees won't be distracted or derailed by clutter.

Financial: Frugal Chef—Track Your Food Expenses for 30 Days
The cost of food is increasing, with no signs of slowing down: The U.S. Department of Agriculture projects food-at-home (grocery store) prices to increase between 3%–4% in 2022, with food-away-from-home (restaurant) prices increasing by 5.5%–6%. And that's after food-at-home prices skyrocketed by 8.6% from 2021 to 2022.
What does this mean for your employees? It means some of them will struggle to stretch their food dollars to the next paycheck … if they aren't already.
The Frugal Chef Challenge helps employees fill their pantries and bellies for less by inviting them to track their food expenses for 30 days, whether it's electronically or on paper. This exercise will put employees' food expenses in black and white, potentially revealing areas of savings to help ease the strain on their food budget. For example, a family may discover they're investing too much money on fresh fruit and vegetables that spoil in the fridge that would be better allocated to bags of long-lasting, frozen produce instead.

Emotional: One World—Learn About Another Culture
Even as technology has made the world feel much smaller, it can be hard to bridge the chasm between people with different outlooks and experiences. Because April is National Heritage Month and Autism Awareness Month, it's an excellent time to challenge your employees to open their minds and learn about a different culture or community.
At WellRight, we're encouraging employees to participate in the One World challenge this month with a spirit of listening—employees can seek out first-person resources who have shared their own stories and experiences, which will provide important cultural context.
Human resources organization SHRM also lays out multiple ways to encourage and guide employees' cultural learning. Employees can supplement their learning with activities like visiting a museum or cultural center, or by exploring culturally significant works in the form of music, books or documentaries.
Employees can consider this challenge checked off once they feel they've gained a better understanding of a culture or community, but consider renewing this challenge periodically: We all benefit when we learn more about each other.

Physical: Alcohol Awareness—Learn About the Physical Impacts
While alcohol is ubiquitous in our society, knowledge about its effects is not. As it turns out, drinking any amount of alcohol can impact an employee's well-being in the short and long term:
In the short term, alcohol irritates the stomach lining, disturbs sleep, affects the reflexes and coordination, and impairs cognition.
In the long term, alcohol use (particularly heavy use) can increase blood pressure, weaken bones and damage the pancreas, liver and brain, to name but a few of the serious effects.
Fortunately, most people seem to be getting the message (or were just too worried about COVID-19 to go out to the bars). Either way, Gallup reported that in 2021, the percentage of U.S. adults who drink alcohol fell to 60%—a five-point drop from 2019 and seven percentage points lower than the 20-year high in 2010.
For April's Alcohol Awareness Month, invite employees to take the Physical Impacts of Alcohol university course to learn more about how alcohol impacts the body.

Purpose: True North—Discover Your Purpose
For many people, the past couple of years have been filled with upheaval, causing them to question where they are in their lives … and who they want to be.
Asking this question is often the first step on a journey toward finding purpose.
But what is purpose? Surprisingly, it doesn't have to be a grand, world-changing goal—although those are great, too. In general, purpose is "a sense of being guided by meaningful values and goals."
When employees find their purpose, the benefits are plentiful, including:
An increased sense of happiness
A higher likelihood of practicing healthy habits
Stronger personal relationships
Greater prosperity
Improved cardiovascular health
Lower all-cause mortality and a decreased chance of premature death
Purpose is powerful. Instead of feeling aimless and dissatisfied, people with purpose have a "why" that acts as their life's compass. Their purpose informs how they move about the world—and the difference they make.
The True North Challenge asks employees to spend a few minutes each day, for 30 days, thinking about their purpose in life, their personal mission statement and how they can apply the principles to their challenge and actions going forward.
(If employees don't have a personal mission statement, they can start by doing the Mission Possible Challenge: Contemplate the purpose of your life and craft a simple statement that encapsulates it.)
Spring Ahead to Improved Employee Wellness
Are these springtime challenges a walk in the park? That depends on whom you ask—every employee's experience with these challenges will vary, based on their current levels of well-being. Supporting your employees with resources like wellness coaching and an intuitive, accessible platform will go a long way toward helping every employee blow the dust off, open up to new ideas and experiences, clean out the clutter, and bloom into their best selves.