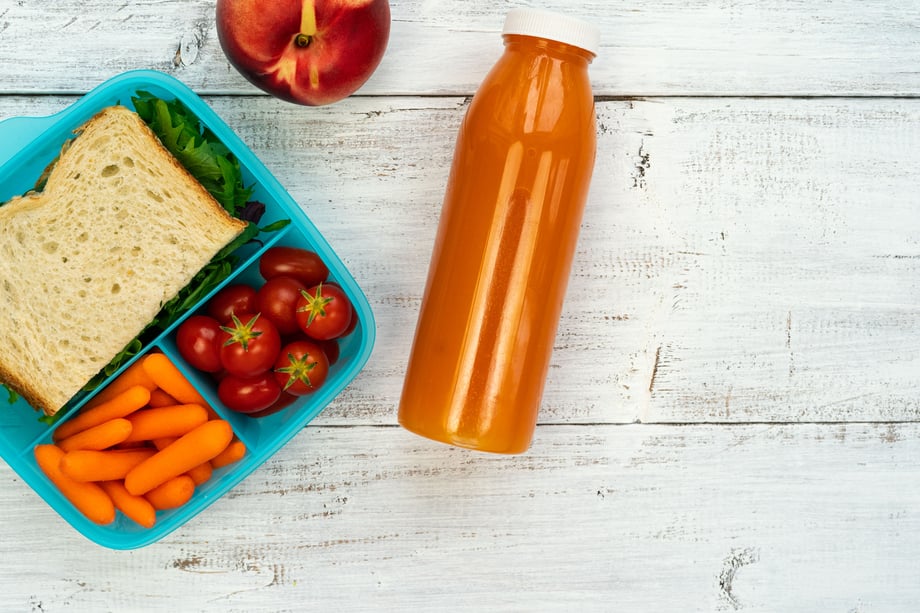 March is National Nutrition Month, which makes it the perfect time to amend nutritional education and programming in the workplace.
And since approximately half of Americans say they feel less healthy now than just a year ago, there's an increasing urge to facilitate healthy food choices.
Nutrition is an essential piece of the employee well-being puzzle. Employers have a responsibility to keep their staff's best interests in mind at all times, and that remains the case when talking about food in the workplace.
Beyond offering healthy food options on-site, employers need to go a few steps further to provide support and education about food access and healthy eating habits for all employees. It's imperative that organizations promote food equity for all employees by not only accommodating unique needs like food sensitivities and dietary restrictions but also actively informing and encouraging proper nutrition.
Here's how to support nutrition and food equity at work.
How Do Nutrition and Diet Affect Employee Well-Being?
Nutrition plays an integral role in an employee's ability to "show up" at work.
A healthy, well-balanced diet is one of the best performance enhancers for employee well-being, while a poor diet contributes to diminished productivity and stunted organizational growth.
Employees who opt for predominantly unhealthy food choices are 66% more likely to be less productive than those who actively make healthy choices. Ray Merrill, an editorial board member of the International Journal of Environmental Research and Public Health, correlates health-related employee productivity losses directly to missed business outcomes.
"Total health-related employee productivity loss accounts for 77% of all such loss and costs employers two to three times more than annual health care expenses", explains Merrill, who is also a professor in the Department of Health Science at Brigham Young University.
Evidence also shows that influencing work-related outcomes—especially absenteeism—is possible through complete and inclusive health promotion efforts in the workplace. Breaking it down further, proper nutrition also enables employees to enjoy:
Increased cognitive function

Better concentration

More energy and motivation

Decreased depression and anxiety

Heightened self-esteem
As such, encouraging workforces to make healthier food choices has tangential benefits to performance, advancement, and growth. But what happens when the choice to eat healthier isn't as simple as choosing fruit over chips?
Optimal, healthy eating options look different for certain employee populations. While a workplace nutrition program that incentivizes sugar reduction may motivate and promote the well-being of some employees, others with chronic conditions like diabetes may be excluded from partaking.
When gearing up to foster food equity in the workplace, employers need to be aware of dietary restrictions and other unique needs to make genuine progress toward increased well-being. In addition to diabetes, some unique and common dietary needs include:
Food allergies

Food sensitivities/intolerances

High blood pressure

High cholesterol

Vegan- and vegetarianism
Fostering Healthy Eating Habits and Accommodating Dietary Restrictions in the Office
The need for organizations to be more mindful of unique health needs and dietary restrictions is heightened with in-office employees. The onus is on employers to keep on-site food options safe and healthy so employees can feel nourished, present, and included at work.
Here are a few ways to increase on-site employee well-being through nutrition education and healthier food.
Provide Nutrition Education
Given the diverse nutritional needs of employees, it's important that wellness programs offer personalized support for a healthy lifestyle.
This is best achieved through one-on-one health coaching that meets individual employees where they're at and provides insightful, actionable advice for healthy eating.
Limit Unhealthy Snacks in the Break Room
58% of today's global population will spend one-third of their time at work during their adult life.
With so many people spending that much time in one place, it's not only crucial that physical activity is prioritized, but that employees have access to a variety of nutritious food options that can be safely consumed.
One effective way to support the health and well-being of in-office employees is to limit unhealthy food and drink options. Free food is always appreciated, so skip the pre-packaged and processed items and opt for fresh fruit, vegetables, and other whole foods.
Supply Food Labels
Employees with dietary restrictions depend on food labels for safe and secure nourishment. Everything in the workplace kitchen (fridge included) can help workers be more mindful of what they're eating, and avoid foods that may cause problems.
Clear labels also make employer provided food items more accessible to those with religious dietary restrictions, such as Kosher foods and condiments.
Provide Health Incentives with Fun Nutrition Challenges
Challenges and incentives make keeping up with nutrition engaging, enjoyable, and rewarding. The ability to track and monitor personal progress while working toward a healthier diet can also make for fun and friendly competition among coworkers.
Here are a few ideas to try when implementing a nutrition strategy in the workplace:
Have salad lunch days where workers can choose and assemble their own unique salads to their liking. One of WellRight's challenges, GoGreen, rewards employees for enjoying at least 20 salads in a given month and enables them to track their progress.

Host challenges that encourage employees to give up sweets, soda, chips, and other junk food for an entire month. Provide rewards at the end of the challenge to incentivize meaningful engagement.

Keep track and take advantage of "healthy holidays," like Dry January, encouraging employees to create healthy goals like abstaining from alcohol.
Encouraging and Supporting Nutrition for Remote Employees
With 58% of employed people (92 million individuals) now working from home at least part-time, it's essential that organizations prioritize flexibility and personalization.
This illustrates the need for nutrition education and programming that reaches beyond cubicles and into the homes of dedicated employees. But how can employers effectively promote these initiatives while still considering the unique needs of their workforce?
Digital Meal Cards
A great place to start is by encouraging and providing options for healthy lunches at home.
With inflation and the price of groceries at an all-time high, many Americans are sacrificing quality food for cheaper, less healthy items. There's a balance to be struck between providing helpful education and assisting employees in maintaining a healthy diet in the wake of current economic trends.
Employers can provide remote staff with digital meal cards to popular delivery apps such as Uber Eats, Doordash, or Grubhub. That way, they can order healthy, complete meals of their choosing while working from home.
Virtual Lunch and Learns
Educating remote employees en masse through virtual lunch and learns is not only a great way to foster the professional development of employees; it also creates a space for open discussion around nutritional programming and education with actionable steps employees can take toward improving their diets.
As a bonus, in-office teams can also join, fostering inclusion and belonging across departments and geographical locations.
Here are a couple of lunch and learn topic ideas:
Cooking and meal prep support. Prepping meals and cooking at home is a great way to help employees cut down on fast food costs and make healthier choices. For example, another WellRight wellness challenge is TopChef, which provides employees with 10 new recipes that they can try at home.
Fitness. A healthy diet and adequate levels of physical activity go hand in hand. A lunch and learn focused on fitness can help employees explore the value of exercise and what it can look like for their own health and well-being.
Taking Advantage of a Nutrition Program for Workplace Wellness
Having the proper tools to provide nutrition education and monitor individual progress on goals is an effective way to keep employees motivated and focused on their well-being.
By supporting the unique nutritional needs of employees, whether they're working from home or in the office, organizations can set their employees up for success personally and professionally, while also boosting company-wide productivity, engagement, and growth.
Are you struggling to take action and implement nutrition education, training, and tracking across your organization? Contact us today to schedule a demo and learn all the ways WellRight can help promote nutrition for your workforce.