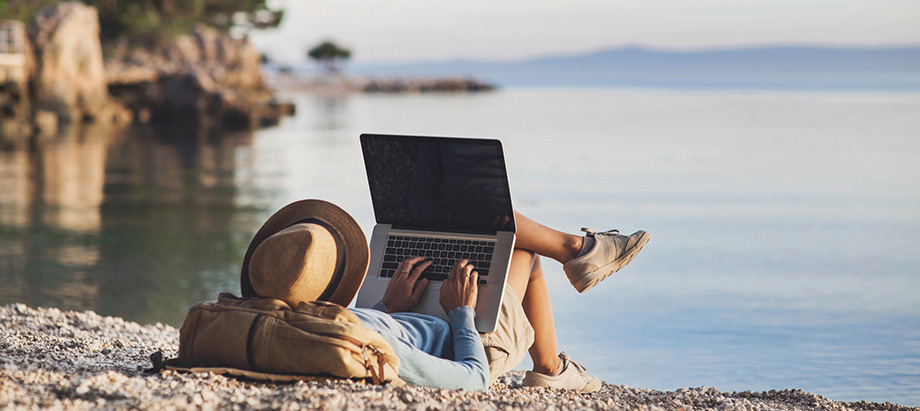 The wind whips through your hair as you deploy your parachute. You gaze down at the mountains, the forest, and at the crystal-blue water lapping the beaches. Then … Mom calls you to dinner and you put down your game controller.
Many of us grew up all but living outdoors—riding our bikes to and from friends' houses and playing outside until the sun went down (and then coming inside only to grab flashlights and head back out for more).
But over the years, something has changed.
Visits to national parks have been on the decline. More than 152 million people didn't go outside for recreation at all in 2017. Camping declined from 37 million campers in 2006 to 26 million 10 years later.
Whether they're binge-watching Netflix, stuck at a desk, or scrolling endlessly through social media accounts, adults and children are spending an increasingly large portion of their time indoors.
One of the biggest risks of all this climate-controlled activity? Nature-deficit disorder. While it's not an official disorder, experts are saying that maybe it should be. Here's what it is and why experts are concerned.
Why People Are Choosing Indoor Lifestyles
Nature-deficit disorder, first coined by author Richard Louv in 2005, is a simple idea that we're just not spending enough time outside. And when we separate ourselves too much from the natural world, physical and behavioral problems result.
There are plenty of reasons why we're nature-deprived. An increasing interest in video games in both the young and old lets players socialize via headsets and video game consoles, enjoying the virtual outdoors instead of the real-life version. Others work so hard they feel they barely have time for a short walk around the neighborhood, much less take a weekend to go hiking. Instead, they live vicariously through travel pages on Instagram and their friends' vacation Facebook feeds.
Still, others stay inside to avoid the inevitable bad news outside. The barrage of shootings in public places and the increase in human trafficking are causing adults to quarantine themselves and their children.
But perhaps one of the most alarming reasons we're spending less time in nature is because there's less and less of it to enjoy. Forested areas are being sacrificed for commercial and residential development. Budget cuts are closing recreational areas. And many city parks and playgrounds have more asphalt than grass.
The Implications of an Indoor Lifestyle
Is it really such a bad thing that we're spending so much time inside? In a word, yes:
As more and more adults grow up removed from nature, we see the results that a complete devaluation of nature can bring. Who's going to put up the finances or political will to protect a local river, for example, if the community never goes to see it? Nature (and its health) becomes a "nice-to-have," not a priority, with devastating results.

Indoor exercise doesn't make up for not getting outside, unfortunately. Exercising outside has been shown to result in greater feelings of revitalization, increased energy and engagement, and decreased tension and depression.
And if we're indoors and not exercising? Things get worse. A German analysis of 43 separate studies (totaling more than 4 million people) found that being sedentary significantly increases the risk for multiple types of cancer.
How Employers Can Reverse the Trend
The inability of people to interact with nature is negatively affecting cognitive functioning, attention, self-awareness, and overall physical and psychological well-being. But there's good news: Although half the world's population is living in urbanized areas, there's no reason nature-deficit disorder can't be reversed. And employers can play a key role in getting its employees back outdoors and changing the course of this epidemic.
Whether they're organizing company picnics, coordinating a weekend hike, or offering discount passes to zoos and parks, employers have plenty of opportunities to help get employees outdoors. And if you can't bring them outside, bring the outside in by hosting local conservationists, trail guides, or zoo staff for a noon seminar on the importance of getting outdoors and enjoying nature.
Need more inspiration? Here are some WellRight challenges that other organizations have used to help their employees get out into nature:
Air 1000:

Exercise outdoors for 1000 minutes.

Walk There:

Walk to a virtual destination. The team at Point Loma Nazarene University did this to great effect.

Hello Sunshine:

Get 100 minutes of sunshine (don't forget the SPF!)
Even the smallest of steps toward the great outdoors is movement in the right direction — for our heads, our hearts, and our bodies. So the next time you're looking out the window at an absolutely gorgeous day, encourage your employees to head outside and take a step or two toward reversing the nature-deficit trend.