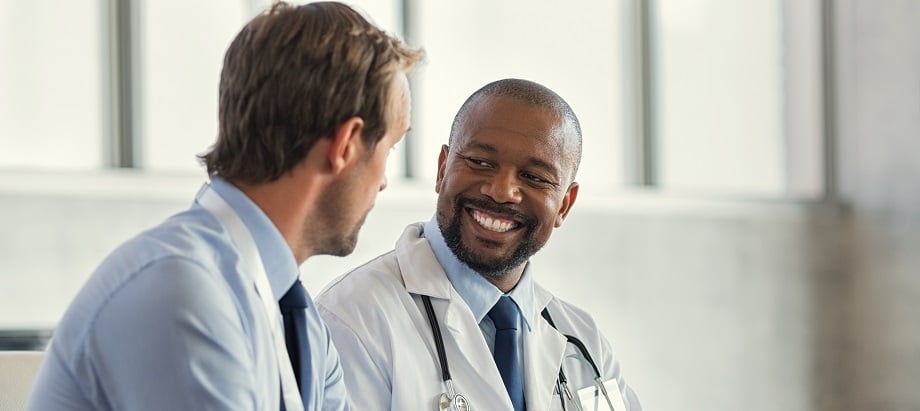 In our webinar "Why Personalization is the Secret to Your Wellness Program Success," WellRight Chief Medical Officer LouAnne Giangreco, M.D. talks about common barriers health plans face when creating personalized wellness programs—and how engaging the right mix of stakeholders improves offerings and demonstrates value to employers.
As companies consider a systematic approach to wellness program development where stakeholders are engaged, they must account for equity. Are they considering the needs of every member of the employee population? How can they leverage qualitative and quantitative data, have conversations within teams, and build out new programs? Are those programs truly applicable to the needs of diverse groups so everyone can participate?
In this blog, we've highlighted four ways to garner interest and engage stakeholders.
Assemble Cross-Representative Stakeholder Teams
Source Qualitative to Complement Quantitative Data
Build Programming and Structure
Program Around Diverse Needs
Assemble Cross-Representative Stakeholder Teams
Teams are essential to programmatic development. Diverse teams bring in a broader variety of opinions when looking at qualitative and quantitative data, creating a human-centered design story that looks for and determines what could fill any gaps.
In other words, there is power in numbers—even when those numbers aren't 100% quantifiable. Without an understanding of employees' collective experiences, it's difficult to determine how a wellness program will work best for them. Companies must lean into their employee resource groups, gather individual stories, and listen attentively to the employees who will be utilizing those programs.
But what about employees who don't feel safe advocating for themselves in their organizations? They may have concerns that their personal information could be shared or used against them, so companies need to create genuinely safe spaces in which employees can share their thoughts.
Consider Time Compensation
When asking employees to participate and offer their input, it's critical to make it worth their time.
This is especially important when some of the same people and groups are asked to participate repetitively—you don't want people to feel their effort has no value. Instead of just a "thank you," consider offering some type of compensation. Whether it's allowing people to use work time to participate, providing token gifts or gift cards, or even giving something that matters most to the individual, make sure to reward their time and willingness to contribute.
Build Empathy Through Human-Centered Design
If you want to engage stakeholders, you need something that feels real. Stakeholder empathy helps shape narratives about the real-life people whose lives will be impacted by the program.
Humans connect with stories—they resonate.
That's the foundation of a human-centered design model. It sets the groundwork to gather some of the qualitative data needed to prove the efficacy and applicability of a wellness program by helping companies see—and understand—where their employees can benefit.
This approach looks at real experiences (even though they're usually fictitious or loosely based on real employees) and illuminates where wellness programming can benefit each of those employees—either preventively or to maintain health.
Meet Elizabeth
Elizabeth is a 52-year-old single mother of two teenage daughters who works as an administrative assistant. She doesn't make enough to cover all her expenses, so it's a stressor that competes with the demands of home life. Elizabeth often finds herself over-committed and unable to consistently connect with her daughters—causing her even more anxiety.
Her limited free time means she doesn't exercise as much as she knows she should, and the cost of produce (and two picky teens) means a lot of takeout meals grabbed on the way home from the bus stop after work. The result has shown up on the scale, with a 20-pound weight gain over the last year.
Although she makes sure to keep her daughters' physician visits consistent, she puts her own health last. In particular, she doesn't remember her last mammogram or cervical cancer screening and has yet to make the intimidating appointment for a colonoscopy. And a flu shot? That hasn't happened in years.
Recently, Elizabeth has been experiencing some concerning symptoms—increased thirst and urinating more frequently. She can't afford to miss work and an appointment with her primary care provider often takes up to two months to schedule—so she decides to go to the Emergency Department. The diagnosis: Type 2 diabetes. Elizabeth leaves the ER with prescriptions for medication and a glucose monitor, as well as a PCP referral.
Let's look at an example of how a human-centered design approach can work. We'll consider a fictitious employee whose story can shed light on systemic needs and programs to support them.
Given Elizabeth's story, how could a wellness program have potentially circumvented her path to that diagnosis? Alternatively, how can a program help Elizabeth manage her Type 2 diabetes now that she has the diagnosis?
Health plans need to consider every aspect of what companies need for employees like Elizabeth, such as:
Safe housing, transportation, and neighborhoods
Protection against racism, discrimination, and violence
Education, job opportunities, and income
Access to nutritious foods and physical activity opportunities
Clean air and water
Language and literacy skills
By illuminating those foundational stories, health plans can identify gaps in programming and opportunities to close them. It also helps health plans and employers think about how policies affect real people, instead of looking at population health from a 30,000-foot view.
Source Qualitative to Complement Quantitative Data
Quantitative data is useful in making an investment and providing a return on that investment. By devoting time and resources to initiating conversations, you can collect and incorporate feedback from individuals who will be directly affected by it. Sourcing this data can be done in a variety of ways.
Facilitated Focus Groups
Companies can gather critical information from their employees using facilitated focus groups, which are designed to bring people together from across the organization to share what matters to them. By utilizing best practices in facilitating the group and capturing the data gleaned, companies can create a truly representative qualitative data set to be used over time.
Surveys
Companies can also utilize evidence-based, unbiased surveys, such as CDC and other organizational surveys, that capture information about where employees are on their wellness journey and their various experiences.
Build Programming and Structure
Looking at the qualitative and quantitative data gathered, this is where the rubber hits the road—health plans need to offer a broad range of content and programs that meet employees where they are. At the same time, however, a wellness program has to be easy to use.
Here are some suggestions for developing programming and structure:
Why reinvent the wheel? Leverage vendor partners with services and tools that can be easily plugged into the program.
Consider health and technology literacy. Make navigation and user experience as simple as possible.
Focus on personal choice. Life is fluid, so a program that's perfect for an employee at one point in their life may become insignificant or unnecessary at another point. Allow for choice and adaptation.
In the same way an individual with a substance-use disorder can't be forced into a recovery program, an employee can't really be forced to participate in a wellness program. Incentives and rewards are critical and must also adapt to each client.
Allow for a feedback mechanism to make programmatic suggestions based on health needs.
Program Around Diverse Needs
Ideally, a health plan's wellness program offering will consist of foundational elements that apply to most, if not all, client companies—plus additional elements that can be chosen "à la carte" to address diverse and dissenting needs. In this way, health plans can offer a wellness program that has something for every employee within every company.
So how can health plans ensure their wellness programs satisfy this rather formidable requirement?
Focus on developing programs that adapt to diverse perspectives and ideas by bringing together groups with representatives from many communities, be they racial or ethnic, LGBTQ+, social determinants of health and health equity, disabilities, or roles within companies.
This provides the opportunity to learn about perspectives that aren't always heard or haven't previously been considered, resulting in a more well-rounded and relevant program.
For example, when formulating a nutrition program, it's important to determine if ethnic food traditions are considered. How can nutrition programs conform to ethnic preferences—in some cases, that may extend to religious or ethical practices? For instance, having vegan, kosher, and halal options within nutrition programs may not be necessary for every client … but having the ability to offer them is important and serves as a differentiator.
One tool that is proven to be effective in gathering these diverse needs in a completely anonymous way is Mentimeter. It helps engage stakeholders and collect information by using live polls, word clouds, quizzes, and multiple-choice questions in a way that elicits no judgment and creates a safe space for authentic answers.
From Population Health to People Health
As employers vie for talent while seeking to lower their health care costs, they will increasingly seek out wellness programming that is engaging and effective.
Personalization is the key to both. And, stakeholder engagement is how to get there.
By assembling stakeholder teams from all walks of life, capturing qualitative information and integrating it with quantitative data to paint a picture of real-world results, keeping the structure flexible and open to change, and ensuring every group is represented in program development, health plans can elevate their offerings and position themselves to guide employers in a rapidly changing landscape.