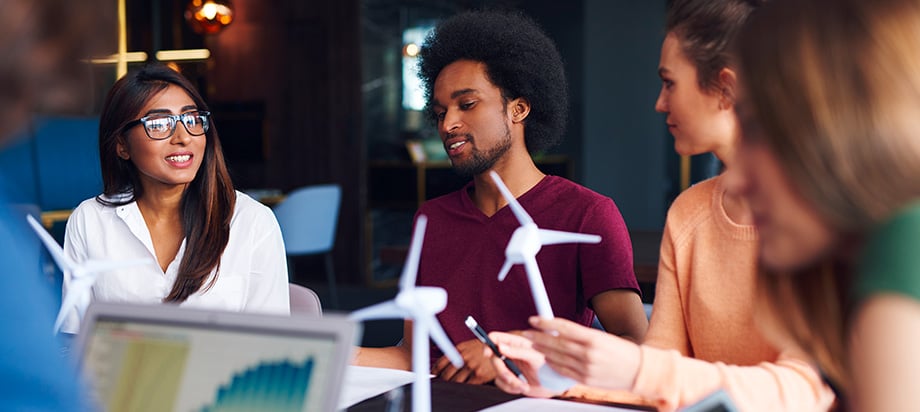 Companies actively working on how to measure the impact and effectiveness of diversity, equity, and inclusion (DEI) programs might not realize they can lean on another related initiative to help quantify those efforts.
And they may already have the data available.
The initiative? ESG, which stands for "environmental, social, and governance."
ESG initiatives, by their nature, involve tracking metrics for reporting to boards of directors, stakeholders, and other regulatory bodies.
And as it turns out, the intersection between DEI and ESG can be leveraged to help your organization better measure and optimize both types of programs.
What Is ESG?

Environmental, social, and governance (ESG) initiatives are traditionally implemented to show investors how viable a company is now and in the future. These programs evaluate how socially conscious the company is based on its commitment to and involvement in a variety of social and environmental causes.
A company's ESG score is a reflection of that commitment as well as a factor of the metrics that measure each aspect of ESG, including environmental, social, and governance.
Environmental
The environmental aspect of ESG refers to a company's contribution to climate change, greenhouse gas emissions, waste disposal, energy usage, and related issues. By reducing its carbon footprint, a company can improve its environmental score.
Analyzing how a company sources materials, whether or not solar energy is being explored, or the efficacy of a universal recycling program are all concerns that must be considered as part of this ESG initiative. The environmental aspect will also involve taking steps to fall more in line with the priorities of stakeholders, including investors and employees.
For example, 75% of millennials say they will pay more for sustainable products, and 77% are conscious of how the products they buy impact the environment.
Social
The social aspect of ESG ranges widely, from political views and labor standards to belonging and inclusion.
In other words, the social aspect of ESG is where DEI initiatives thrive.
It's important to know how this aspect impacts a company's overall ESG score. If investors determine that business practices are, for example, exploiting workers and forcing labor in third-world countries, they may decide to opt out. Internally, if a company's DEI program is more lip service than action and results, employee retention and recruitment will suffer in turn.
Governance
The last aspect of ESG is governance, which measures a company's stewardship through its leaders, mission, vision, and action. This includes auditing business practices, organizational structure, and even shareholder compensation.
To put this into perspective, if a CEO is found guilty of fraud or spends little time actually leading his or her organization, that company's governance score will suffer. This will go on to impact future investments, partnerships, and client relationships.
The Ethics of ESG
All three aspects of ESG pose three ethical questions for companies to answer, especially as they evaluate DEI strategies:
What responsibilities can our company adopt to protect the environment?
What roles do human rights, dignity, and respect play in our organization?
What impact should our company have on our industry and the standards to which all other companies are held?
That question of ethics has garnered attention from many companies—positively and negatively—when it comes to DEI. At this point, not only is DEI a component of the social aspect of ESG, but it has also become table stakes.
Now, the question is less about whether a company simply has a DEI program. Instead, according to one expert we spoke with, investors, job candidates, and employees want to know how seriously companies are taking their DEI programs, how pervasive they are, what kinds of checks and balances are in place, and whether they are truly effective.
"DEI has moved from a nice-to-have to a must-have for companies that want to remain successful," said Ty Chandler, Senior Diversity, Inclusion, & Belonging Lead at AvidXchange, an accounts payable automation software company headquartered in Charlotte, NC. "However, a DEI program should never be just about checking a box."
Chandler went on to explain how AvidXchange approaches DEI initiatives through the lens of ESG implementation.
"At AvidXchange, we've invested heavily in the Diversity, Inclusion, and Belonging (DI&B) programming because it is essential to our culture and our performance. If we expect to win as a team, we want to win together. This means we are actively creating a culture where our teammates can feel a true sense of belonging. By helping us to attract top talent, promote innovation and performance, and earn the trust of our teammates, partners, and community, DI&B better positions us to win. Our customers can feel at-ease knowing that they are partnering with a company that strives to integrate diversity, inclusion, and belonging into everything we do."


– Ty Chandler, Senior Diversity, Inclusion, & Belonging Lead at AvidXchange
And as it turns out, customers are watching more closely than we think. In fact, PwC reports that consumers want to know about the DEI programs in place at their favorite companies, and they want transparency around metrics, key performance indicators, and effectiveness.
And that poses a challenge for some companies.
While the environmental and governance aspects are easier to track because the data points are finite and quantitative, measuring social issues is much more difficult.
But without those metrics, it's even more difficult to show leadership how DEI initiatives impact day-to-day activities and the bottom line.
Your DEI programs rely on executive sponsorship and management participation. Executives and managers need tangible evidence that their involvement will make a difference. Without both, companies will find themselves going through the motions with little results.
So, how can you improve your company's DEI metrics to develop that elusive social aspect score?
Improving Social ESG Metrics
Research from Gartner confirms that DEI programs can deliver positive results in terms of employee performance:
2% increase in on-the-job effort
5% increase in employees' intent to stay with an organization
Nearly 3% increase in individual employee performance
Not to mention, companies infused with inclusion are 120% more likely to hit their financial target goals. Diversity initiatives have a similar impact and correlate to outperforming financial KPIs. And when it comes to innovation, more diversity equals faster innovation.
However, you still have to show how these programs will make an impact in your company. To do that, you need to set a baseline, identify priorities, link them to corporate goals, and track them in tandem with KPIs.
1. Conduct an Inclusion Audit
Without a baseline, it's nearly impossible to measure progress. Your first step should be to conduct an inclusion audit, even if you already have DEI programs in place. It's critical to know where you're starting from, especially when there may be inherent biases that could be impeding program progress.
Some important questions to ask during your audit include:
Do company forms have a section for pronouns?
How are families defined, and what naming conventions are used to describe spouses and children?
What magazines and signage are displayed in offices and waiting rooms?
Who is involved in the hiring process, and are they representative of the diversity you wish to see in the organization?
Are there clear mentorship opportunities and promotion paths for employees in underrepresented groups?
How are the needs of those groups communicated to management?
2. Establish Employee Resource Groups (ERGs)
Employee resource groups (or ERGs) serve several functions within an organization. They create a safe space for underrepresented employees to network and brainstorm ways to make their company more inclusive.
Plus, ERGs can serve in an advisory role to your DEI programs by taking the inclusion audit results and prioritizing the opportunities presented.
3. Set Clear Goals and Tie Them to KPIs
With the help of your ERG, you can determine what needs to happen in the short- and long-term to create a culture of belonging and inclusion for all employees. Keep in mind that these goals should be SMART (specific, measurable, action-oriented, reasonable, and time-specific) so you can measure clear outcomes and deliver data-driven results to leadership.
Another factor that will help make your goals more achievable and impactful is to tie them to company KPIs.
For example, if your company has a hiring target for the new year, create a goal within that KPI that details the diversity target for those new hires. Within your training and development KPI, clarify how many or what percentage of employees within underrepresented groups should complete leadership training. The point is to make sure each of your DEI goals is directly linked to a corporate goal to ensure they are given equal priority.
By understanding how to measure DEI programs, your company can improve its overall ESG score and attract the essential stakeholders needed for internal and external success. If you would like assistance in developing your DEI program or have any questions about how to put these ideas into practice, WellRight can help.