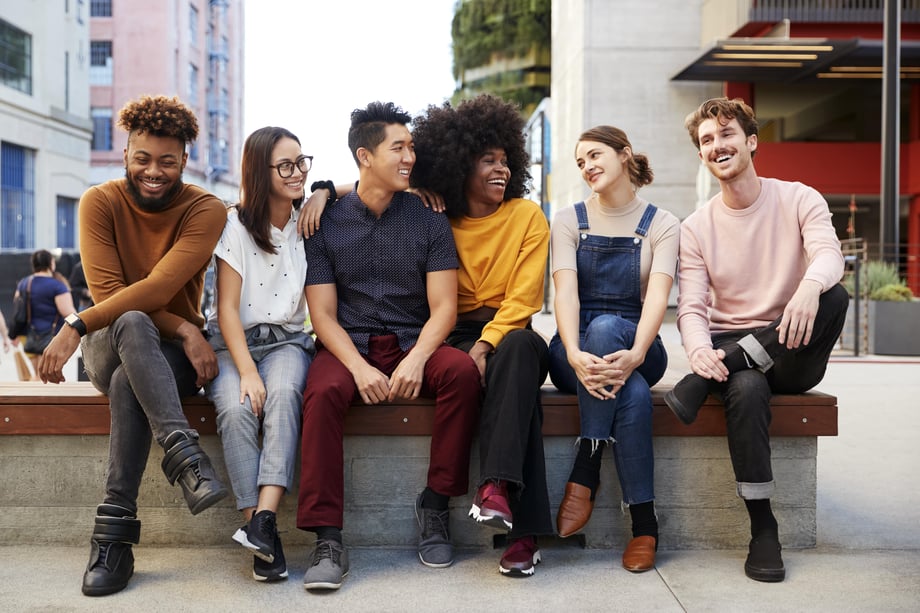 Diversity, equity, and inclusion (DEI) are three fundamental elements for organizational well-being that should be baked into all professional workplaces. With a strong DEI strategy in place, businesses stand to experience benefits such as increased employee engagement, the ability to attract more (and better) talent, and improved employee performance.
But how else does fostering a culture of diversity, equity, and inclusion impact the well-being of employees and senior leaders? And how might putting DEI first affect organizational success?
Let's take a look at the importance of a foundational DEI strategy, impactful goals to set ahead of building your own, and how to implement them effectively in your workplace.
Diversity, Equity, and Inclusion in the Workplace
The Importance of DEI in the Workplace
By implementing a strong DEI strategy, companies heighten employee experience and benefit from:
Decreased turnover. When employees are happy at their jobs, they're inherently more likely to stick around longer. A study by Glassdoor revealed that nearly 70% of job seekers

say that a diverse workforce is critical when considering an offer of employment.

Improved profitability.

Studies show that organizations in the top quarter for gender diversity and racial/ethnic diversity were, respectively,

21% and 33% more likely to outperform

their peers.
Before these or any other benefits can be realized, however, a solid plan of action, and people responsible for maintaining it, must be put in place.
According to Harvard Business Review, only 12% of DEI leaders have a team under them dedicated to DEI work. This alone shows a pressing lack of DEI leadership and subsequent lack of organization around diversity, equity, and inclusion initiatives and calls for heightened attention, strategy, and goals within organizations.
DEI Through the Lens of Well-Being
A holistic approach to well-being—and DEI—based on the six pillars of well-being are paramount for employees and employers today. Let's walk through them and learn what they encompass to give us a better idea of the goals companies can set to deliver on DEI in the workplace.
Emotional
Emotional well-being, or mental health, is imperative for many employees, and thus should be just as important to employers. It affects how we handle stress, conduct interpersonal relationships, and make decisions—and depending on an employee's lived experience, emotional needs vary.
Research from Columbia University suggests that African American employees are 20% more likely to experience serious mental health issues than Caucasian employees. Knowing this, it's imperative that employers adjust their DEI strategies to ensure all employee populations receive equitable—not equal—mental health benefits.
Financial
Because employees have unique lived experiences, their background can directly impact the challenges they face from a financial perspective.
For example, individuals with disabilities or members of the LGBTQIA+ community may have different financial needs than someone who does not belong to either community. While there are larger economic issues that prevent certain employee groups from starting on the same foot as others, equitable DEI initiatives and wellness program features are imperative for instilling financial well-being in the workplace.
According to PwC's Employee Financial Wellness survey, one third of employees would like to see increased access to unbiased financial coaching, necessitating the need for equitable financial wellness initiatives.
In order to be truly equitable, a financial wellness program should:
Provide personalized financial education and coaching

Regularly evaluate compensation and implement necessary changes with equity in mind

Offer support to all employees, including education and career development
Occupational
Occupational wellness is another key pillar that focuses on achieving work-life balance and other workplace wellness priorities.
Beyond enabling employees to attain a healthy balance between work and personal life, fostering occupational wellness communicates that you understand your employees' most basic needs at work.
In order to ascertain what diverse employee groups need to feel safe and well at work, employers can establish and defer to dedicated employee resource groups (ERGs) that allow individuals from all walks of life to inform upper management of what they need to thrive.
Social
All employees have a right to feel connected to their teams, managers, and senior leaders. They deserve to develop and maintain friendships and other social relationships when working from home or in the office.
Because the workplace is where people spend a significant amount of their time, it's important that employers create a psychologically safe work environment that encourages employees to foster healthy and inclusive relationships with coworkers from all walks of life.
Physical
Physical wellness helps employees feel healthy both inside and outside the workplace.
By encouraging healthy habits and exhibiting your understanding of the unique physical needs of different employee groups, you can offer personalized support for employees' physical health and well-being. Equitable health care benefits that are mindful of diverse employee groups are paramount in order for employees with unique physical needs to thrive — at work and in their personal lives.
As a starting point, your wellness program can include initiatives that account for:
Disabilities, chronic illness, and other physical limitations

Cultural or geographical differences, such as appearance or clothing
Purpose
Uncovering the underlying "Why?" behind your business is the driving force of this final pillar.
Here, purpose signifies your larger, social mission. Standing for a cause as an organization has a trickle-down effect that directly (and positively) impacts employees, bringing about interpersonal and company-specific benefits such as:
Improved employee morale

Heightened recruitment and retention

Strategic organizational growth
Organizing food drives, clothing donations, or charity fundraisers are examples of how you can act on your larger purpose as a company and boost employee satisfaction in the process.
Impactful Goals to Set for Your DEI Strategy
Setting goals for your business's DEI initiatives and tracking your progress enables you to monitor which areas are successful and which require improvement.
Knowing exactly where to start can be tricky, but there are some key challenges that many organizations face across the board, including:
Not enough gender diversity in leadership.

According to McKinsey's 2022 Women in the Workplace report, only

one in four C-suite leaders

are female, and only one in 20 are women of color.

Lack of mature, strategic, and goal-centric DEI programs in workplaces.

Less than half of surveyed organizations

(41%) believe that their DEI programs have reached an "advanced" or mature stage, according to a recent report from the HR Institute.
Taking a closer look at challenges within organizations that hinder employers from meeting DEI goals, it is important to evade common DEI program barriers, such as:
Lack of goals or metrics that gauge program efficiency

Inadequate training on DEI leadership, implicit and unconscious bias, microaggressions, etc.

Little to no buy-in from leadership

Inflexible budgetary restrictions

Cultural resistance
With these challenges in mind, how can companies build a strong DEI strategy that's attentive, sustainable, and beneficial for business outcomes?
Through communication, internal goal setting, and measuring the effectiveness of your DEI efforts, you can set your employees and your organization up for success. If you're unsure where to start, here are some proven DEI strategies and goals to set you on the right track.
1. Fostering Cultural Awareness and Humility
Before initiating the preliminary stages of DEI strategy writing and implementation, it's important to prioritize cultural awareness.
To be truly inclusive, employers must be sensitive to both the similarities and differences among different cultural groups—especially when interacting and communicating with people who belong to any of those groups. This is known as cultural humility, or having an awareness of self and how each person's identity relates to race, ethnicity, gender, sexual orientation, socioeconomic status, education, social needs, and other factors.
In order for a DEI program to maintain momentum, employers must continuously learn and recognize implicit biases with openness and grace. This is best accomplished through education, representation, and clear communication. While implicit biases cannot simply be erased, they must be acknowledged in order to make meaningful progress.
Workplaces should be mindful of things like cultural holidays, religious observations, and social practices that their employees celebrate. Asking questions, being mindful of others, and using inclusive language are core best practices that will promote diversity, equity, and inclusion in the workplace.
2. Enabling Employees to Be Their Authentic Selves
By becoming more culturally aware, celebrating diversity, and being inclusive, you can enable your employees to be their authentic selves by default.
It's much easier for employees to let their guard down and become part of a community when that community is welcoming, understanding, and doing everything it can to celebrate diversity. However, it's also important to respect each employee's comfort level and right to privacy when it comes to fostering a healthy, inclusive workplace culture.
Throughout this process, make sure to get employee feedback to guide your team as you create opportunities for employees to share more about their communities and values in the workplace.
Organizations can encourage authenticity at work by:
Leading with empathy

Asking for and responding to feedback

Creating safe spaces in-person and online

Building diverse teams and promoting career advancement

Initiating and facilitating open and strategic discussions about DEI
3. Promoting Diversity and Inclusion Across All Organizational Levels
Promoting DEI in the workplace goes without saying and is a core part of any DEI strategy. However, to be sustainable, a DEI strategy needs to progress beyond HR and ERGs.
According to a 2021 survey by Lever, 47% of employers say they have created or reviewed DEI policies with employees—but only 27% of employees claim that those policies were actually communicated to them.
In order to bridge the gap between employers and employees in communicating DEI initiatives, senior leaders must assume accountability for progress on all DEI fronts. Doing so will create a trickle-down dialogue and integrate DEI as an organizational imperative, which will benefit employees and companies at large.
4. Maintaining DEI Program Momentum
Almost half of workers say they would consider leaving their jobs if their organization's ability to carry out DEI commitments falters, according to a study from Deloitte.
A fundamental goal of DEI is to transform and strengthen core company policies so that they better align with company culture—and solidify trust in employees. Initiatives such as LGBTQIA+-affirming practices must become an inherent part of your organization year-round as opposed to select months out of the year.
From the time you get started on DEI program implementation, policies should support your goals and initiatives to lock in your objectives and start on a path of continued achievement and progress.
Tips for Writing and Implementing a DEI Strategy
When it comes to writing and implementing a diversity, equity, and inclusion strategy, there are some valuable tips that can set your organization up for long-term success.
Here are 5 DEI strategy tips that are guaranteed to improve workplace culture, growth, and overall well-being.
1. Perform an Assessment of Your Current Culture
It's almost impossible to know how to improve your current DEI program if you don't currently know where you stand.
Performing a cultural audit via an anonymous survey sent to employees will help you understand the current state of your culture and determine where and how you need to improve.
Here are a few example questions that you could ask to gather honest feedback:
What are some adjectives you would use to describe working here?

What was the biggest adjustment you had to make when you were hired?

Do you feel respected and safe in the workplace?

How would you describe your leadership team?

Would you recommend someone to work here?



These questions will help you outline your DEI strategy in a way that improves your current culture in areas where it may be lacking, as communicated by the people it most directly impacts. Gathering this type of feedback also communicates to your employees that you value their input and are working towards a strong and healthy culture.
2. Make DEI Programming a Priority
Only 38% of organizations say that they have a DEI strategy in place, according to a recent HR survey by McLean & Company.
When it comes to DEI in the workplace, reactive and proactive strategies are not enough. Instead, progressive DEI practices are what help organizations create opportunities for success—both for their employees and themselves.
3. Be Transparent and Make Open Communication a Priority
Whether you've hit your goals or need a bit more time to get there—being transparent about DEI is always best practice.
DEI strategies will look different for every organization, and what will work for one may not translate to another. Let your employees know where you stand, communicate the steps you're taking to improve, and report on your successes or obstacles as they arise.
Communication is the bedrock of effective DEI in the workplace, so employees and potential hires need to know what steps you're taking to improve. This can be communicated through inclusive job listings, equitable health and wellness benefits, and easy access to educational resources.
4. Coach and Manage Your Path to Success
Implementing DEI is not something that happens overnight, especially if you're a larger organization. This is why DEI training is critical.
Leadership needs to be trained on DEI policy first so they can subsequently coach employees in the same way. And sometimes, the best education and coaching leaders can receive comes from employees themselves.
Through coaching and strong DEI management, positive change is far more attainable.
5. Measure Your DEI Efforts
Collecting and analyzing data directly related to your DEI efforts will help you course-correct to ensure you're meeting your goals.
Plus, leveraging wellness software like WellRight can drive employee engagement, provide educational resources, and give employees ownership over their unique health profiles.
Harvard Business Review explains that, to make a DEI program work, you need metrics to examine and benchmarks to set. These four benchmarks are a great place to start:
Foundation benchmarks are focused on DEI issues that impact your organizational leadership, vision, and company structure, such as attrition rates.
Internal benchmarks examine what can be done within your company to resolve issues and take advantage of ERGs.
External benchmarks assess how your company is representing itself outside your organization, and how it's likely to be perceived. For example, consider evaluating your job postings and ask yourself if they are inclusive.
Bridging benchmarks involve assessments and measurements with specific KPIs and periodic reporting to determine your DEI program progress.
When these measurements are made transparent, employees can trust that you're committed to change and you're taking actionable steps to improve.
Create a DEI Strategy That Leaves an Impact
Making a fundamental change for the better in your workplace culture is the overarching goal of DEI. Through all of these tips, it's critical to maintain a focus on the end goal of improving your workplace environment.
Implementing policies, procedures, and best practices in the workplace that celebrate diversity, provide equitable benefits, and foster inclusion equip organizations for future success. Not only does it empower previously underrepresented employees and prospects to thrive and grow in their careers, but it also benefits your business by improving morale and engagement, boosting retention, and enhancing productivity across the board.
Is your team or organization struggling to start the tough conversations around DEI? Do you feel like you aren't doing enough to ensure that your employees feel seen, safe, and respected at work? Reach out to our Well-Being Strategy Consultants to get the ball rolling and discover how you can enact lasting change.