"Practice makes perfect" may be an old adage, but it's no less true today. Experts agree that practice greatly increases the ability to retain new information and build new habits.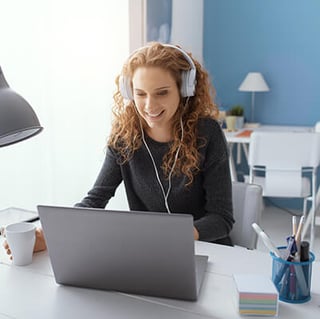 So why does so much workplace education consist solely of watching a video or reading a handout and then setting it aside forever?
For learning to be effective and engaging, employees need the opportunity to put their learning into practice and integrate their new skills and ideas into their everyday life. And for learning to be economical and efficient, organizations need to look beyond in-person, one-size-fits-all professional development sessions.
That's where WellRight Learning Labs come in.
Taught by renowned thought leaders through video content, assessments, practice activities, tracking, reporting, and gamification, WellRight's carefully curated Learning Labs are designed to increase employee motivation and engagement like never before.
Features:
Comprehensive programming covering the six dimensions of well-being: emotional, financial, social, occupational, physical, and purpose.
Flexible curriculum including educational video content and specific habit-based assignments to drive focused learning and positive behavior change.
Online lessons and activity tracking easily accessible anytime and anywhere via desktop or mobile app.
Tracking through built-in eLearning authoring tools and assessments.
Gamification to increase motivation and engagement.
Reporting to monitor overall progress and participation.
Sample Learning Lab Lessons:
Work Happier Now: 8-Week Learning Lab
Learn How to Make the Most of Your Job
Being happier at work can lead to greater confidence, self-worth, and overall fulfillment. While your job doesn't define you, your work can be a source of great satisfaction throughout your life.
The Work Happier Now Learning Lab gives you a roadmap to making your work life better. Each week begins with a microlearning video led by executive coach Stella Grizont. For the rest of the week, you put to practice what you've learned, tracking your success at implementing new habits into your workday.
For an additional fee, Stella will kick off the Work Happier Now Learning Lab with a one hour webinar.
Week 1: Generate Positivity – Keep a gratitude journal
Week 2: Manage Your Mind – Meditate for 70 minutes
Week 3: Lead with Your Heart – Share appreciation with 5 people
Week 4: Get Clear and Be – Describe your best self
Week 5: Set Your Priorities – Determine your goals
Week 6: Connect and Grow – Have lunch with 2 coworkers
Week 7: Jobcraft – Design your dream job
Week 8: Feedback Loop – Ask 3 people for feedback
Your Money Matters: 8-Week Intensive Program
Help Your Employees Achieve Financial Harmony
Your employees' financial health could be hurting your organization in more ways than you realize. When employees are stressed about finances, it can affect their job performance and even your employee retention levels.
WellRight's Intensive Learning Experiences can help. Through a partnership with Best Money Moves and LSS Financial Counseling, this 8-week microlearning program focuses on core financial habits. The program combines eight brief learning modules, delivered over desktop or mobile devices anytime with questions to confirm comprehension and weekly habit-building challenges. Your employees can track results via an online portal, mobile app, or text messaging and be incentivized with meaningful rewards.
Week 1: Quick Hit Savings – Eliminate discretionary expenses
Week 2: Credit Report – Request your credit report
Week 3: Optimizing Spending – Check your service plans
Week 4: Managing Risk – Check your insurance rates
Week 5: Budgeting Skills – Track what you spend
Week 6: Savings Strategies – Visit with a financial advisor
Week 7: Controlling Spending – Wait before your buy
Week 8: Conquering Debt – Pay down your debt
Work From Home: 4-Week Learning Lab
Learn How to Effectively Work Remotely
Working from home sounds good on the surface but can present some unique challenges. This 4-week learning lab combines learning and practice to help you build five healthy habits for working effectively from home.
The learning lab kicks off with a video hosted by Stella Grizont, where she explains the importance of each of the five habits. Then, for the remaining weeks, you put into practice what you've learned and track your success. Upon completion of the program, you will feel more organized, be more productive, and feel more satisfied with your home and work life.
Habit 1: Top Priority – Create a daily to do list
Habit 2: Looking Good – Dress for work every morning
Habit 3: Stay Active – Do a daily workout
Habit 4: Meditation Master – Meditate daily
Habit 5: Stay Connected – Talk with a coworker each day
H10: Healthy Habits: 10-Week Learning Lab
Learn Small Changes That Can Have a Big Impact on Your Health
H10 is a 10-week program introducing participants to 10 healthy habits that are the backbone of a healthy lifestyle. Different from a diet, H10 doesn't limit how much to eat or dictate an exercise routine. Instead, it teaches people to make small, lasting changes that can have a big impact on their health for the rest of their lives.
The learning lab is hosted by Kristin Balchan and Rita Ravenna, health and wellness coaches at Marquee Health. Each week, participants practice a new healthy habit, tracking their daily success via the web or app. They are also required to track their weight each week to see their progress, and finally, they'll complete a brief course that reinforces the benefits of building the habit. It's that easy!
Week 1: Drink Water – Drink water before snacks and other beverages
Week 2: Move – Walk 5,000 steps a day
Week 3: Eat Mindfully – Don't eat between meals
Week 4: Enjoy Produce – Eat 5 fruits and vegetables daily
Week 5: Enjoy Legumes – Eat beans daily
Week 6: Enjoy Whole Grains – No refined grains
Week 7: Limit Bad Fat – No fried foods
Week 8: Limit Sugar – No added sugar
Week 9: Sleep Enough – Go to sleep at the same time
Week 10: Eat Just Enough – No seconds
Listening Drives Motivation: 5-Week Learning Lab
Listening is Your Most Important Leadership Skill
Most people overestimate how good they are at listening, a critical skill for great leaders. The Listening Drives Motivation Learning Lab provides the insight and practical skills you need to master the art of listening so you can make your organization stronger, your employees happier and more productive, and your job as a manager less stressful.
Each week begins with a microlearning video led by Aaron Levy, founder and CEO of Raise The Bar. For the rest of the week, you practice what you've learned, honing your listening skills, and tracking your progress as you go.
Motivate your team for success—without even opening your mouth!
Week 1: Special Treatment
Week 2: Listening Blindspot
Week 3: Meeting Checklist
Week 4: Stay Interview
Week 5: One-on-One
Remote Leadership: 5-Week Learning Lab
Learn How to Manage and Motivate a Remote Team
In this technological age, remote work is a reality for almost every organization. To effectively lead a remote team, you need new skills and tactics. In this Learning Lab, Aaron Levy, founder and CEO of Raise the Bar, guides leaders through setting clear expectations and focusing on outcomes not hours to motivate your team and help them succeed.
Week 1: Begin with the Basics – Create clarity, context, and safety
Week 2: Define Expectations – Create operating rules for your team
Week 3: Set SMART Goals – Make your team accountable
Week 4: Connect with People – Have direct discussions
Week 5: Be Transparent – Tell people what's really going on
Meet Our Instructors: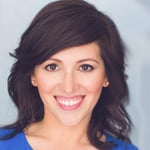 Stella Grizont
As a speaker and executive coach, Stella Grizont works with leaders who are seeking deeper career fulfillment and with organizations who are dedicated to elevating the well-being of their employees. In the last 15 years, Stella has coached over 1,600 individuals in 27 countries. Some of Stella's corporate clients include Google, Dow Jones, Cigna, Johnson & Johnson, VMWare, and Genentech. Her unique approach to being happier and more engaged on the job has been featured on MSNBC, The Today Show, ABC, Entrepreneur, and Vanity Fair. She regularly contributes to Forbes and Thomson Reuters. Stella studied Economics at Columbia University's Barnard College. She was also one of the first 150 people to earn a Masters in Applied Positive Psychology (aka the science of happiness) from the University of Pennsylvania.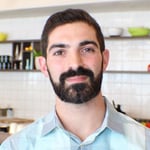 Aaron Levy
Aaron is the Founder and CEO of Raise The Bar, a firm focused on helping companies create high performing teams by building better leaders. Aaron is the author of the #1 bestselling new release on Amazon, Open, Honest, and Direct: A Guide to Unlocking Your Team's Potential, the host of the Open, Honest, and Direct podcast, the Co-Director of Startup Grind Chicago, a Thrive Global contributor, an 1871 mentor, an ICF Certified Coach and a member of the Forbes Coaches Council. Over the last decade, Aaron has worked with over 10,000 business leaders in a variety of industries, inspiring them to define their goals, create tactical action plans, and achieve sustained success. Aaron is on a mission to transform the manager role by empowering each manager with the tools, skills, and training to be leaders of people who unlock the potential of their team.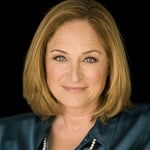 Ilyce Glink
Ilyce Glink is an award-winning, nationally-syndicated columnist, radio talk show host, bestselling author and the CEO of Best Money Moves, a leading financial wellness technology company and Think Glink Media, a content strategy and production company. She has written 14 books on topics related to personal finance and real estate and has nearly one million books in print. An in-demand keynote speaker, Glink has delivered numerous speeches to a wide variety of audiences including Marriott Hotels, Countrywide Financial, Allstate Foundation, Discover Card, the Delaware State Treasurer's Office, Georgia State University, Society of American Business Editors and Writers, Youth Leaders International, Society of Professional Journalists, March of Dimes, and the Federal Reserve Bank of Chicago.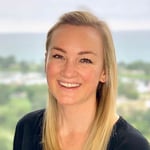 Kristen Balchan, RD, LDN
As Vice President, Client Success at Marquee Health, Kristen leads a national team of wellness consultants and serves as the lead consultant to clients across the nation working towards improving their employee wellbeing. Kristen offers strategic consultation based on her clients' industry and company goals, as well as biometric screenings, health coaching, onsite wellness events, custom communications, and benefits integration. Kristen loves the opportunity to think outside of the box and provide innovative solutions to clients feeling stuck or looking to shift the culture and not knowing where to start.

Rita Ravenna, NBC-HWC, CHWC, MCWC
Rita is the Manager of Health Education at Marquee Health. Born a nurturing person, Rita always gravitated toward helping others. This combined with her life-long love of healthy eating and fitness guided her to become a health and wellness coach. Rita earned her Bachelors of Science degree from DePaul University in Chicago, and is a Certified Personal Trainer through the National Council of Certified Personal Trainers, certified in Adult Weight Management through the Cooper Institute, a Smoking Cessation Specialist through the American Lung Association, and a Certified Health and Wellness Coach through Wellcoaches and a National Board Certified Health Coach. Rita is passionate about making time for yoga and cycle classes each week, as well as running, playing tennis, and gardening.
Share this on social: