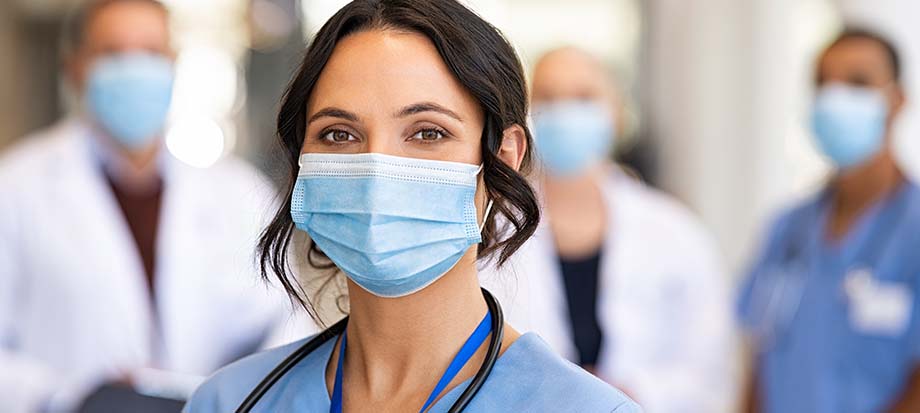 Nurses are burning out.
The already-high stress of the job combined with the massive emotional and physical strain caused by the pandemic has pushed nurses to the brink—and beyond. Many are saying "enough," and are not only quitting their jobs, but leaving the profession altogether.
We talked to Kym Ali MSN, RN, a workplace wellness consultant who specializes in helping health care companies alleviate employee burnout and increase retention.
Kym highlighted three trends within the nursing profession that have resulted from this extreme level of burnout:
1. Nurses migrating from full-time to travel nursing.
Let's face it. If nurses are going to feel like they're being worked to death, they might as well be paid well doing it. Travel nurses can do contract work in various types of facilities for a much higher hourly rate than any salaried nursing job.

2. Nurses transitioning from health care facilities to clinics, nursing schools, or home health care organizations.
Nurses want to continue to practice, but the stress of providing bedside care to combative patients is often more than they bargained for. And the market for non-traditional nursing jobs is increasing—the Bureau of Labor Statistics projects that home health aide opportunities will increase 34% by 2029.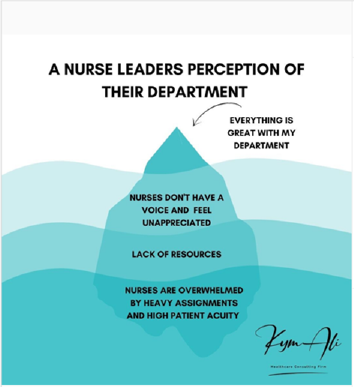 3. Nurses leaving the profession all together.
For some nurses, working in an office setting or even in a different industry may not be their ideal job, but at least it's not as much of a threat to their emotional or mental well-being. The turnover rate for bedside nurses has increased over 3% with the pandemic, with the highest rates among nurses in step down (immediate care), behavioral health, and emergency services units.
From Kym's perspective, nurses are at a breaking point.
And while health care leaders might think they're doing a great job supporting nurses, there is more often than not a serious disconnect between nurses and management.
"If you talk to nurses, they don't feel supported. They feel like they are voicing their concerns to leadership any way that you can think of from a patient safety standpoint, 'We're short staffed, we're tired, we aren't able to provide safe patient care,' and it seems to fall on deaf ears. But when you speak to leadership, they believe they're providing enough resources. There is clearly a communication breakdown."

– Kym Ali MSN, RN, Workplace Wellness Consultant
Added to this is the stigma against taking breaks or asking for help. Nurses are expected to put aside their own needs for the sake of patient care, to the point where patients have complained on social media when they hear nurses chatting (or even laughing—how dare they!) during a shift change. Of course, this pressure is also coming from within: When all your colleagues are completely slammed with work, it can be easy to feel guilty or ashamed for needing rest or some time away.
What to Do When Nurses Are Burning Out
There's no avoiding it. A nurse's job is just too stressful to expect that they'll never be burned out. But that doesn't mean everyone has to just wait for it to pass—especially now. The chances of that happening are squarely wedged between "slim" and "none".
Instead, some health care businesses are finding creative—and effective—solutions that help nurses find the support and breathing space they need to keep burnout at bay. (Some of these solutions are so good, they could be used in virtually any work environment.)
Provide a Moment of Zen
Nurses are on their feet all day trying to keep every patient comfortable and safe, while dealing with stress, frustration, heartbreak, and a massive workload. This pressure-cooker environment is tough enough. On-the-job violence against health care workers was already increasing.
Now, add a pandemic: National Nurses United survey of more than 15,000 US registered nurses showed that about 20% of nurses are facing increased on-the-job violence, which they attribute to pandemic–related staffing shortages, changes in their patient population, and restrictions for visitors.
Having a place to escape, whether it's just to count to 10 or for a 30-minute break, can provide some blessed quiet and a small recharge.
This is a job for the "Zen Den," which is essentially a free space that is used as a dedicated respite area—usually with lounge chairs, soft music and even some aromatherapy. Nurses can duck away for a few minutes to take some deep breaths or unroll a mat to meditate or stretch.
Another success strategy focuses on the relationship between stress and nutrition.
Keep Nurses Nourished
It shouldn't be a surprise to learn that the nursing profession and leisurely lunches don't really jive. Much of a nurse's diet consists of whatever they can scarf down while reading charts at their stations.
It's sadly ironic that the same people responsible for patients' health often get no time to take care of their own.
Because nurses need to keep their energy levels up to care for patients, they absolutely need to eat throughout the day. But when many of them go an entire shift without getting a break, it's next to impossible
Health care organizations have begun to recognize that this lack of healthy nutrition is playing an important role in the declining mood and health of their nurses. Their solution: instead of expecting nurses to find healthy snacks, bring those snacks to them with healthy nutrition carts.
These portable carts travel around the units and are packed with carrots, grapes, nuts, and other nutritious, convenient snacks to stave hunger, regulate blood sugar and hold them over between meals.
This way, nurses get the quick and portable nutrition they need to function well.
Set up Peer Support Systems
The most impactful initiative that Kym Ali has seen implemented by health care companies is one that connects nurses with their peers.
After all, is there anyone who understands what nurses are going through better than their colleagues?
That question (and its obvious answer) is what inspired several health care organizations to create peer support groups for their nurses. These formally established groups include nurses who step up and volunteer to be a listening ear for other nurses.
So, a nurse who's having a rough day can go to a designated peer nurse and be supported by a colleague who has walked that road many times.
"Lean into your strong nurses who seem to be doing okay," advises Kym. "Those are the nurses that are going to uplift the nurses who aren't doing well."
Put Yourself in Their Nursing Shoes
Even without formal programs and initiatives, health care leaders need to walk a mile or 20 in their nurses' well-worn shoes. They need to understand what it takes to do the job, even if that means shadowing nurses and helping them take care of patients during full-time nurse shortages.
That boots-on-the-ground approach will also help nurses learn what it's like for their leaders, who are stressed out too. Not just because of their jobs, they really do care about their employees and may be at a loss for what to do to help them.
When people share their experiences and develop an understanding of each other's roles, they can come up with a solution that supports everyone. In that way, leaders will be able to deliver more than lip service. Instead of saying they have support resources, they can work with their nursing teams to develop resources that really work.
Don't Forget External Support Systems
In some situations, however, a nurse is struggling with more than just burnout and may need help from a professional.
It's easy to assume that your employee assistance program (EAP) is the first spot nurses will turn to if they need professional help. But that's not necessarily the case.
If the issue they're having is with their boss or their leadership, a nurse may not want to "spill the tea" to an internal resource.
"A lot of nurses would like to have external support, especially when we talk about mental health coaching. I think organizations now are going to redefine what wellness means, and what wellness programs look like. And having external support might make nurses feel a little bit more comfortable with seeking support."
– Kym Ali MSN, RN, Workplace Wellness Consultant
They still want to be able to access help on site—remember, these are the people who barely get a break all day. But having external resources as well might make nurses feel a little more comfortable.
How to Improve Nursing Attraction and Retention While Fighting Burnout
We've seen a lot lately about huge sign-on bonuses for employees.
In one case, a facility offered a $40,000 sign on bonus … and it worked initially. But within three months, many of those nurses were burned out and left.
Money helps, but only so much. Instead, think of the work environment you can build for nursing staff.
Nurses are hardworking professionals with expertise. They want to know their opinion matters and their work is valued. Organizations will go a long way toward improving retention by ensuring nurses' voices are heard.
No Lip Service
Applause and appreciation are nice, but they soon ring hollow thin if nurses' basic needs are ignored. Instead, treat nurses as valuable experts in your health care organization. Solicit their insights on matters that affect their work. Include them on committees or working groups that make key decisions about how the organization is run.
Make sure your nurses know they are valued, heard, understood and cared for.
Support Nurses' Work-Life Balance
Nursing is not a 9-5 job, and as such, it can be incredibly difficult for nurses to balance their incredibly demanding jobs with their home lives. Providing on-site daycare or after-school care, avoiding last-minute shift changes, and providing more support staff aren't just niceties – in some cases they may be the only thing making it possible for a nurse to stay in the job.
Normalize Nurses' Well-Being
Foster a culture where it's okay for nurses to take care of themselves. Of course, patient care is a top priority, but nurses aren't tireless robots.
"I think we tend to forget that nurses are humans as well," adds Kym. "They have families. They have lives. A lot of nurses have lost loved ones during the pandemic. They have contracted COVID. They are homeschooling their children. They may have a significant other that lost their job, and now they're the primary breadwinner. When you have so many stressors in your personal life, it's inevitable that it will show up in your professional life."
Leadership needs to temper expectations, provide support and proactively encourage nurses to reach out for support or take a break when everything just gets to be much too much.
Implement a Nursing-Specific Holistic Wellness Program
Instead of using a generic, out-of-the-box program, create a holistic wellness program that is catered to the rigor of the nursing profession—and designed with plenty of input from nursing staff.
A program that is relevant to nurses' well-being is much more likely to be adopted among staff, making it more effective and more appreciated.
Related Viewing: How to Rebuild a Healthy Nursing Workforce Webinar

"I know it seems like a herculean task right now, to try to turn this thing around, but small steps equate to big changes. If we start with the foundation, just helping our nurses heal, then we'll start to see changes."
– Kym Ali MSN, RN, Workplace Wellness Consultant
By designing a wellness program around the unique challenges nurses are facing, health care organizations stand a much better chance of keeping their workforce happy.
If your organization needs assistance in creating or customizing a workplace wellness program to address nurse and/or caregiver burnout, WellRight can help. Contact us today and one of our experts will start the process of making your company a "best" place to work.