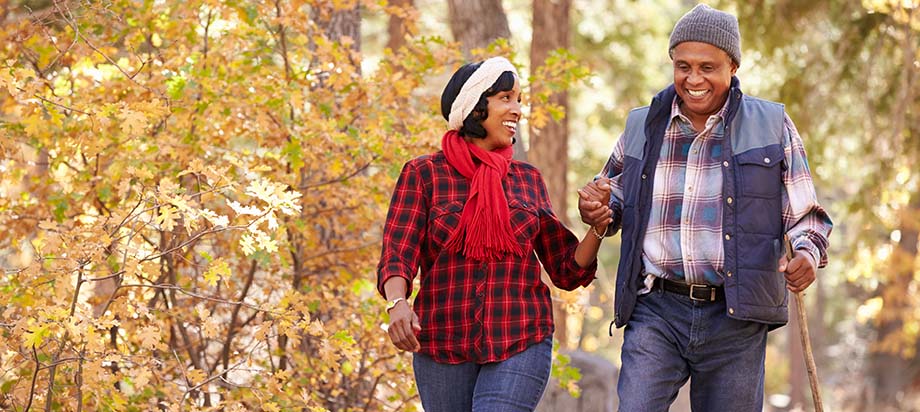 Pumpkin spice, cool morning air, and falling leaves … as the season begins to change, fall can be a time to pause, reflect, and recharge. With the holiday season around the corner, fall is the perfect time to focus on well-being before the demands of family and work gatherings begin to take their toll.
As we enter our second autumn in this pandemic, implementing wellness challenges that prioritize self-care and nourish the spirit can help you and your employees take a much needed—and literal—breath of fresh air to recharge.
You can help your employees adjust to the changing season by sharing some new wellness challenges centered on the six dimensions of well-being: emotional, financial, occupational, social, physical and purpose. These challenges can be done anywhere and are designed to keep employees connected, motivated and positive, whether your employees are in-person, remote or hybrid.
Social: Highs N Lows – Talk About Your Day
Even if your workplace is amazing, some days are going to be tough. Perhaps there was a problem that was hard to solve. Or perhaps something just didn't work out the way anybody thought. Either way, between work life and the rest of life, your employees are shouldering a lot, and need to unburden themselves to someone.
The Highs N Lows challenge gives employees a reason to talk to their family (and friends). The focus is to do a debrief of their day—what worked, what didn't, and what actions they can take. It's a fantastic dinnertime activity or something to do before bed.
For some of your employees, this will be an exercise in looking on the bright side and celebrating their daily wins, no matter how small they are. They can acknowledge accomplishments or acts of kindness, and it offers a chance to learn from challenges and mistakes.
This might be an eye-opener for the parents in your company, especially if it's the only time they connect as a family. Their kids may need advice or guidance, or simply might take the opportunity to "spill the tea" about what's happening in school and with their friends. Either way, it's a perfect opportunity for bonding and growth.
Occupational: Break Time – Take Breaks at Work
We've all been there. You sit down to start working … and your list of to-dos leaves no time to take a breath.
And while productivity is important, it's not good when employees feel like they can't or shouldn't take breaks throughout their day. This is no less important for employees who work remotely or in a hybrid environment.
The Break Time challenge encourages employees to reset. And no, we don't mean taking five minutes to wolf down toast while standing over the sink. We're talking about breaks that restore and replenish the body and mind.
This challenge is about taking at least one 15-minute break every day (your lunch break doesn't count!). Encourage your employees to stop what they're doing and get up from their seats. They can grab a snack, meditate, take a quick walk, chat with a friend, or go outside for some fresh air.
Note: A great time to do this is when working on big projects. Breaks help improve blood flow, allow the brain to recharge and make it easier to start the next project with a fresh perspective.
Financial: Money Spent – Track Your Spending
The Money Spent challenge encourages employees to get an idea of how their spending compares to their means. For many, it may be a shock to find out where their budget really goes, but it can help employees allocate funds for activities and products that help them with self-care and attending to their overall well-being.
The main task: track all spending, whether it's in a spreadsheet, an app, or even in a simple list on your phone. Add some flair to this challenge and encourage employees to create or update their budgets. By planning relaxing or social activities into a budget, you can reduce the financial stress around your spending and focus on enjoying the fun.
The best way to help people save, invest, and control spending is to know exactly where the money is going.
Emotional: Kind Words – Move Away From a Critical Mindset
When the world seems to be so filled with negativity, leading with kindness and understanding can go a long way. The uplifting power of people who see the good in others and demonstrate empathy is critical when many workers need support.
"Before you speak, ask yourself if what you are going to say is true, is kind, is necessary, is helpful. If the answer is no, maybe what you are about to say should be left unsaid."
– Bernard Meltzer
The Kind Words challenge encourages your employees to lead with kindness. When they speak, it challenges them to be less critical and a source of positivity. At work, focus on pointing out a co-worker's strengths or giving them a compliment. People change more for the good when they receive positive feedback and employees that get positive feedback are often more engaged in the workplace.
During the fall, the simple act of a few kind words can bring a lot of happiness to your work or home life. And that positivity is the kind of contagion we could all use right now.
Physical: Tree Hugger – Enjoy Nature for 300 Minutes
Spending time in nature helps us reconnect with ourselves, see the bigger picture, and put our own problems into perspective. Being in nature is therapeutic. It reduces stress, improves mental health, and increases mindfulness.
A 2019 study has shown that two hours outside per week—120 minutes—is the magic formula for helping people feel healthier, both physically and psychologically. Even a few minutes of sitting with nature transitions your mind into a relaxed state, which reduces blood pressure.
The Tree Hugger challenge is about taking time in fall to soak up the final days of warmer weather, disconnect from technology and reflect.
Encourage employees to take a walk on a trail or read a book outside. Find ways to let nature slow down the fast pace of life. For many people, it could be the encouragement to keep them going.
Purpose: Shared Values – Define What You Stand For
Right now, maintaining our health, social relationships, and finances can be a 24/7 task. It's important to give ourselves–and your workforce–permission to take the work break or time in nature that the challenges above encourage.
The Shared Values challenge is about reflecting, defining one's values, and reconnecting with what matters most.
As an organizational leader, you can set an example by encouraging open conversations and breaking the stigma around mental health. Have your managers and supervisors lead the way by defining team values around emotional health, so everyone can align and strategize about how to support each other during stressful times. That can inspire employees to define their own values.
If you enjoyed these fall wellness challenge ideas, check out 98 more in our free ebook, "104 Challenges: Become the Best You."