According to a Harvard and Stanford University study, only 15% of your success in working effectively with people will be due to your technical skills. And a staggering 85% will be due to your ability to connect and get along through Emotional Intelligence.
Emotional Intelligence is the ability and skill of leaders and their employees to understand and manage themselves and their emotions. Experts say it can make or break careers and elevate executive leadership to higher levels of success.
So what are the best moves and worst emotional pitfalls you can make? Learn from executive coach and nationally acclaimed speaker and author, Arnold Sanow, what it is and why it matters to the success of executives, employees and the companies they work for.
In this webinar you will:
Gain an understanding of what EI is and how it can increase employee satisfaction, retention and, ultimately, an organization's bottom line.
Learn how to communicate in a positive way to improve your relationships with customers, co-workers and stakeholders.
Identify the 5 elements that are the foundation of emotional intelligence.


Complete the form at the right to view the webinar.


The use of this official seal confirms that this Activity has met HR Certification Institute's® (HRCI®) criteria for recertification credit pre-approval.
---
About Arnold Sanow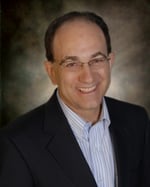 Arnold Sanow, MBA, CSP, works with Leaders and Teams to help them get along better with customers, co-workers, employees and stakeholders by improving emotional intelligence, communication, interpersonal relationships and presentation skills
He is the author of 7 books including, "Get Along with Anyone, Anytime, Anywhere", "Present with Power, Punch, and Pizzazz" and the Amazon #1 best-seller, "Leadership in Trying Times." He has delivered over 2,500 keynotes, workshops, and professional development programs as well as high-level coaching.
Arnold was recently rated by Successful Meetings Magazine as one of the top 5 "Best Bang for the Buck" speakers in the USA and by his peers as one of the top 30 Global Gurus in Communication.
He is a former adjunct professor at Georgetown University and a frequent guest in the media–including the CBS Evening News, ABC World Morning News, Wall St. Journal, USA Today, Washington Post, and Time Magazine.