How do you get others to "see" what you're saying? And how can you be better at seeing things from another's point of view? One powerful and effective way is by leveraging the power of visual thinking. In this fun and fast-paced webinar, you will be introduced to an innovative new methodology called "VisuaLeadership" that will forever change the way you think and communicate by showing how you can quickly and easily leverage the power of visual imagery, mental models, metaphor, analogy, storytelling, and humor to help you take your communication to an entirely new level.
Todd Cherches is CEO and cofounder of BigBlueGumball, a NYC-based consulting firm specializing in leadership development, public speaking, and executive coaching as well as an adjunct professor of leadership at NYU and Columbia. Join us as he shares how to become a more effective innovator, communicator, manager and leader with visual thinking and visual communication.
Immediately enhance your ability to think, communicate, manage, and lead...and turn your vision into reality.
In this webinar you will:
Understand what "VisuaLeadership" is all about

Learn the four ways to think more visually

Add a variety of new visual thinking tools, tips, and techniques to your leadership toolkit




Complete the form at the right to view the webinar.


The use of this official seal confirms that this Activity has met HR Certification Institute's® (HRCI®) criteria for recertification credit pre-approval.
---
About Todd Cherches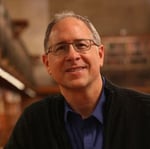 Todd Cherches is the CEO and Co-founder of BigBlueGumball, a New York City-based consulting firm specializing in leadership development, management training, public speaking, and executive coaching. He is also a three-time award-winning Adjunct Professor of leadership in the Human Capital Management master's program at the NYU School of Professional Studies/Division of Programs in Business, as well as a Lecturer on leadership in various graduate programs at Columbia University. Todd is also a TEDx speaker ("The Power of Visual Thinking"), and the author of VisuaLeadership: Leveraging the Power of Visual Thinking in Leadership and in Life (Post Hill Press/Simon & Schuster, 2020).
With a background in the media and entertainment industries, including having worked in television program development for Disney and CBS, Todd's patented VisuaLeadership® approach draws on a variety of visual thinking-based techniques – including visual imagery and drawing, mental models and frameworks, metaphor and analogy, and visual storytelling and humor, to help business professionals to become more innovative and effective thinkers, communicators, managers, coaches, and leaders.
Todd holds a Master of Arts degree in organizational and interpersonal communication from the State University of New York at Albany's School of Social and Behavioral Sciences, as well as an undergraduate degree in English Literature with a concentration in Shakespeare and poetry.