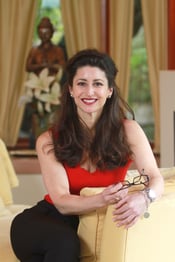 Lily Hills recovered from a thirteen-year emotional eating addiction, losing sixty-five pounds and keeping it off for over twenty years without dieting or restricting her favorite foods. In this webinar, she'll discuss the science behind why diets don't work and you'll hear about the growing research around the power of "mindful eating" to achieve permanent, pleasurable, natural, healthy weight loss.
After this webinar, you'll understand:
How to quiet the 'monkey' mind when it suggests food you're not physically hungry for

How to make peace with the body you have while creating the one you want

Why mindful eating is the most powerful and sustainable way to reach your healthiest weight

How to easily change your eating habits for the better by removing the mean inner thoughts in your head to reduce stress and bring more joy
Complete the form at the right to register for the webinar!

About Lily Hills
Elizabeth "Lily" Hills is a multiple award winning author, international speaker, serial entrepreneur, and executive peak performance trainer.
Lily founded Peaceful Planet Programs, one of the first wellness companies in the world to address the "mental" game of weight loss. Her company's mission is to help to turn around the obesity epidemic. Her online training—The Mindful Eating Method—provides revolutionary online peak performance behavioral modification training in overcoming overeating the healthy, permanent, and pleasurable way. The Mindful Eating Method is the most comprehensive virtual training in the world for overcoming emotional eating and achieving your healthiest weight.
Her #1 Amazon Bestseller, Your Diet Detox- Stop Yo Yo Dieting and Learn How to Love the Body You Have As You Create the Body You Want, won USA Book News Best Book of the Year Award in the health, diet, and weight loss category. Lily also co-authored A Feminine Manifesta – Love Yourself ~ Change the World, a groundbreaking book that suggests women come together in a love-driven "feminine feminist" movement to make the world a better place.
She is the former radio show host for Sparkpeople.com, the #1 health and wellness site in America with over 16 million members and former co-host of The Goddess to Goddess Empower Hour – Inspirational Information for Women and the Divine Dudes that Love Them.
She lives life (gratefully) in Carmel, California.