When it comes to making changes to your wellness, it's common practice to set goals and focus on changing behaviors. As people, we tend to focus on the "what" and "how" of reaching our goals; however, we also know that sustained behavior change is challenging. This session dives into the "why" and provides tools for discovering and living purposefully, and how to leverage it to set goals. Participants will leave the session with goal-setting strategies that are more likely to sustain success.
Who should attend: Wellness and benefits management, human resources, coaches, and those in the organization seeking a sense of purpose and overarching goals to better themselves and their wellness efforts.
Complete the form at the right to view the webinar!
About Raquel Garzon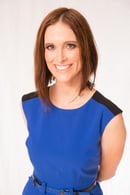 Dr. Raquel Garzon is the President of Revitalize Project. She has delivered performance, wellness, and leadership content to thousands of high performers in over 25 countries. She has presented to executive audiences from 35 of the top Fortune 100 companies as well as 12 CEOs of Fortune 500 companies.
Raquel earned her Doctor of Health Science degree from Nova Southeastern University. Dr. Garzon also holds a Bachelor of Science degree from the University of Florida and a Master of Science degree from Texas A&M University. She is a certified ASQ Six Sigma Green Belt, a Registered Dietitian, and a Certified Personal Trainer.
Dr. Garzon recently served as an Assistant Professor and Wellness Specialist at New Mexico State University. She also worked for 13 years at the Johnson and Johnson Human Performance Institute as Vice President of Programs and Content for Corporate and Sports Training and Director of Nutrition. Raquel also worked as a Dietitian for the Department of U.S. Army, where she was awarded the Commanders Award for Civil Service. She has held several other roles in start-up companies as well as private and non-profit organizations.
Raquel has served on the Latino Advisory Board and the Health and Wellness Advisory Board for PepsiCo as an external advisor. She currently serves on the editorial review board of the American College of Sports Medicine's Health and Fitness Journal. Raquel has appeared on national and local television and radio as a subject matter expert in health and wellness.