Everyone's path to wellness is unique, so how do you design a wellness program to meet the needs of each individual employee while increasing participation? Melanie Willis, benefits and well-being specialist, shares how Nicholas and Company—a Utah-based wholesale food distributor with both office and field employees—increased participation in their wellness program and managed to give employees a way to customize their wellness journey.
Watch the recording to recognize trends in wellness and employee behavior that impact engagement, understand how to use variety, communication strategy, incentives, and flexibility to meet employees where they're at in their wellness journey, and identify how using technology drives participation.
Complete the form at the right to view the webinar!
About Melanie Willis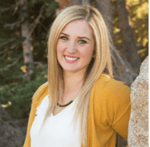 Melanie works as the Benefits and Well-Being Specialist for Nicholas and Company. In this role, she analyzes the company's claims and spend, and helps create a benefit package and a wellness program that seeks to improve the health needs of the organization while providing cost savings.
Melanie earned her bachelor's degree from the University of Utah in Exercise Physiology with a minor in Nutrition. She currently serves as the treasurer for the Utah Worksite Wellness Council, monitoring and analyzing their finances, and forecasting and developing budgets. She holds certifications as an ACSM Exercise Physiologist and an AFAA GEX Instructor.