---
Quick Tips: Cultivating Your Social Support Network in Quarantine
Support of family and friends has far-reaching benefits for your health. According to the Mayo Clinic, studies have found that friendships and other forms of social support can enhance self-esteem, improve mental health, and reduce cardiovascular risk. Studies also have shown people with larger social circles had a 50% lower mortality risk than those who didn't.

Here are some ideas for building your social network:
Volunteer. Pick a cause that's important to you and get involved. Even during social distancing, many volunteer organizations have set up safe and effective ways to help those in need.

Join online fitness classes. Even though gyms are shut down, you can still virtually meet like-minded fitness friends by participating in online classes.

Reach out to neighbors. Take the opportunity to talk with those who live around you while appropriately maintaining social distancing. You might find that you have more in common than you realize.

Take an online class. A local college or community course puts you in contact with others who share similar hobbies or pursuits.
---
How do I find a good balance with social media?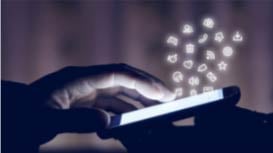 Do you feel like you are spending more time on social media sites or digital devices because of social distancing? Consider taking a digital detox.

Here are a few practical strategies:

Set a digital device schedule for you and your family
Setting hours can provide some healthy limits and a much-needed break that may also promote healthier sleep. An example might be no digital usage after 9 p.m.

Set boundaries for digital use
Encourage tech-free spaces in the house, such as the dinner table or bedrooms.

Be aware of using your phone to fill time
If we consider how much time we spend on our phones out of boredom, this could actually provide the space we need for health-promoting alternatives. Instead, consider utilizing these pockets of time for hobbies, physical activity, or meditation.

---
Dispelling Coronavirus Falsehoods
As scientists continue to study COVID-19, more information is becoming available to us–unfortunately, not all of it is true. While we all work to navigate this unprecedented time, it's important to learn the facts and keep the Internet-fueled untruths in check. Some common misconceptions include:
Myth: Hot weather and sunlight kill the virus.
Fact: There are currently COVID-19 cases all over the world, including in the Caribbean and other parts of the world that does not experience cold weather. The World Health Organization notes that the virus can be transmitted in all climates, including in high heat and humidity.
Myth: Vitamin C can prevent coronavirus.
Fact: Vitamin C is crucial for a healthy immune system but vitamin C deficiency is extremely rare in the US and other developed countries. There is no evidence that bumping up your vitamin C intake decreases the risk of infection.
Myth: You should disinfect your groceries and mail.
Fact: The Food and Drug Administration says, "there is no evidence of food or food packaging being associated with the transmission of COVID-19," noting the theoretical risk of infection is tiny. Instead of disinfecting your purchases and packages, thoroughly wash your hands with soap and warm water after handling groceries or mail.
For more examples of coronavirus myths, check out this article.
---
Recipe for the Season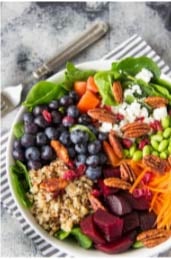 Quinoa Power Bowls
For a quick and healthy dinner, try these superfood quinoa bowls. Featuring blueberries, mango, spinach, and edamame, they pack a nutritional punch!
For the Lemon Vinaigrette:
1 tbsp lemon juice
1/2 tsp lemon zest (optional)
1 tbsp apple cider vinegar
6 tbsp olive oil
Sea salt & black pepper to taste
For the Bowls:
3/4 cup uncooked quinoa
1 packed cup baby spinach
2/3 cup fresh blueberries
2/3 cup cucumber, cut into 1 cm cubes
1/2 cup cooked and shelled edamame beans
1/2 cup shredded beet
2/3 cup mango, cut into 1 cm cubes
1/2 cup toasted almonds
Directions:
Prepare all ingredients as instructed above.
To make the vinaigrette, add all ingredients to a mason or jam jar with a lid. Shake vigorously for 10 seconds. Set aside.
Add the quinoa to a saucepan and cover in twice its volume of boiling water. Bring the pan to a boil, reduce the heat and simmer for 10 minutes with the lid on.
Remove the pan from the heat but leave the lid on for another 10 minutes (this will allow the quinoa to soak up any excess liquid and fluff up). Drain any water that hasn't been absorbed from the pan.
Add the quinoa, spinach, cucumber, edamame, beet, mango, and blueberries to a large mixing bowl and toss the mixture using salad tongs or servers.
Divide between two large bowls and scatter with the toasted almonds.
Drizzle vinaigrette over each bowl and enjoy.
---