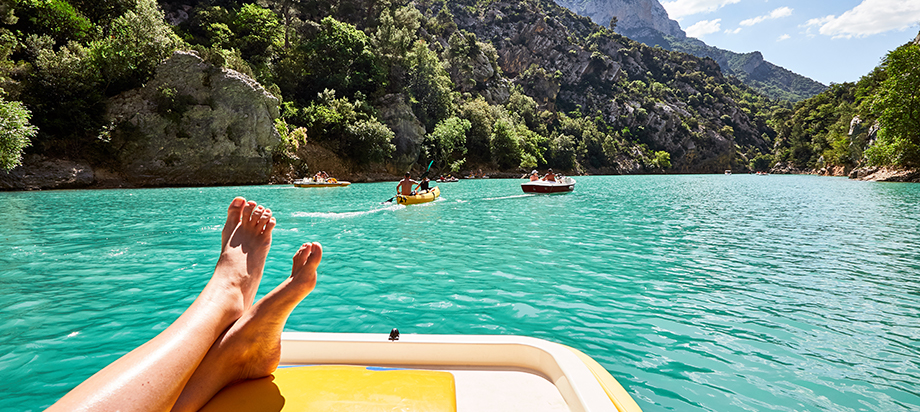 Summer is here! Although, if you hadn't noticed the change of seasons, you're hardly alone. Time has been difficult to track this year. With mandatory stay-at-home orders, school closings, and the cancellation of seasonal events, these past few months have felt unmoored from the calendar's customary flow.
With all that's going on in the world, it may be more difficult than ever to engage your employees in wellness challenges. But it's worth persisting: Wellness challenges can help your employees take their minds off the troubling times we live in and recharge for whatever lies ahead. The key is to choose challenges that represent the six dimensions of wellbeing: emotional, financial, occupational, social, physical, and purpose.
Here are six of our favorite summer wellness challenges. Each of these activities can be done from home while social distancing.
1. Physical Challenge: Fresh Air – Walk Outside 20 Minutes Per Day
Walking is one of the easiest and most beneficial activities you can include in your everyday life. The Fresh Air Challenge invites participants to take a walk outside for 20 minutes each day for 30 days. Whether it's walking the dog, adding some extra walking when checking the mail, or looking for butterflies with the kids, a 20-minute walk is a great—and easy—way to integrate exercise into a daily routine. Plus, the fresh air and sunshine are a wonderful way to rejuvenate the mind after being stuck indoors at a desk all day.
2. Emotional Challenge: Wire Less – Take a Break from Your Phone
Our mobile devices seem essential, but they're also constant sources of stress. Anxiety-provoking news, urgent work requests, and family demands can all be delivered through our phones—sometimes all at once.
The Wire Less Challenge says, "Why not take a break from your phone for just an hour each day? Don't worry! You'll survive without it."
Disconnecting will give employees a chance to reconnect to their selves and the world around them. They may also find themselves more relaxed, looking forward each day to the hour spent away from the constant barrage of texts, emails, social media, and phone calls.
3. Social Challenge: Care Package – Send a Care Package
It's been a long time since we could socialize like we used to. Everyone is starving for personal connection right now. The Care Package challenge encourages participants to make a connection with someone by sending a care package.
Who should they send a package to? It could be a friend or family member who lives far across the country or someone social distancing across town. They might choose a member of the military or a healthcare worker on the frontlines of the pandemic.
Like any gift, a care package benefits both the giver and the receiver. The activity will focus the mind away from one's own concerns and on the needs of someone else.
4. Occupational Challenge: Top Priority – Create a Daily To-Do List
Even in the lazy summer months, there's always so much to do and never enough time. The Top Priority challenge helps participants organize their hectic days by requiring them to start each morning by creating a to-do list and (as a bonus) prioritizing each item.
To-do lists are simple tools for becoming more productive. They help us focus our energy and provide a sense of accomplishment. You can't beat the feeling of crossing the last item off your list each day!
5. Financial Challenge: Great Deal – Comparison Shop
These are uncertain economic times. For many families—even those with a steady income—making every dollar count is critical. (Plus, saving money is a good idea even when the economy is roaring.)
The Great Deal Challenge invites participants to comparison shop for five things they buy in the next 30 days. While retail locations are closed in many areas, most comparison shopping will have to take place online for the time being.
One benefit of comparison shopping is getting the best price. But comparison shopping also slows us down and helps us think about the necessity of the things we buy.
6. Purpose Challenge: Due It – Do Something You've Been Putting Off
If there's been any silver lining to the pandemic, it's that being stuck at home has inspired people throughout the country to take up new hobbies and try activities they've been postponing for years: from baking to learning the guitar.
Now it's time for employees to try something they've been putting off with the Due It Challenge. The time is now! This is their chance to accomplish something—big or small—they've always thought about but never gotten to. Not only will it make them feel good about themselves, it will give them the confidence to try the next thing.
If you enjoy these ideas, there's plenty more where they came from, 98 more, to be exact, in our free ebook, "104 Challenges: Become the Best You."