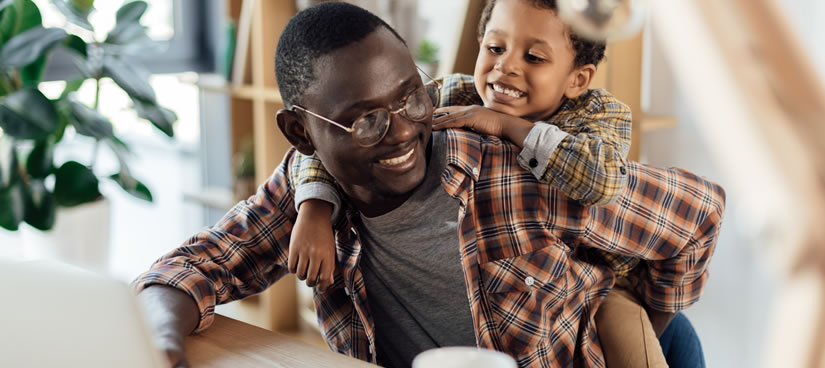 To get ahead in business, many employers will do whatever it takes—like requiring employees to work long days, evenings, and weekends. While this dedicated work ethic contributes to the company's—and the individual's—professional success, it frequently comes at the expense of employees' personal lives.
Today's employees are becoming less willing to make that sacrifice. Instead, they seek work-life balance: making time for family, friends, and personal activities while successfully meeting workplace demands in a smart, efficient manner.
But finding that balance isn't always easy.
A healthy work-life balance requires more than an employee who can manage personal and occupational demands—it also requires an employer who's willing to provide the resources and opportunities to help employees be the best they can be, personally and professionally. Here are 11 things employers can do to model and encourage a healthy work-life balance.
1. Allow Remote Work
Letting employees work from home can ease the stress and financial impact of long commutes while also allowing employees the flexibility to take care of personal business during the workday. As a result, employees can be more productive and focused while on the job.
When travel website Ctrip gave half its call center staff the opportunity to work from home, management found the home-based staff completed 13.5% more calls than did office staff—and they also quit at half the rate, while reporting reported higher job satisfaction.
2. Reward Charitable Work
Many employees enjoy the satisfaction they get from serving their community. Employers can reward and encourage that service by letting them earn a set number of PTO hours for every hour of community service performed.
3. Encourage Flexible Work Hours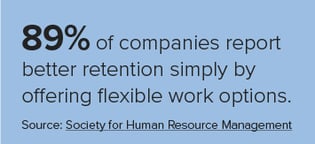 While your business likely has certain core hours where it's beneficial for employees to be in the office, it's probably not essential that every employee work from 8 a.m. until 5 p.m. Consider letting responsible employees choose their own hours one or two days a week to help accommodate child care needs or personal appointments. Many employees, for example, might find they're more productive when other employees have left the office for the night. Others may prefer to come in early every day, so they can get home in time to pick up their kids from school.
4. Support Job Sharing or Part-Time Work
Some employees may be willing to work part-time or share their role if it means being able to spend more time with their families and young children. Employers benefit by being able to hire new talent for these part-time or job-sharing roles, while still retaining experienced staff.
5. Set Expectations for Days off
When employees have—or want—to take days off, help them do just that. Encourage them to set out-of-office notices on their emails and ensure there's someone in the office who can cover for them while away. Then instruct other employees not to contact the employee unless it's truly an emergency.
Management should also examine the tone they set for other employees. If senior employees call in for a meeting or respond to emails while on vacation, they're sending a powerful—even if unintentional—message about how employees should behave during time off.
6. Be Flexible With Emergencies
While the 12 weeks of leave the Family and Medical Leave Act offers U.S. employees is generous, it isn't always enough to fully cover life-changing events, like caring for premature babies who are hospitalized for an extended period or tending to seriously ill relatives who are out of state. Work with employees to balance these personal needs with their work responsibilities by offering unpaid leave, remote work options, or job sharing opportunities.
7. Trust Your Employees
The line between work and personal time is becoming increasingly blurred. Yes, sometimes employers might catch workers shopping on Amazon or checking Facebook during work hours, but they should also remember these same employees are also catching up on work emails and tasks from home late at night. Trust your employees to make smart decisions and to get quality work done.
8. Make It Easier to Stay at Work
Some companies bring as much outside convenience to work as they can to make it easier for employees to stay on-site while still tending to their personal needs. Perks might include on-site daycare, state-of-the-art gyms and exercise classes, barbershops and hair salons, gift shops, dry cleaning services, and even dentists' offices.
9. Improve Efficiency
The average worker is productive for just under three hours for every eight hours of work. There are many time-stealers at the office: talking with co-workers, getting snacks and drinks—even checking news sites and social media. Make sure you're teaching employees how to optimize their time at work and take advantage of the productivity-increasing resources they have available to them, like updated technology, voice-to-text software, video conferencing capabilities, and instant messaging programs. That way, they won't find themselves staying late to make up for a day that slipped away from them.
10. Don't Expect Long Hours Every Week
The Harvard Business Review reported that employees with work-issued smartphones work an average of 13.5 hours a day during the week and 10 hours on the weekends. That averages out to 72 hours of work weekly, or 62% of our waking hours.
Such long hours can be a recipe for burnout.
Deadlines and emergencies inevitably arise, and when they do, employees may need to work longer days. But this should be the exception, not the norm.
11. Sponsor Team-Building Activities
Employees are happiest when they have friends at work, so schedule monthly activities—like bowling, sporting events, and picnics—to facilitate team building and friendship development. Some employers even expand these activities to the families, so family members can put faces to the names they hear at home.
Today's employees are more selective about who they work for, and money is no longer the sole driver. Instead, workers are looking for companies that also promote a happy, balanced workplace, entrust employees to do what's right, and give them the tools they need to succeed, personally and professionally.
A robust employee wellness program can help your company do just that and make it easier for your company to attract and retain the top talent that will help you succeed. A culture of growth and engagement can be the perfect complement to a corporate environment that respects work-life balance.