For a wellness director, it can be frustrating to spend time and resources designing a wellness program, only to be met with a marked lack of enthusiasm. However, improving the wellness and productivity of employees is an important undertaking—one that companies almost universally embrace.
According to Willis Towers Watson's Staying@Work report, "Nearly 90% of respondents say that improving workforce health and productivity is a core component of their organization's overall health strategy, and nearly all (98%) said they're committed to health and productivity improvement in the years ahead."
So, why are some employees reluctant to participate in corporate wellness programs? And what can employers do to encourage all employees to engage?
What Employees Are Thinking
People, as a general rule, want to be healthy. If so, then corporate wellness programs should be an easy sell, right?
Well … it's not always that straightforward.
Health and wellness are deeply personal issues, with a lot of complex emotions tied in. According to the Staying@Work survey, employees can be reluctant to participate in wellness programs for many reasons:
71% of employees said they prefer to manage their own health.

32% said the initiatives offered just don't meet their needs.

46% were wary of their employer having their personal health information.

30% don't trust their employers to be involved in their health and well-being.

75% of respondents listed stress as their top workplace issue, but there is a major gap between what employers think causes employee stress, and what employees say causes it.
These responses suggest there are two major factors behind low engagement:
Lack of Communication:

Companies that fail to give employees the opportunity to provide input when designing the wellness program often end up alienating the employees they're trying to serve.

Lack of Trust:

People value their privacy, particularly when it comes to medical and health information. Employees may worry that a health condition or disability will affect their health benefits, spark discrimination, or impact their job security.
How to Boost Wellness Program Participation
What does your organization need to do to overcome these barriers and improve employee engagement? Here are some concrete steps that can foster more enthusiasm and boost participation in your employee wellness program:
Listen to Employees

Invite employees to help plan a wellness program or come up with new challenges. When people participate in planning, they are more likely to buy into the outcome. Plus, they may have perspectives you haven't considered that will go a long way toward making your program more relevant.

Offer Choices

Lunchtime workouts will be enthusiastically embraced by some staffers. Employees who are less active, however, may be reluctant for their coworkers to see them huffing and puffing as they try to keep up. Offering a mix of group and solo activities will greatly appeal to those who prefer to manage their own health.

Model Behavior

Posters and webinars about the importance of taking breaks or finding work-life balance won't make a dent in the company consciousness if management doesn't encourage it via word and deed. Make sure management takes care of their own wellness and that they give explicit encouragement (not just permission) to employees to take care of theirs.

Be Transparent About Privacy

Don't dismiss employees' real unease about their health information being used against them. Show respect for their concerns by being crystal-clear about what data is collected, whether their names are attached to it, and how the data is used.

Make It Easy

The less effort people need to put into a wellness program, the more likely they are to stick with it. So make healthy snacks prominently available, offer on-site lunch-and-learns, or provide an app so it's easier to track progress on wellness challenges.

Keep It Varied

Does your program focus mainly on smoking cessation? Great … but you won't get any engagement from non-smokers. A wellness program that focuses on a full spectrum of wellness will have something for everybody, no matter their individual wellness situation.

Listen to Employees

Yes, we already said this. But it's so important, we're listing it twice. The top three stressors for employees surveyed in the Staying@Work report were low pay, inadequate staffing/support, and unclear/conflicting job expectations. Employers ranked those items as 11th, 2nd, and 4th, respectively, showing that they simply do not know why employees are stressed. By opening up communication and working on building trust, employers can gain reams of valuable information about what employees truly need to be happy and productive.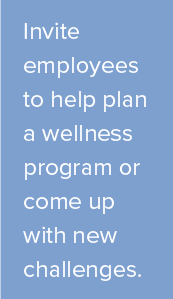 High-performing companies make a point of nurturing their people by giving them the resources, training, and incentives they need to grow and succeed. And it pays off: When you invest in your employees, they perform better and stick around longer. The same principle goes for your corporate wellness program—by investing time and effort into understanding employees and giving them what they need to make sure the program works for them, you'll boost your chances of turning reluctant employees into enthusiastic, engaged, and productive team members.
Fostering a healthy and supportive work culture is a major factor in improving success rates for employee wellness programs. Learn how you can make your work environment one of growth, success, and satisfaction with our ebook, "8 Ways to Foster Employee Growth and Engagement With Your Wellness Program".