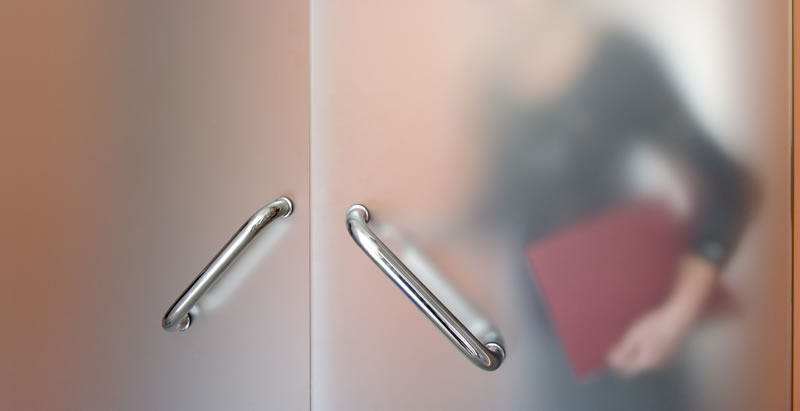 You know that implementing a wellness program at your company can result in happier, healthier, more productive employees, but do the decision-makers at your organization know it too?
Getting buy-in from the C-suite isn't easy, but it's usually the only way to dive into a new program or amp up an existing one.
When you're faced with a tough sell, you must provide decision-makers with the information they need to take a smart, educated approach to implementing a corporate wellness program. Here are three strategies you can use to emphasize their value.
1. Understand Where They Are in the Wellness Journey
Before you consider how you'll sell executives on your wellness program ideas, ask yourself: Do they support the idea of wellness programs in general? Do they have objections to starting or expanding a program? Where does your wellness program stand now?
Answer these questions to identify their levels of emotional, physical, and financial commitment, then customize your approach. For example, you may need to reassure cost-sensitive executives that improving a wellness program can be done in stages.
Implementing improvements in stages can be a great way to neutralize the cost of overhauling your program. If your program initially is somewhat barebones—for example, the program focuses on simple activities like handing out sunscreen in the summer and keeping apples in the cafeteria—your next iteration may be to add a bit more structure to your program, such as introducing planned daily walks and bi-monthly educational sessions. Once those changes have taken root, you can then iterate to a more holistic, tiered wellness program that offers incentives and grows alongside the company.
Regardless of where your company's wellness program currently stands, find out how committed executives are to employees' health and well-being. This gives major insight—not only to how hard a sell you'll face, but also to the odds of the wellness program succeeding.
2. Know What They Want to Accomplish
Once you understand executives' level of commitment to wellness programs, identify their goals for the program. Is it to increase employee retention? Reduce health premiums? Increase productivity? All of the above?
Help executives identify their goals by conducting employee surveys, attending planning meetings, and even having one-on-one discussions with decision-makers. Establishing clear, measurable goals early on will make calculating and proving ROI easier. And when executives know that the ROI can be quantified, they'll be much more likely to support the initiative.
Regardless of the goal, you'll need to help the C-suite understand they won't see all the benefits immediately; rather, the benefits will emerge over time. Wellness programs are a strategic, long-term move, not a short-term solution.
3. Overcome Common Objections
Despite your best research and thorough preparation, you might come face-to-face with pushback when proposing wellness program initiatives. Two common concerns you might hear when discussing wellness programs with executives: (1) Isn't our health insurance plan good enough, and (2) what's the ROI?
Here are strategies to overcome each objection:
Isn't Our Health Insurance Plan Good Enough?
Many employers think providing a generous health insurance program is enough to keep employees healthy, engaged, and committed to the company.
A robust health insurance policy is important, but typical checkups might not recognize or address areas outside of traditional physical health—missing common conditions like burnout, stress, and anxiety. And without a holistic approach to wellness, employees may miss out on important ways to stay healthy.
However, your executives should also be aware that investing in a wellness program may counterintuitively increase health plan claims—at least at first.
Consider this scenario: In year one of a wellness program, a company has 100 employees with high cholesterol. After the company implements a robust wellness program, employees start making lifestyle changes, like exercising, visiting the doctor more frequently, and following their treatment plans. At first, it's not unusual for the number of claims to rise slightly as employees see their doctors more often, establish baselines, get new diagnoses, and become more proactive with their care.
Because of all this hard work, by year two only 80 employees report high cholesterol. Even though the claims trend may not have decreased yet, employees are getting healthier. Eventually, therefore, that cost trend will flatten and then go down, making the ROI clear—but it may take two or three years before that happens.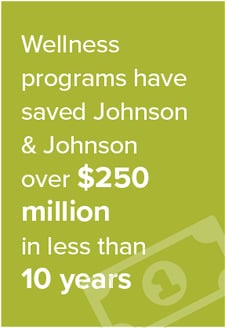 Make no mistake, the savings from robust wellness programs do add up: Such programs have saved Johnson and Johnson more than $250 million in just a decade, for a return of $2.71 for each dollar spent. And health analytics software company Springbuk realized an 18% reduction in medical spend after implementing their wellness program.
What's the ROI?
It may be hard for your executives to see past the price tag. But what they often don't account for is the cost of not having the program. Such costs might include:
Increased short-term disability or workers' compensation claims for ill or injured workers

Productivity losses due to increased absenteeism and decreased presenteeism

The need to recruit, hire, and train new employees to replace those who have left (or are away long-term) due to illness, injury, or stress
Research will help you demonstrate the full picture of the value of an investment in wellness can bring. Although "value" means different things to different people, if you know what your decision-makers are concerned about—such as employee retention, workers' compensation claims, absenteeism, morale, or productivity—you can customize your pitch around those objectives.
For example, if retention is an issue at your company, show how comprehensive wellness programs can help attract and retain quality employees, which in turn makes your company more attractive to new hires. You might highlight the fact that the four companies who won the 2013 American Psychological Association's Psychologically Healthy Workplace Award all focus on employee wellness—and that all four companies have exceptionally low turnover: only 6% on average in 2012, compared with the national average of 38%.
On-the-job injuries can also be a significant expense for many companies. If this is a problem at your workplace, it's worth mentioning that MD Anderson Cancer Center opened a workers' compensation and injury care unit within its employee health and well-being department in 2001, and by 2007, cost savings totaled $1.5 million, with an 80% reduction in lost work days.
Encouraging C-Suite Buy-In for a Thriving Wellness Program
Wellness programs need the buy-in of decision makers, first to get off the ground and then to succeed. When executives are fully engaged, they spread that enthusiasm throughout the company, giving the wellness program its best possible chance to thrive.
So whether your company is just starting to show interest in a wellness platform or is running full campaigns with incentives, it's critical to partner with a wellness platform that can grow with you, demonstrate the ROI your executives expect, and get them fully on board for your company's journey to wellness.
Want even more information on the value of wellness programs? Watch our webinar, "Do Wellness Programs Work?" Healthcare policy and analytics expert Dr. Ron Goetzel offers insight on evaluating a wellness program's success from a value-on-investment perspective, suggestions on how to boost your own program's success, and more.