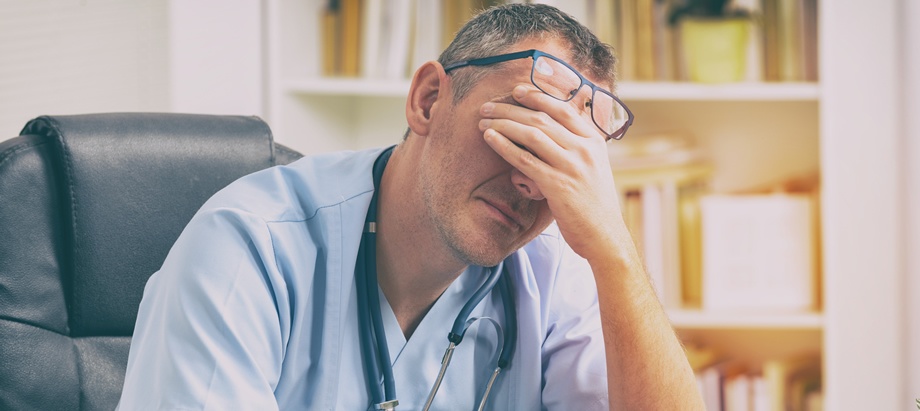 Imagine being in a high-pressure profession in which you're encouraged to put other people's well-being above your own, are required to have a near-perfect success rate, and any mistakes you make could literally kill someone. And if the stress gets to be too much, you're expected to push it aside and get on with your day.
This experience is the reality for many physicians.
While stress and burnout among medical practitioners were once swept under the rug, this attitude has been changing recently, thanks to a strong industry outcry. As a result, many organizations are rethinking their approach to physician health and well-being.
One of these organizations is Indiana University (IU) Health Physicians, an Indianapolis-based healthcare group serving 33,000 employees and 18 hospitals across the state. WellRight recently spoke with Tammy Smith, director of Healthy Results, the organization's employee wellness program, and Mandy Bates, IU Health Physicians' vice president of human resources, to learn how they're tackling mental health and employee wellness head on.
Q: How prevalent is burnout in the physician community?
TS: Burnout has long been identified as a problem among physicians and is currently at epidemic levels. Most physicians aren't taught about stress management or personal resiliency during medical school or their formal training. So concepts like mindfulness, deep breathing, and cognitive reframing of toxic thoughts may be foreign to them.
Physicians also experience a significant amount of organizational stress, especially when it comes to fitting in many patients daily and managing patient records and new technology. Electronic medical records (EMRs) make it seem like charting should become easier for physicians, but in some ways, it's become more complicated and time-consuming. The burden of charting has increased significantly, with practitioners expected to track more and more data. It's made the EMR a significant contributor to burnout because physicians have had to work after hours to complete all required documentation.
The leadership of IU Health Physicians recently began watching physician burnout, using the Mayo Clinic Well-being Index to establish burnout baselines and track how the numbers are improving as changes are implemented.
In the process of research, the leadership group learned that several factors contribute to physician burnout, such as organizational, cultural, and government regulation. Only a small portion is related to personal resiliency, but it's vital to address both when looking at solutions. Personal resiliency and self-care are important, because it's the part individuals can control.
MB: We've seen an uptick in physician turnover of two basis points in the last four years. While we're still below the national benchmark, we've been moving in the wrong direction. Although not all of this turnover is due to burnout, some of it is. And it's an issue we need to address.
Q: What are you doing to help people take control over these feelings of stress and burnout?
MB: To tackle the burnout ascribed to organizational and environmental stress, we've put together a Practice Improvement Team—our PIT Crew—that's working on improving overall efficiency of our practice. We're trying to improve the flow of patients through our clinics, and our system IT team is working to improve the efficiency of EMRs. Our goal is to reduce the work hours and workload of our physician teams while increasing their efficiency.
To help accomplish this, we're monitoring on-site work activity and also what we call "pajama time," or the time physicians spend on the EMR outside normal business hours. For example, we often see a spike in EMR activity between 9-11 p.m. during the week and again on Saturday night. What we want to do is drive down both total EMR time and pajama time.
And while we're working on improving efficiencies and workflow, Tammy and her team are working on self-care.
TS: We've launched a pilot program that addresses self-care and resiliency in two important ways.
First, we're focusing on decreasing isolation. Researchers discovered physicians tend to be very isolated—they don't often have a lot of time to collaborate with others and get support from their peers. So, we've been working with the EAP (IU Health Employee Assistance Program) to develop workshops that start with a 30-minute lunch to facilitate interaction among physicians. We follow that lunch with an interactive workshop that engages participants in an experience while also teaching them resiliency skills.
Second, we're teaching employees what resources they have access to within the workplace. Sometimes, it can be hard to know where to find support or to understand what health coaches or EAP counselors do. So, we developed an intranet page that is dedicated to provider well-being and links to resources.
Q: Tell us what IU Health Physicians does to better serve physicians.
TS: We use health coaches, a variety of programs, and biometric screenings. We've developed and run a variety of wellness challenges—including challenges on gratitude, sleep, and knowing your strengths—running at either the system or the departmental level.
Many of these challenges have been for physical health, but we also realize emotional health and well-being is very important, especially for physicians.
Because we understand there's sometimes still a stigma around the topic of mental well-being, we added a mental well-being app, and we only receive aggregate data on participation. Thanks to this confidentiality, we hope participants will feel more comfortable about exploring sensitive topics like burnout, depression, and suicide.
We also believe it's really important for wellness partners to collaborate across the system and deliver webinars from experts on topics like depression, anxiety resilience, and mindfulness. That's why we've been working closely with the IU Health Employee Assistance Program (EAP) to build on mindfulness resources. We also have a great resource here at IU Methodist: John Shepard. He's a registered nurse who's gained a lot of traction with his work on mindfulness and using meditation to build focus and friendship. In 2017, John was even honored as nurse of the year in structural enhancement by the American Nurses Credentialing Center.
Q: Is there a reason you chose to offer this program to only physician providers rather than to everyone in IU Health?
TS: For physicians in this competitive field, being a workaholic is almost a badge of honor. These physicians have had to work very hard to get where they are, and admitting they're burned out could be viewed as a weakness. There's also the mistaken view that physicians never fail, so any perceived failure can be a hit to their reputation and self-esteem.
These practitioners face a myriad of internal and external pressures—including some that are unique to the profession. The physicians on the steering committee were emphatic that this needed to be physician-led. Physicians needed to be part of the planning committee, they needed to be developing the solutions, and they needed to be present at the workshops. That says to attendees, "As a provider, this experience is valuable to me—and it should be valuable to you, too."
But we do hope to expand the program to other care givers in the future.
Q: What feedback have you received on the pilot program?
TS: Nearly 40 physicians have attended the lunch and workshop so far, and they've given us positive feedback and are willing to recommend the workshops to their colleagues. They're coming away with new skills they can apply in their lives.
We've also seen improvement in the Mayo Clinic Well-Being Index scores, which leads us to believe we're addressing the right issues.
Q: What are other ways organizations can tackle physicians' mental well-being and burnout?
TS: As concern grows over physician burnout, leaders are tackling the issue from multiple angles, like efficiency of practice, self-care, resiliency, the culture of wellness, and environment.
So, for example, we talked about the stress associated with EMRs. IU Health leaders are looking at ways to make the charting process more efficient and reduce the time needed to spend on updating records.
Managers have also begun examining ways to increase collaboration and reduce isolation and administrative work, which once again circles back to the time being spent on EMRs.
Q: How does IU Health's approach differ from the way other organizations address mental well-being issues?
TS: Many of them focus solely on the 20 percent of things the employee can control. Every little bit helps, of course, but if your organization doesn't address what's within that 80 percent, your improvement is going to be marginal at best. Employers simply have to get feedback from employees about what's happening in these other areas of the business and how the context of the workplace is affecting personal resiliency.
Access is also huge. It doesn't matter how many amazing wellness resources you have at an employee's disposal—if employees can't find them or don't know they're available to them, those resources might as well not exist at all.
Employers simply have to get feedback from employees about what's happening in these other areas of the business and how the context of the workplace is affecting personal resiliency.
Q: What have been the results of this program?
MB: We measure results by department, and I meet with each of our 20 departments quarterly to discuss their metrics and to see how we can better support them.
For the physicians who have used our coaches, they're spending an average of 5 minutes less in the EMR per patient—which is a big improvement.
We've also reduced our burnout numbers by 27 basis points since starting our program—and that's a great accomplishment. But we're not done yet.
Q: How do you plan to improve upon the program?
TS: We've found the best way to identify areas of improvement is to ask the participants what else they need from us. We're their sounding board to pass their ideas and suggestions to a larger committee.
We've already identified a need to increase opportunities for collegiality. Even though we've built some of that in already, physicians are definitely looking for ways to socialize and collaborate more.
MB: We're all trying to identify the things that will make a difference. We want to figure out how to return the joy back to the practice of medicine. We need to find ways to reverse the statistics about how much time a physician spends on administrative duties versus direct patient care.
We know that we'll drive more successes by improving our work environment, improving the workplace culture, and having support and resources available.
Q: What advice can you offer organizations that are experiencing similar struggles?
MB: Don't sweep it under the rug. As an employer, you have a duty and a responsibility to pay attention to your employees' well-being. Develop a strategy for engaging physicians in conversations about what really matters to them. Find ways to improve efficiency, teach resiliency tools, and improve the culture of well-being.
And really, just listen. When our physicians know that we really hear them and that we're working on their issues, that's the start of big change.
Work and personal stress can have a significant impact on any employee's health and performance, regardless of the industry they're in. On Wednesday, Dec. 5, 2018, at noon CST, Laurie Warren and WellRight will discuss lifestyle choices and tactics for managing stress and will explore teaching stress resilience to employees. It's a free webinar you won't want to miss, so register today.