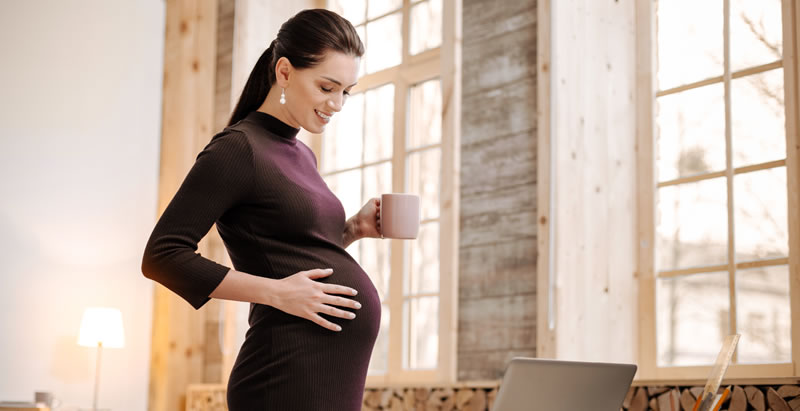 At some point in their lives, approximately 75% of working women in the United States will become pregnant. But what should be a very exciting time in their lives can sometimes become a challenging one, with physical and emotional changes making daily work tasks difficult. Adding to the challenge is concern over discrimination, which can prevent pregnant employees from asking for accommodations to make things easier.
But by ensuring you have a robust employee wellness program, you can help your employees be more comfortable and productive throughout their pregnancy and beyond.
Helping your employees have a healthy, happy pregnancy isn't difficult, but it does take some research and thoughtful planning.
Know the Legislation Surrounding Pregnancy
Pregnancy can be a delicate topic for working women and their employers. In the past, women were often unfairly perceived as less competent or dedicated than their male counterparts, and discriminatory actions against these women were common.
The Pregnancy Discrimination Act of 1978 attempted to change this, by preventing employers from discriminating against or firing female employees because of pregnancy, childbirth, or any related medical condition.
There are legal accommodations that extend after childbirth as well. While regulations may vary by state, all employers covered by the Fair Labor Standards Act (FLSA) must offer nursing mothers break times for one year after the child's birth. Employers must also provide a place that's shielded from view and free from intrusion (and not a bathroom) that may be used as a place to express breast milk.

But even with this legislation, the Equal Opportunity Employment Commission received more than 3,000 pregnancy discrimination complaints in fiscal 2017. So it's no surprise that many women delay revealing their pregnancy for as long as possible—which often means suffering from morning sickness, sore joints from sitting too long and other pregnancy-related discomforts in silence. It's also not a surprise that these women are even leery of mentioning their pregnancy on the anonymous health questionnaires that are often part of their company's wellness program.
This highlights the fact that while legal protections can help an expectant or a new mother feel a bit more comfortable about her job security, there are several other things employers can and should do to foster an environment of open communication, trust and support, helping women navigate work and pregnancy more easily.

Designing a Successful Maternal Wellness Program
Employers want to make sure that each of their employees are happy, healthy, and productive—including their pregnant employees. Modifying existing wellness programs for expectant employees can actually be quite simple if you have a robust program to start.
Modifying Workplace Needs
Physical changes are, obviously, a big part of pregnancy, and these changes can affect women in the workplace in a variety of ways—like experiencing discomfort while seated, developing carpal tunnel or swelling issues, or being unable to sit or stand for long periods of time. So it's important the employee wellness team has an arsenal of solutions at the ready to accommodate employees, just as they would for any employee with a temporary disability.
Solutions can be as simple as more supportive chairs, more frequent breaks, and footrests, or they could involve working with the human resources department to structure leaves of absence (separate from maternity leave) to address health concerns.
What's just as important as these accommodations is for employee wellness directors, managers, and human resource personnel to regularly check in with pregnant employees to see if there's anything they need to make their jobs easier or more comfortable. An employee may be reluctant to ask for accommodations, but if offered, may accept with relief and gratitude.

Addressing Nutritional Health
Nutritional needs change significantly during pregnancy, and pregnant employees must ensure they're getting the calories and nutrients they need to stay healthy.
Offering nutritional counseling activities as part of a wellness program can help expecting mothers keep weight gain in check during pregnancy. It can also help them learn which foods to avoid to prevent spikes in blood sugar. These spikes can put employees at an increased risk for gestational diabetes, which can cause high blood pressure and preeclampsia—conditions that affect not just health, but also productivity.
Modifying Exercise Activity
Developing and maintaining a regular exercise routine throughout pregnancy will help employees stay healthier and feel better. It can even reduce some common pregnancy discomforts, like backaches, fatigue, and stiffness.
However, employees might need to modify their exercise routine during pregnancy, so wellness program directors should consider adding less intense physical challenges to their wellness program for those women who are finding exercise to be less comfortable as their pregnancy progresses.
Addressing Financial Needs
Adding to a family is an exciting but often overwhelming experience. Before the baby is born, employees might be concerned about whether they're in a solid position financially, not just for the birth of the baby but also for anticipating future financial needs, like paying for college or buying a bigger home.
Employers can host financial seminars for employees who are at different points in their lives, from those who are expecting their first child to those who are planning for college tuition or prepping for retirement. Regardless of the stage in life, each employee can benefit from learning about ways to improve their financial wellness and security.
Addressing Emotional Needs
Expecting a baby can bring a whirlwind of emotions, often triggered by the hormonal changes occurring throughout the pregnancy. Postpartum mood and anxiety disorders are considered the No. 1 childbirth complication, affecting one in seven new mothers. Appearing anytime during pregnancy and up to a year after childbirth, these disorders can have long-term effects on the mother, her family, and even the employer as the employee battles depression, feelings of guilt, and anxiety.
Supportive employers will put wellness program resources in place to make sure all their employees receive the emotional support they need, whether it's a parenting support group that meets periodically, seminars on managing stress, or an easily accessible Employee Assistance Program.

Other Ways to Support the Expecting Employee
Getting ready for a new addition can be overwhelming, but it's much less so when an employer treats pregnancy as a normal occurrence and not an inconvenient burden.
Encourage open lines of communication with each employee from their very first day on the job. When employees feel supported, they're more likely to be open about their needs, helping management make the workplace adaptations that can help improve retention, reduce health claims, and boost morale and engagement.
Look for ways to foster an accommodating company culture, and check in with every employee to see if they need extra support. Resentment can build if employees feel as though some are receiving special treatment and others aren't.
Here are other ways you can support your expecting employees:
Offer partial or full reimbursements for the cost of attended childbirth classes.
Reward pregnant employees for completing a series of pregnancy wellness tasks, like consulting with a nutritionist, meeting with a mental health advocate, and completing a tobacco cessation program (if they're current smokers).
Help employees accommodate prenatal visits requested by their OB-GYNs into their work schedule.
Reimburse employees for participation in a program that outlines prenatal and postpartum care, childbirth preparation, immunization, and child safety.


Meeting Employees' Needs Wherever They Are
It's not easy to navigate the challenges of being a new or expectant mom while balancing the ever-increasing responsibilities and expectations of work and home.
When it comes to improving employee retention and building a positive company culture, employers must make accommodations for their employees whenever they're facing physical, emotional, or financial challenges. Employees who feel supported and appreciated become the productive, loyal employees who drive your long-term success.
The team at WellRight understands the challenges that surround supporting expecting employees and can help you design a customized program to promote healthy outcomes. Contact us today to see why so many employers trust the WellRight solution, not just for the health and wellness of mothers and their babies, but for each of their employees.