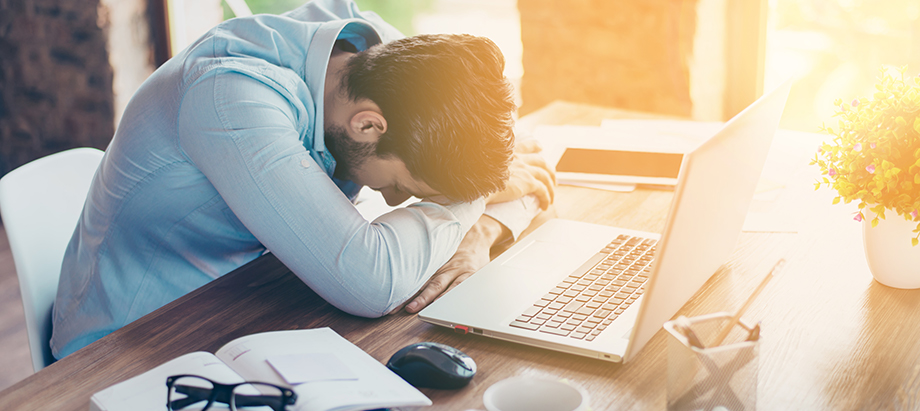 Make no mistake; some of your employees struggle with mental illness at least some of the time. The National Institute of Mental Health reports that nearly one out of five adults experiences mental illness in a given year. Depression and anxiety cost the U.S. economy $1 trillion per year in lost productivity.
And your workplace itself may be a contributing factor. One in four Americans say work is a source of anxiety.
How should you address mental health issues at your workplace?
It may be useful to start with a data-driven approach, drawing insights from what other employers have (or have not) done.
We were fascinated by the recent study by the HR Research Institute on "The State of Mental Health and Stress in the Workplace." The institute (the research arm of HR.com) surveyed 778 human resources professionals in the United States and worldwide.
The goal? To learn more about:
The prevalence of mental health and stress issues in the modern workplace.
The initiatives and programs used to address mental health issues in the workplace.
The causes of work-related stress.
The possible ROI of programs that address mental health and stress.
Ways survey participants thought workplace mental health programs could improve.
Practices that successfully help organizations address stress and mental health issues.
The entire report is worth reading, and we strongly encourage you to do so. Here is our take on five of the report's key findings:
'Organizations commonly offer mental health benefits, but few excel at addressing mental health issues.'
Nearly three-quarters of employers offer some form of mental health benefits, according to the report. However, only 11% of HR professionals say their organization is "good at helping employees address mental health issues."
Our take: You're not alone. Employers everywhere, of all sizes, are trying to find the ideal method for helping with mental health issues in the workplace. But these numbers tell us that healthcare benefits, on their own, are not sufficient. In many cases, it starts with the workplace environment itself. Managers have a responsibility to work with their entire team to create an environment that is supportive and conducive to good mental health.
'Employee assistance plans (EAPs) are widely offered to help with stress and mental health issues, while programs that could be deemed more proactive are less common.'
Two-thirds of companies offer employee assistance programs. But when it comes to well-being solutions, few employers go much farther:
28% of employers provide wellness platforms.
11% of employers offer mental/emotional well-being platforms.
25% of employers provide subsidies for health promotion classes.
22% of organizations have onsite gyms.
Only 3% of organizations provide onsite childcare.
3% of companies provide sleep counseling.
Our take: An EAP is only the first step. To make a true impact on employee mental health, consider benefits and programs that not only get employees involved in their own health and well-being, but make it easier to deal with life's stressors.
'Most organizations have employees who suffer from stress, but few are good at helping their employees address stress issues.'
The survey found that 82% of HR professionals think stress is common in their organization. But only 38% of those professionals believe their organization is good at helping employees address stress. Tellingly, nearly three-fifths of survey respondents said there is "not enough commitment on the part of leadership" to reduce stress.
Our take: Employees are almost universally overstressed. And chronic stress can lead to burnout. Corporate leaders should make it a priority to reduce stress among their employees, for the health of their company and their people.
'Most managers lack the training to mitigate common work-related stresses.'
According to the report, the top three causes of stress in the workplace are:
Work demands (75%)
Work-life balance issues (58%)
Ambiguity about roles and responsibilities (48%)
Managers have a direct influence on all three of these factors. Unfortunately, only 18% of HR professionals agree their managers are "well-trained to recognize employee stress or are able to guide employees who are suffering from stress."
Our take: Managers form the front line in your battle against stress and burnout among your employees. Make sure your managers understand the adverse effects their demands may have on the mental well-being of their employees and how they can steer their employees toward positive mental health resources.
'Few organizations are measuring mental health and stress levels of the workforce, making it difficult to gauge the effectiveness of initiatives.'
A mere 7% of companies have a way to gauge the mental health of their employees; only 10% can measure their employees' stress levels, the report found.
Our take: If you can't assess the effectiveness of your mental health and stress reduction programs, you can't make changes to reach more employees. Consider adding emotional health screening to your wellness program.
For more data-driven insights that will help you build an effective mental health program at your organization, take a look at our helpful guide for wellness directors and HR leadership, "Addressing the Employee Mental Health Crisis." This free resource will help not only build a case for better mental health support, but implement it as well. This guide addresses topics like:
Workplace mental health today

Employees' top worries
What gets in the way of employee mental health
How to shift from surviving to thriving
Adapting your workplace wellness program for employee mental health

Click on the image to view larger.