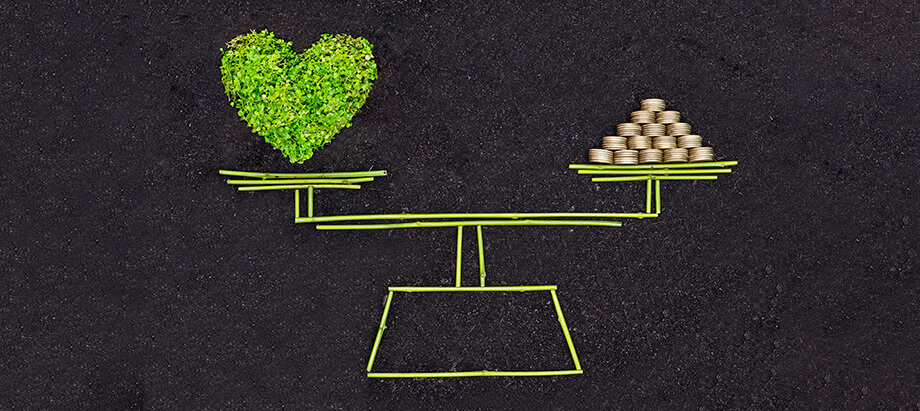 Companies often evaluate their corporate wellness programs in terms of return on investment (ROI). It's a simple calculation for these companies: For every dollar they spend on their wellness program, how much do they save on healthcare costs?
The ROI formula is an important factor to consider when assessing or choosing a wellness program. A well-designed and well-executed program can generate an ROI between $1.50 and $3 per dollar spent over a two- to nine-year timeframe. In addition, more than 60% of employers report that workplace wellness programs reduce their healthcare costs.
But the strict money-out/money-in view of ROI overlooks the many other ways a corporate wellness program can enrich your company and its employees. That's why smart employers also look at value on investment (VOI), a metric that recognizes the overall contribution of wellness to your company's culture and business performance.
ROI answers the question, "Did we get cost savings greater than our investment?" VOI answers, "What is the total value we get from our investment?" And not enough companies are even asking that second question.
Reasons to Measure the VOI of Your Corporate Wellness Program
Many companies are eager to see a good ROI as soon as possible and may throw in the towel if the return isn't realized within a specific (often arbitrary) timeframe. However, there's a reason why the ROI of wellness programs can take a while:
Nearly half of all healthcare costs in the U.S. are incurred by just 5% of the population. Lost productivity is also concentrated in this group.
However, corporate wellness programs are typically aimed at all employees, including those with low medical spending. So, cost-savings opportunities for medical claims are limited in the near term. If only five out of every hundred employees have serious medical issues, it would take a dramatic overnight change in their health for a company to see a quick and significant difference in their healthcare spending.
But, while it may take a few years to see a positive ROI from a corporate wellness program, a well-designed and executed program will start paying off immediately in the form of VOI. This is because your investment in a corporate wellness program is an investment in your employees' success—regardless of their health status.
A wellness program gives your employees resources for managing and lowering stress. It offers activities that promote well-being in other areas of your employees' lives outside of work, such as their hobbies, relationships, and goals. And a high-quality wellness program will give your employees the peace of mind that comes from knowing their employer cares about their well-being.
All this promotes a happier, healthier workforce that is both more engaged and more productive. For example, employees who improve their sleep and nutrition habits (both things that can happen within weeks) will have more energy, be more focused, and bring more positive energy to the workplace—all of which can have significant positive effects on work quality, efficiency, and employee engagement.
Another crucial element in the value of an employee wellness program is how it forges connections among coworkers. Wellness programs strengthen the sense of community within teams by bringing members together to accomplish personal goals, allowing employees to see sides of each other they rarely glimpse at work.
Corporate wellness programs also help companies attract and retain top-notch employees, a factor that is difficult to account for in ROI calculations, but significantly contributes to the bottom line. Today's employees are rightfully looking for companies that value their mental health, respect their work-life balance, and help them manage stress. By providing a thoughtfully designed wellness program, you can show your company is committed to these critical areas of well-being.
A Real-World Illustration of Corporate Wellness Program VOI
Our client Point Loma Nazarene University (PLNU) demonstrates the immediate and long-term value of a wellness program. After implementing WellRight's corporate wellness platform, the university saw a 50% increase in employee engagement and a 42% decrease in pre-diabetes rates among employees.
According to aggregate responses to our health risk assessments (HRAs), 76% of participants said they were highly motivated to lose weight. Of this group, 87% took part in at least one exercise challenge; 79% joined a dietary challenge.
Did these changes affect the ROI of PLNU's wellness program? Of course. But it didn't happen overnight.
In the short term, however, the employees developed healthy new habits and became much more engaged with their employer. While many employers may not think to track these metrics, they provide undeniable value.
How to Ensure Maximum VOI From Your Next Wellness Program Provider
The following four questions will help you determine if a potential corporate wellness program will pay back your investment with a lifetime of value:
Will this wellness program improve your employees' overall mental well-being, job satisfaction, and happiness? (Also, does the program provide activities, challenges, and resources to help participants manage different aspects of their life such as stress or occupational satisfaction?)
Does this wellness program explain how it will motivate and engage participants?
Does this wellness program promote the overall well-being of your employees? Does it go beyond physical health to areas such as social, mental, or financial health?
Does the wellness program constantly innovate, evolve, and improve?
For more guidance on choosing and getting the most out of a corporate wellness program, visit our in-depth resource: "The Cost of an Employee Wellness Program: How to Plan Your Wellness Program Costs and Maximize Value."