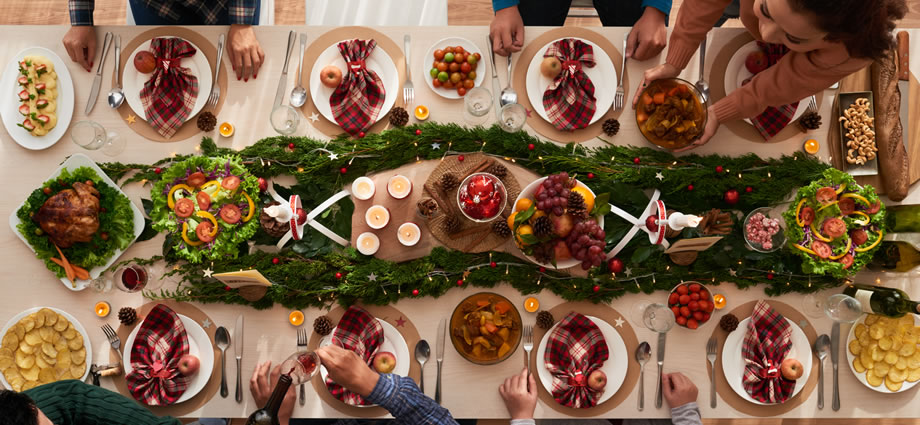 Taking care of ourselves during the busy holiday season is frequently overshadowed by decorating the house, baking sweets and treats, selecting the perfect gifts, attending party after party, and taking the perfect holiday card photo.
But if we don't take the time and effort to care for our overall wellness, we may not be able to enjoy the season. So, where do we start?
Here are five common wellness challenges you and your employees may face during the holidays and how a robust wellness program can help ensure a happy holiday for all.
Eating Well
However employees celebrate the holidays, there's one thing many of the festivities have in common: celebrating with food. People make their once-a-year cookies and candies, and Thanksgiving and Christmas meals come with extra-big plates and leftovers for days. Combined, it's a recipe for overindulgence.
While it seems impossible to not associate the holidays with food, weight gain from poor food choices (and making bad choices overall) doesn't have to be a natural consequence of the holidays.
How Wellness Programs Can Help
There's no reason for employees to deprive themselves of treats completely, but they should be mindful of what they're eating (and drinking) to avoid what seems to be an inevitable holiday weight gain. Ensure your wellness program solution has sensible and fun nutrition challenges, which can help employees make more conscious decisions about their indulgences.
Wellness program managers might also consider contacting local chefs who can provide an in-office demonstration on how to prepare healthier alternatives to traditional favorites.
Managing Stress
Stress and the holidays seem to go hand-in-hand. Employees are managing multiple party invitations, scheduling travel through busy airports, addressing hundreds of holiday cards, baking treats, shopping and wrapping gifts, and more. For six weeks or longer, it seems like there's not enough time in the day for it all—and that's before you add in family time and end-of-the-year work at the office.
But it's not just emotional stress that takes a toll on wellness. The expenses of traveling, buying gifts for friends and family, and giving end-of-year cash gifts to service providers can be a big hit to the wallet and cause significant financial stress.
How Wellness Programs Can Help
Help employees manage work-life balance over the holidays by being flexible with scheduling if possible, making it easier for employees to get holiday errands done. And for the times when employees just have to power through work deadlines, help them relieve stress by teaching them deep breathing or meditation exercises.
To alleviate financial stress, have a financial planner come in before the holiday rush to talk with employees about budgeting for the holidays and minimizing the sticker shock that accompanies January's credit card statements. You might also consider offering a holiday savings account, which lets employees set aside a portion of their paychecks throughout the year in a dedicated account, adding up to a tidy lump sum for holiday spending.
Coping With Loss and Loneliness
For many people, the holidays mean spending extra time with family and loved ones. But for some this becomes a time during which people become acutely aware of the death or loss of those closest to them. Holiday depression and feelings of loneliness can affect anyone, regardless of how long ago the loss happened, and can make it difficult to enjoy the spirit of the season.
How Wellness Programs Can Help
Ensure employees know about your Employee Assistance Program, if you offer one, and how to find mental health professionals through the company-sponsored insurance plan. You can also create a list of local resources or hotlines available to help employees, and post flyers with these numbers in common areas. You might also consider starting a support group for those who have suffered losses of any kind or simply for those who feel alone. Offering out-of-office activities like a potluck or an afternoon helping out at a soup kitchen can establish warm traditions that help fill the gap.
Staying Active
With so much going on during the holidays, it's no surprise that routine exercise often falls by the wayside. We're too busy. It's too cold. Hallmark Christmas movies are on. But exercise during this season is just as—if not more—important now as it is the rest of the year. Not only can it combat seasonal weight gain, but it can also help manage the stress and anxiety that accompanies the holidays.
How Wellness Programs Can Help
Encourage employees to keep moving, even when they're busy or as the weather gets colder. Consider adding a steps competition over the holiday season that challenges employees to walk to a virtual destination—the North Pole, for example. Not only will it encourage movement, but it also will promote social interaction and friendly competition.
Dealing With Family Gatherings
Holiday gatherings with family—and extended family—are supposed to be joyful and fun-filled. Unfortunately, that's not always the case. If regular family gatherings are stressful, you can expect those around the holidays can be even more so.
How Wellness Programs Can Help
Spending time with family can be stressful, and often can't be avoided. You can help support employees by teaching coping strategies for dealing with family conflicts (like staying at a hotel instead of an in-law's home). Learning how to de-escalate conflict, maintain healthy boundaries, and regulate emotional responses are valuable tools that will help employees not just during the holiday season, but all year round.
Supporting Your Employees' Mental Health
The holidays are challenging even under the best of circumstances. But making small changes to your corporate wellness program can help you create a supportive environment and improve the health and wellness of your employees.
Laurie Warren, MSN, understands the challenges employers face and has practical wellness strategies that employees can apply to every facet of their life. To learn more, register for our webinar, Real-World Applications for Stress Management and Stress Resilience, on Dec. 5 at noon, CST.