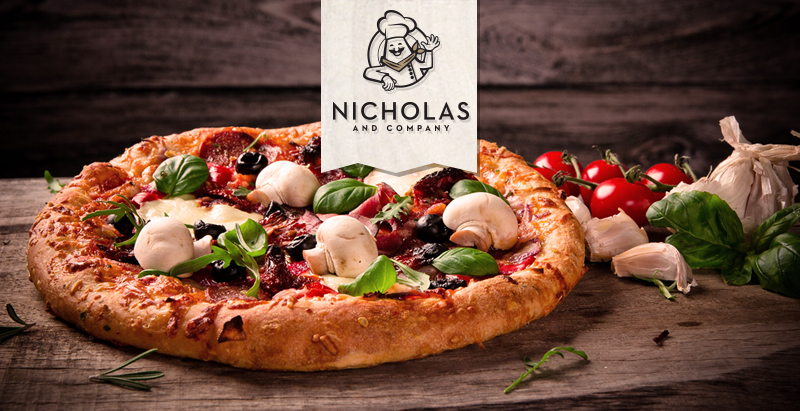 As a wholesale food distributor with clients ranging from local restaurants to nationwide chains like Subway, Utah-based Nicholas and Company knows a little something about what fuels the human body.
So, it's no surprise they established a wellness program several years ago, focusing on physical health. It started simply, with a yearly biometrics program and grew slowly, eventually adding a health coach who would analyze test results and help employees set basic goals.
Would the program keep up with their growth, though?
It wasn't a huge program, but it was a start. "Employees began their year by having their biometrics taken, completing a lifestyle behavior questionnaire, and participating in health coaching," explains Melanie Willis, Wellness Director at Nicholas and Company.
During the second half of the year, employees could select from three or four simple challenges—like eating fruits and vegetables every day for a week or exercising for a certain number of minutes monthly—to keep the momentum going. If employees completed all three items, they'd receive a discount on insurance premiums.
The program had a solid foundation, but a few issues threatened its effectiveness.


Losing Engagement in a Pile of Paper
While employees appreciated the interest in their wellness and the insurance premium discount, the program wasn't very effective. Many employees couldn't find a challenge that appealed to them. And those who did participate weren't always reporting their activities—or reporting them accurately.
Melanie understood the value of a robust, holistic approach to wellness; she also knew there had to be a better way to get employees excited about the program again.
So she expanded. "I introduced a stress management program. I did a financial wellness challenge, and I added seven or eight other activities people could choose from." And instead of employees checking in twice yearly, they began reporting quarterly.
While the program expansion was a hit with executives and employees, there was still one big problem. Employees had to submit paper tracking forms for their completed activities, which Melanie had to manually transfer to a single Excel spreadsheet. "As you can imagine, that was a nightmare. It felt so inefficient."
Melanie found herself so tied up with paperwork and administrative tasks, she couldn't focus on the program itself. Yet she knew there was so much more Nicholas and Company needed to address than exercise and nutrition. "If you have high blood pressure because you're worried about finances," says Melanie, "you're not going to go exercise to try to lower that blood pressure." She knew she needed to help employees address the things that were "keeping them up at night—the things really causing them grief."


A Holistic Approach That Incorporates the Best of Old and New
With a solid foundation for their wellness program already in place, Nicholas and Company would need a trusted, experienced partner to take them to the next level. But every program provider Melanie interviewed wanted her to abandon what she'd worked so hard on and start fresh with them.
Until she discovered WellRight.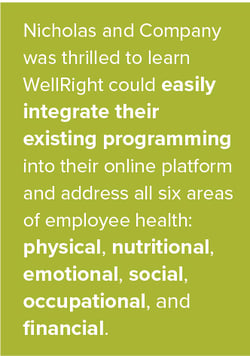 Melanie was thrilled to learn WellRight could easily integrate her existing programming into their online platform and address all six areas of employee health: physical, nutritional, emotional, social, occupational, and financial.
Finally, she'd found a partner who "lets us be true to what we already have."
The smooth transition to WellRight exceeded Melanie's expectations. Her WellRight account manager helped her integrate the company's existing challenges into the new program, but also told Melanie that, "It's OK to challenge people a little bit more. It's OK to push people to try a little bit harder."
That gentle push to take a hard look at their program and how they could improve turned out to be precisely what Nicholas and Company needed. "We've always tried to go easy on people," Melanie admits, "but now we needed to see results." Moving to WellRight helped Nicholas and Company give their employees a wealth of concrete, actionable activities to help them improve overall health and wellness.


A Customized Solution That Gets Results
While it's not easy to sum up a robust program in one word, Melanie accepted the challenge. To her, "innovative" best describes how WellRight keeps pace with emerging technology, quickly integrating different devices and Melanie's custom challenges into the platform.
Another game-changing benefit to Nicholas and Company is how customizable WellRight is. One of Melanie's favorite features is how employees can add personalized mission statements to remind them of their purpose and goal. Melanie can then tie those individual mission statements back to the company's mission statement—adding a whole new dimension of engagement to the program.
A significant challenge was implementing the new method for employees to track their progress. Although 90% of employees hated the paper trackers, Melanie wasn't sure if they'd like online tracking any better. "We have a handful of drivers who aren't technology-focused—some don't even have email addresses," she confesses. But she found that the majority of personnel loved the change and couldn't believe how easy it was to submit information online. Plus, the switch to digital frees Melanie to focus on program development and engagement, which she couldn't be happier about.
And while employee satisfaction was important, Nicholas and Company needed to see measurable results from the transition to WellRight. That proof of success came directly from the president: The company's healthcare spend was better in 2017 than it had been the previous six years. Even better, Nicholas and Company reported it was significantly below budget for medical insurance. "That was great news, because we had been trending pretty high for a few years," Melanie explains.


Implementing a One-of-a-Kind Platform to Meet Individual Needs
Just when Melanie feared the Nicholas and Company wellness program would become obsolete, WellRight's partnership saved the day.
"The diversity of the program has made a huge impact on employees," says Melanie. "If someone is having emotional issues, they can participate in a relevant emotional challenge that WellRight has developed. Employees are no longer limited to just the few challenges I create." And because employees have a wide range of challenges from which to choose, participation can make an immediate impact on their personal lives, boosting morale and engagement.
The online component has dramatically increased participation, too. "Employees would fill the paper trackers out without ever having actually done anything," recalls Melanie. "Now, people are happy to go on the app, track participation, and see a clear picture of the progress they've made."
"We searched for so long for the versatility that would let us move forward while staying true to ourselves, and WellRight was the only program that does that. I couldn't ask for anything more."
If you're ready to dramatically increase participation in your own wellness program, why not try some new challenges? 102 Challenges is a collection of dynamic and inspiring challenges based on the science of how healthy habits are formed. Covering everything from fitness to nutrition, emotional wellness, financial wellness, and purpose, there's something for everyone!