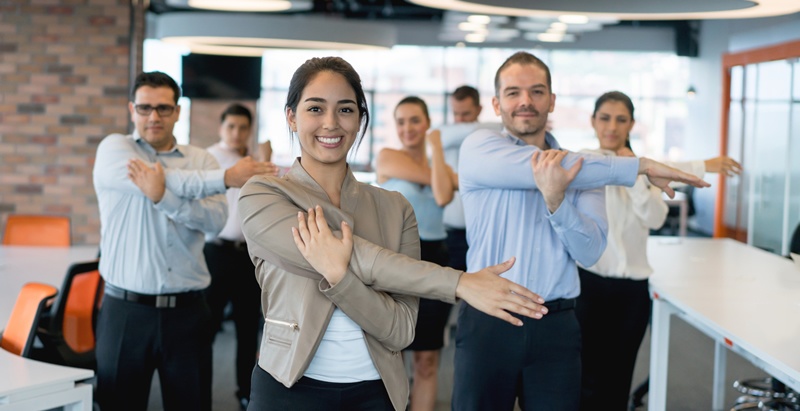 Today, company culture is about more than just a stable place to work, where you can retire after 25 years with a pin and a luncheon. It's about finding a company that lifts you up with shared values and priorities, and a sense of community.
This shift in the workplace landscape has led many human resource managers to identify culture and engagement as their number one challenge in staying competitive.
As employers look to develop and strengthen their corporate culture, they're listening to what employees have to say. Nearly 77% of employees agree that wellness programs can positively affect corporate culture, especially when employers pair the program with genuine care and concern for employees.Let's consider three ways in which a customized, targeted wellness program can dramatically transform a company's culture:
1. Employees Will Want to Work for You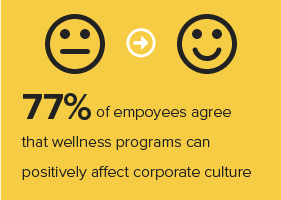 With unemployment hitting a record low of 4.3% in the summer of 2017, today's job hunters get to be a little more selective when looking for a job. Money still matters, but workers are also looking for a company that can meet and support their emotional needs and goals. Many are even willing to sacrifice a larger paycheck if it improves their work-life balance or opportunities for career development.
And that's where a robust employee wellness program, as part of a competitive benefits package, can make a company stand out.
It's important to note that robust wellness programs address more than just physical health. For example, wellness programs might combine working out with giving back, or promote employee health alongside career development. Other ideas might include:
Fostering community by pairing new employees with mentors to navigate the first 30 days of employment and beyond

Encouraging professional development through lunch-and-learns or skills certification courses

Offering financial planning courses that can help ease financial stress and help employees establish solid investment plans to meet future goals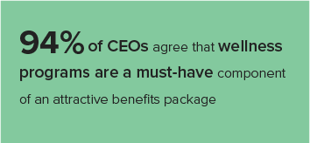 These types of creative approaches can foster an engaging, exciting work culture that can be used as a competitive advantage when wooing the best and brightest talent. As many as 94% of CEOs agree these programs are must-have components when designing an attractive benefits package that resonates with today's motivated job seekers.

2. Employees Won't Ever Want to Leave You
While wellness programs can help attract great talent, they also help retain great employees: 45% of U.S. workers in small- and medium-sized businesses report they'd stay at their jobs longer if their company had a robust wellness program.
Considering the average employee turnover rate is a whopping 38%, retention is a major challenge for many businesses. High turnover rates typically equate to higher training and recruitment costs for an employer, not to mention the productivity cost that occurs when a company loses its skilled and experienced employees.
Interestingly, the four winners of 2013's Psychologically Healthy Workplace Award have an average turnover rate of only 6%. This award is given by the American Psychological Association to businesses that take a holistic view of well-being—which suggests just how strong the relationship is between corporate culture and employee retention.
Plus, when employees feel more connected with a company, they're more likely to recommend like-minded potential new hires. A strong and positive corporate culture, boosted by a great wellness program, can result not only in lower turnover rates, but in a wealth of applicants who will be a great fit for the company.
3. Employee Attendance and Performance Will Skyrocket
Even at the best companies, workers can experience job stress that may affect performance. Add in personal stress, and employees may truly struggle from time to time. In fact, the American Psychological Association reports that depression costs $44 billion in lost productivity yearly.
But participation in a well-rounded wellness program can improve employee resiliency and teach the coping skills needed to bolster emotional health and reduce stress levels. In one survey, after participating in workplace wellness programs, nearly 40% of employees wanted to work harder and perform better, while in another survey, 89% of employees reported improvements in overall happiness and well-being.
Clearly, whether because of an improved sense of community and belonging or the development of better self-care skills, wellness programs can produce dramatic results.
Wellness programs also help alleviate absenteeism that can happen when employee health is poor. For example, according to the Duke University Medical Center, obese workers filed twice the number of workers' compensation claims and lost 13 times more workdays due to injury or illness than did other workers.
However, after participating in an employer-sponsored wellness program, 26% of employees missed fewer days of work as their health improved. In addition, when employees' families are included in the wellness program, overall family health improves as well, meaning fewer days off to take care of sick loved ones.
Designing a Wellness Program That Supports Your Corporate Culture
When employees feel their best, they're more productive, miss less work, and stay with their company longer. Smart employers are eager to facilitate even small improvements to an individual's health, behavior, and attitude—which can build up to a snowball effect, spreading positive attitudes, enthusiasm, and happiness throughout a company.
With such clear evidence of the strong correlation between company culture and employee well-being, now is the time to design a comprehensive program that supports the holistic wellness of all your employees. To learn more about building an effective wellness program, download our eBook!