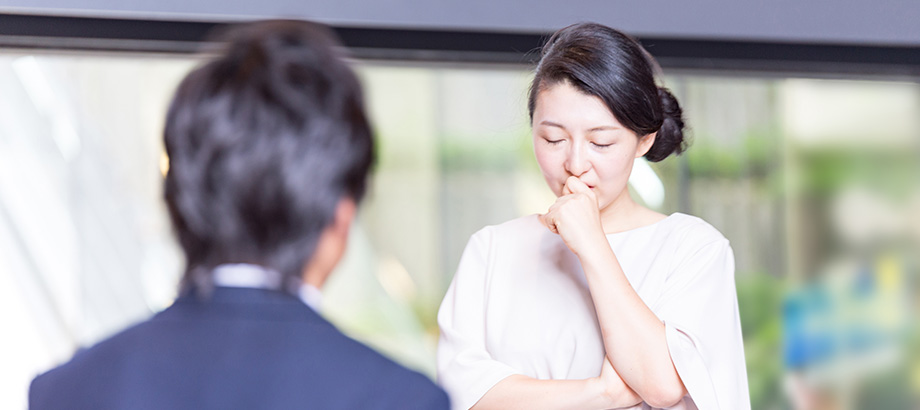 In the movies, domestic abuse is often obvious, with bruises and broken bones as telltale signs.
In real life, however, domestic violence often manifests not as a show of physical force, but rather a complicated pattern of behaviors used to gain power or control over a spouse, a partner, or family member. These behaviors can include intimidation, verbal abuse, and emotional manipulation. Despite apologies and promises to change, the abuser rarely does, keeping the victim perpetually on edge.
Domestic abuse doesn't affect just an employee's personal life. The effects also spill over into the workplace.
Nearly 19% of organizations reported a domestic violence incident in the past year, and 74% of victims of domestic violence reported being harassed at work. Despite those statistics, 65% of companies lack a formal workplace domestic violence prevention policy and only 20% offer training on domestic violence.
It's time for that to change.
Here's how employers can help employees who are experiencing abuse, and what to do if that abuse spills over into the workplace.
Identifying Domestic Violence in the Workplace
Spotting signs of abuse can be difficult, as many abuse victims are manipulated by their abusers into feeling shame, leading them to carefully hide any signs that anything is wrong. This can be particularly true with senior employees, who often are particularly embarrassed that someone of their education and accomplishments is being abused.
However, you may notice that an employee:
Is absent more frequently than would otherwise be expected

Displays reduced productivity and concentration

Exhibits signs of anxiety or depression

Becomes increasingly isolated and rarely if ever, socializes with co-workers after-hours

Speaks harshly about themselves, calling themselves "stupid" or "worthless" over minor mistakes

Is unusually eager to please and takes even mild criticism as a catastrophic teardown of their entire person

Receives a large number of personal phone calls or texts during the workday, as though someone is checking up on them
Are any of these signs a guarantee that the employee is experiencing abuse? No. But they are a sign that something is wrong and needs to be addressed.
How Managers Can Help
With so many corporations without policies and procedures in place to manage domestic abuse situations, managers need to step in to take action.
However, many managers will avoid the topic, for fear of not knowing what to say or of saying the wrong thing. Ignoring the safety of your employees, however, is a bad choice, says Daniel Cox Malyszka, SHRM-CP, CHRO of The SAFE Alliance, an Austin-based organization focused on ending sexual assault and exploitation, child abuse, and domestic violence. "HR [walks] a weird line where you don't want to get involved in somebody's personal business, but you really have to."
Prior to having the conversation, it's a good idea to contact your company's Employee Assistance Program (EAP) service to gain support and advice on how to best manage the situation. Once you're ready to talk to the employee, be open and non-confrontational. The Western University Centre for Research & Education on Violence Against Women & Children, under its "Make It Our Business" initiative, says a smart way to approach the situation is to simply observe what's been happening and ask the employee if they need support, saying, for example, "Hey, I've noticed you've been withdrawn and jumpy lately and have been getting a lot of phone calls from home. Is everything okay? Can I help?"
Here are some other best practices:
Remember: Even the most accomplished, competent, and intelligent individuals can fall prey to the manipulations of an abuser—being a victim of abuse does not diminish them as an individual or as a professional.
DO convey that you believe the employee, that the abuse is not their fault, and that you want to help.
DON'T judge or express surprise that someone "like them" is being abused. Remember: Even the most accomplished, competent, and intelligent individuals can fall prey to the manipulations of an abuser—being a victim of abuse does not diminish them as an individual or as a professional.
DO offer up resources and support, like the Domestic Violence Hotline, your company's EAP program, flexible time if needed, and a secured work environment.
DON'T be frustrated if the employee denies abuse, even if it seems obvious. Instead, reiterate your concern, continue to offer resources, and be sure to check in regularly.
DO be on high alert if the employee confides that they are leaving their abuser, as that is when abusers typically escalate their actions to regain control. The employee may need security to walk them to and from their vehicle and may even need time off to lay low for a while.
DON'T offer off-the-cuff recommendations on how to handle the abuser or situation, as they could be taken seriously or may inadvertently make the victim feel that they're to blame.
DO ensure that a record of the employee's voicemails and emails is kept, in case they're needed for future legal proceedings. Also, keep a record if the abuser shows up at the workplace.
How Companies Can Help
On a bigger scale, all companies should have policies that address the issue of domestic violence and are independent of workplace violence and harassment policies. Some of the items this policy should address include off-duty conduct, employment agreement violations, and non-actionable behavior that's disrupting the work environment.
As another part of this larger-scale action, employers should:
Ensure their company's policies address guns and violence in the workplace, sexual and other forms of harassment, and third-party behavior on company property

Be familiar with workers' compensation, FMLA, ADA, and leave policies

Establish procedures for—and train employees on handling—emergencies, like on-site shootings and assaults

Train staff in how to recognize signs of domestic violence, how to interact with and respond to victims, and what outside sources of assistance are available

Train employees on keeping themselves safe in the workplace and how to report potential threats

Publicize the availability of the EAP (if offered)

Promote privacy, as employees who know their privacy will be respected are more likely to report issues and confide in employers

Create awareness about domestic violence issues through orientation programs, health and wellness fairs, brochures, posters, and more
An Employer's Legal Obligation to Abused Employees
There are currently no federal laws addressing the rights of employees who are victims of domestic violence, but there are several that exist for employers. OSHA obligates employers to create a safe workspace, and the organization's General Duty clause may obligate employers to enact workplace violence safeguards. Meanwhile, Title VII of the Civil Rights Act and the ADA may also require employers to accommodate employees who are affected by domestic violence.
Employers must be mindful that employees can't be terminated due to domestic reasons alone; in fact, victim assistance laws prevent employers from discriminating against employees who request or take leave for domestic abuse reasons. Companies also have less control over employees' conduct outside the workplace, so they must work carefully with their legal team to develop policies that cover off-duty behavior that negatively affects the workplace.
Even though it may be daunting, employers should never ignore signs that domestic violence could be affecting their workplace. After all, lives could be at risk. Instead, proactively create a workplace culture in which employees feel safe and comfortable about seeking and getting the help they need for themselves and their colleagues. The success of your company relies on happy, healthy employees, and by being prepared and educated, you might not only increase engagement—you might also save a life.
Learn how corporate wellness programs can help keep employees engaged and improve employee well-being in our guide, "Employee Engagement and Corporate Wellness Programs: What's the Link?"