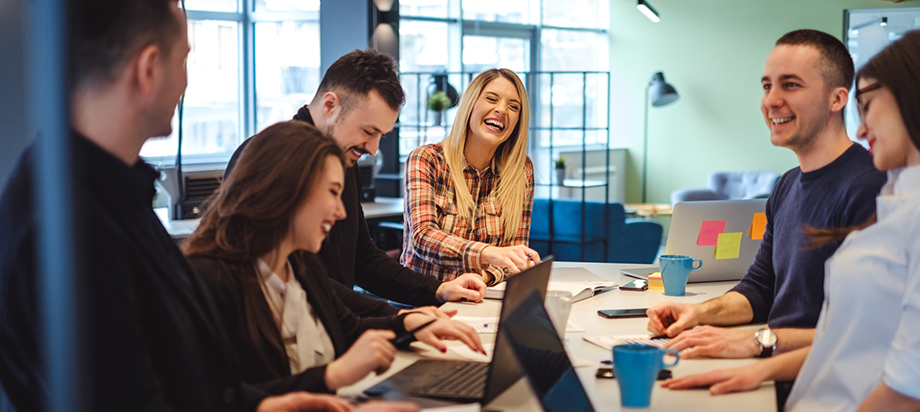 The United States has approximately 3 million more STEM jobs available than skilled workers to fill them.
Some companies find it hard to compete with the allure of the Amazons and Googles of the tech world. Others are challenged to find local job-seekers with the right skill sets. Regardless, one thing is clear: Tech employers need to find innovative ways to attract and retain top employees.
As it turns out, being a more attractive tech employer can be as simple as developing the right corporate culture. After all, with many employees spending a third of their lives or more in the office, they want to spend that time in a work environment that's welcoming. Not only does it make work more (dare we say it) fun, but it also improves employees' productivity: Those in positive work environments outperform those in negative ones by up to 30%.
If employers don't want their best employees and prospects snapped up by the big tech players and the companies with worldwide recognition, they've got to offer employees something they can't get anywhere else. Here's where to start.
Develop a Great Employer Brand
Your employer brand relies on two things:
What people think it's like to work at your company.
What it's really like to work at your company.
You can have great corporate branding—including a reputation for great profits, amazing products, and innovative services. But if your employer branding demonstrates rising turnover and employee-last policies, you're going to have a hard time attracting the level of talent you want and need.
Tips for Attracting and Retaining Top Talent
Take your public-facing image seriously. So, if you're going to say you're committed to the community, demonstrate it by being actively involved. For example, have employees select a local nonprofit they want to support over the course of the year, and then find ways to make a difference with each.
Another way to improve your employer brand is by offering and promoting benefits that make life easier for employees. On-site daycare, for example, sends a strong signal that your company is family-friendly and can make all the difference to job candidates with children—especially women, who still bear the brunt of childcare duties and are still woefully underrepresented in the tech field.
When you develop a recognizable, trusted employer brand, you develop more than just a reputation as a great place to work. You also end up providing as much value to your employees as you're asking from them in return, and that increases the likelihood employees come for the perks but stay for the culture.
Offer Work-Life Balance
In a HackerRank survey of 39,000 developers, the No. 2 thing developers look for in a job is work-life balance. Companies today rely heavily on their technology to conduct business, and when any part of that technology fails, IT employees are on the hook to get it back up and running—quickly. These tech emergencies are frequently accompanied by overtime that far exceeds the 40-hour workweek, and over time, that can increase the risk of burnout, stress, decreased productivity, turnover, and health concerns.
Geff Merrill, VP of Engineering at WellRight agrees. "Work-life balance is one of the most important things when it comes to great company culture," says Geff. "If employees are constantly working themselves to the bone, they'll inevitably burn out. Not only is this terrible for them, but it's terrible for your company because you're losing experienced talent and incurring much greater costs to replace them than you would have spent just keeping current employees happy."
Tips for Attracting and Retaining Top Talent
More than 28% of developers are looking for flexibility in the workplace, so why not offer it? Consider offering flexible work opportunities, like flexible hours, telecommuting, and remote work. Not only are these solutions inexpensive to implement, but they can also make you more attractive to recruits and help employees be more productive.
When Sweden tested cutting the workday from eight hours to six (with no corresponding pay cut), they found no decrease in productivity. Svartedalens nursing home, part of the initial experiment, went even further by mandating a 30-hour workweek. The result after a year? Sharply reduced absenteeism, increased productivity and improved employee health.
"Companies need to focus less on face time and more on the work that's being done," adds Geff. "The technology we've created has allowed us to be more flexible about where and when we work, and yet many tech companies still act as though if you're not in the office, you're not getting work done. Management has to lead on this: You can't say you encourage work-life balance but then stay at the office every night until 9pm—it sends an unspoken, but very strong, message."
Encourage Professional Development
In the same HackerRank survey mentioned earlier, professional growth and learning ranked as the No. 1 thing developers are looking for in their jobs. It makes sense. Given technology's rapid evolution, those in the tech industry have to be eager to learn new skills if they want to stay at the top of the field. And if they find themselves in a stagnant position with your organization, their chances of long-term employment decrease significantly.
Those personnel losses come at a high price: Employee turnover can cost a company more than 20% of an employee's annual salary. This can create a huge financial hit to employers struggling to build a robust IT department.
"With my team, I focus on helping them to continue learning because once a developer stops learning, they stop feeling like they're adding value," says Geff. "If they're not learning anything, then they feel that it's time to move on. With how rapidly tech changes, if they're not learning, it's bad for their career—they get stagnant and their skills become less marketable. So, a company that can offer continuous learning to its people will be one that has an easier time keeping its people."
Tips for Attracting and Retaining Top Talent
Companies that offer in-house training programs or offer partially or fully subsidized continuing education opportunities outside the workplace can fill employees' needs for personal development and increase their loyalty to your organization.
With the current IT talent shortage, employers need to kick their recruiting and retention efforts up a few notches to make themselves more appealing to candidates and employees. While that may sound overwhelming, it doesn't have to be. In many cases, a simple but targeted focus on corporate culture is enough to set employers apart. The result is a win-win for all involved. Employers gain employees that will help their business succeed, and employees find a work home that will help them grow and thrive.