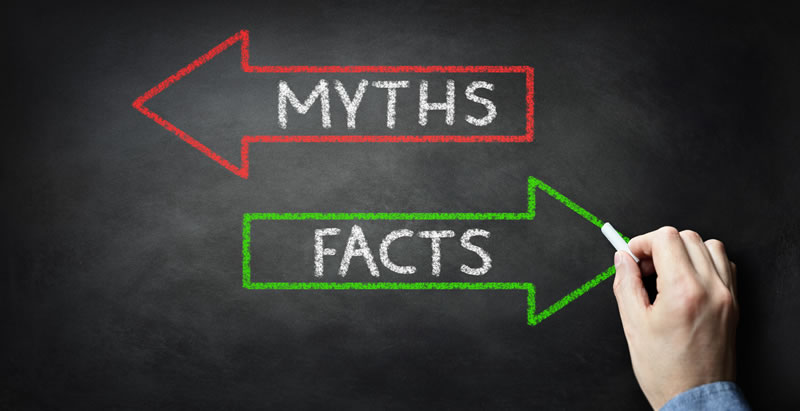 Health and fitness fads may come and go, but employee wellness programs are here to stay: 70% of U.S. employers offered them in 2015, and even more are expected to follow suit in the coming years.
It's no surprise these programs are hugely popular—they purport to improve health and fitness; alleviate absenteeism and presenteeism; reduce costs; and create a healthy, thriving workforce. But before you design and implement your employee wellness program, make sure you've separated the truth from the hype.
Let's play a few rounds of "Wellness Program Fact or Fiction" and get to the bottom of four big wellness program myths.
Myth 1: People Love Wellness Programs
Fact: Employees generally don't enjoy participating in traditional wellness programs.
You decide to kick off your employee wellness program with a couch-to-5K program, culminating in a team of employees participating in a community race. What's not to love? It's a little physical activity, a healthy dose of friendly competition, and some always-needed team-building.
But it turns out that a significant portion of your employee base doesn't share your enthusiasm. One group of employees is already seasoned distance runners, who don't find training for a 5K challenging or appealing. Another large group declines participation because they feel so out of shape that even an incremental program like this is too intimidating or too hard on their bodies.
As a result, your first wellness activity trips over its own shoelaces and turns off employees before it even gets started.
Traditional competition-based wellness programs struggle with participation levels—and it's not hard to see why. They frequently exclude those who aren't physically able to compete, plus they focus on short-term motivators that don't teach or instill lasting behavior change. Competitors simply vie for bragging rights and prizes, whereas the goal should really be to improve health for all employees over the long term.
Employers must design programs and incentives that appeal to a broad range of employees and encourage employees to make lasting changes to habits or lifestyle—that's when they'll drive program engagement and see participation skyrocket.


Myth 2: Fitness and Nutrition Are the Best Paths to Wellness
Fact: Not all health issues can be treated with food and exercise.
When fitness guru and host of the TV show "The Biggest Loser" Bob Harper suffered a heart attack at age 51, people questioned how this could happen. After all, on the surface, he was the epitome of health—he was physically fit and ate a heart-healthy diet.
What does his health scare teach employers? Not every ailment can be seen or treated with nutrition and exercise. And if employers aren't addressing hidden illnesses and symptoms—like stress, burnout, and depression—they aren't providing the right opportunities for total wellness.
Just because an employee might appear to be in tip-top health, true wellness can't be ascertained just by looking at exercise and nutritional habits. Wellness programs that focus only on nutrition and exercise do employees and employers a disservice by ignoring the very real influence that other types of wellness can have on overall health.
Employers should aim for a program with breadth—addressing emotional, financial, social, and occupational components—and give employees the tools needed to make long-term improvements.


Myth 3: Wellness Programs Save Companies Money
Fact: An incomplete wellness program results in incomplete savings. The right wellness program will save AND make you money.
Your staffers are primarily young and fit, and you'd expect them to cost your company next to nothing in healthcare claims. But several team members are seeking treatment for chronic pain. One is out on short-term disability for depression. Sick days are through the roof. And productivity and morale are plummeting.
Typical fitness-based lifestyle management doesn't address one of the biggest costs to healthcare, which is mental health. And with about 6.7% of all U.S. adults having at least one depressive episode each year, employees suffering from depression cost employers more than $44 billion per year in lost productivity, with more than 81% of that lost productivity coming in the form of presenteeism.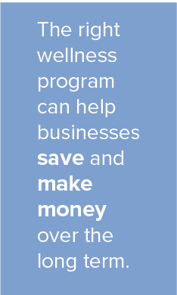 In the conversation about saving money, many employers miss an important fact: A traditional wellness program isn't an automatic fix to their healthcare-cost woes. According to the RAND Corporation, only 13% of employer health care savings comes from lifestyle management efforts. Because wellness is so much more than nutrition and fitness, a program that only focuses on these aspects may result in lackluster savings.
The right wellness program, however, can help businesses save and make money over the long term.
Here's how:
Reduced Absenteeism
Increased Work Hours
Improved Employee Retention
Improved Morale and Productivity
Myth 4: Good Wellness Programs Tell People What They Must Do to Get Healthy
Fact: A flexible approach to wellness that accounts for individual needs has a greater chance of success.
Sometimes, the surest way to get someone to not participate in an activity is to tell them they have to. Wellness programs are no exception: Employees aren't going to improve their health just because you invest in a wellness program and tell them to participate.
We've all been to dozens of lunch-and-learns and seminars and collected hundreds of handouts and "fun facts" over the years, but how much of that information have we really taken to heart and implemented? While education is important, it alone does little to change everyday behaviors.
Consider every online "guru" who declares that the true path to wellness is cutting out dairy, or doing 50 burpees a day, or hiking barefoot up a mountain at sunrise. These methods might work for them, but they certainly won't work for everybody. Similarly, a one-size-fits-all wellness program might be a poor fit for a large segment of a company's employees, resulting in less engagement and poor motivation.
On the other hand, a robust wellness program that can be tailored to each participant can make a measurable difference.
And that's exactly what employees want: according to a recent survey by Aon Hewitt, 35% of survey respondents want tips and reminders that are customized to their goals and situations, helping them build new healthy habits.
Help make that connection by ensuring you're providing wellness opportunities that span a variety of topics, like couch-to-5K programs, seminars on work-life balance, lunchtime meditation sessions, cooking lessons in the cafeteria, and retirement planning seminars.


Mythbusting Made Easy With the Right Wellness Program
It's not easy to separate truth from fiction when it comes to wellness programs; after all, a program's success depends in large part on how customizable it is, how strongly it's embraced by leadership, and how engaging it is for participants.
That's why at WellRight, we take the time to build relationships with each of our clients, learning about your employees' goals and expectations, and then designing a program to help you meet your goals. We offer hundreds of program challenges—covering everything from emotional wellness, purpose, and fitness—which means we can help each of your employees find that challenge that's right for them.
If you'd like to learn more about how a wellness program could benefit your company, watch a replay of our recent webinar, "Do Wellness Programs Work?" and then contact our team of experts to get started.