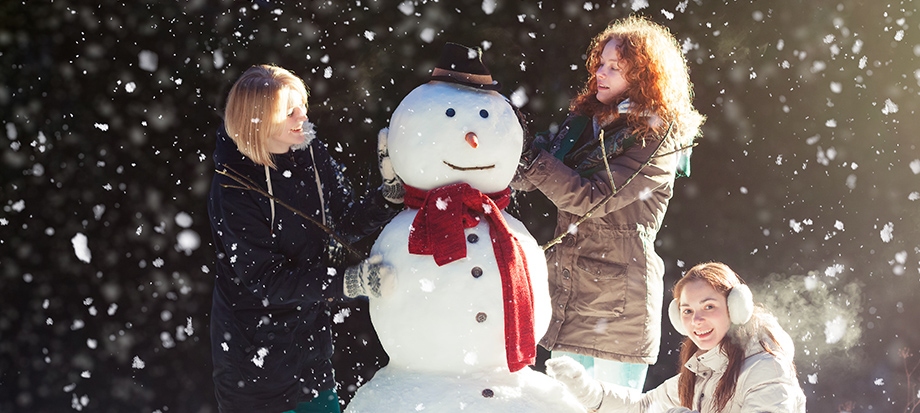 Sometimes, wellness is easy.
When the weather is balmy and there's a breeze in the air, it's a joy to get outside and go for a walk or a bike ride, to have more walking meetings, and to find extra opportunities to get moving.
When the temperature falls to single digits, and the sidewalks are a mess of slush, snow, and ice? Getting outside gets a lot less appealing.
Fortunately, we have some great ways to keep employees moving throughout the winter months.
Here are 8 cold-weather wellness challenge ideas to keep you and your team moving:
Build a snowman

Go snowshoeing

Try cross-country skiing

Have a sledding party

Do an indoor fitness class

Host some cooking lessons

Turn stairwells into Mount Everest

Practice hygge
1. Build a Snowman
If the snow is nice and sticky, get your team to bring out some scarves and hats, grab a few carrots from the staff kitchen, and have a snowman-building contest. Not only does this activity give employees the multiple benefits that play can bring, it also counts as a cardiovascular and strength-building activity. When employees team up to roll a giant ball of snow around, they'll be having so much fun, they won't even realize how hard they're working.
2. Go Snowshoeing
If your office isn't far from a field or trailhead, consider renting some snowshoes and going for a walk! Snowshoeing is a marvelous way to get out into nature during the colder months and is one of the easier winter sports to master, especially with today's lighter, narrower snowshoes. Add poles, and snowshoeing provides a full-body workout, which can vary from a gentle stroll to a strenuous run. (And it definitely counts towards WellRight's Arctic 500 challenge, which encourages employees to exercise outdoors for 500 minutes in a 30-day period!)
3. Try Cross-Country Skiing
Many parks and nature areas have groomed cross-country ski trails, and for good reason: skiing is a serene and meditative sport that also provides a uniquely beneficial workout: Researchers have found that even compared to other lifelong endurance athletes, cross-country skiers were about 40% fitter. If you have access to trails, organizing a weekly cross-country ski outing for employees is a great way to boost their winter wellness.
4. Have a Sledding Party
Many of your employees haven't gone sledding since they were kids (or adventurous college students sliding downhill on cafeteria trays), but that doesn't mean they can't recapture the magic of flying down a snowy hill. Trekking back up the hill provides plenty of exercise, while the thrilling ride back down makes that trek worthwhile.
5. Do an Indoor Fitness Class
No matter how magical outdoor activities are, sometimes the weather is simply too miserable to enjoy being outside. On those days when ice pellets are hitting the windows and the ground is a mushy mess of slush and ice, why not provide an indoor oasis with some yoga, a fun dance class, or some strength training? The easier and more convenient you make it for employees to stay active during nasty weather, the more likely they are to stick to their wellness routines.
6. Host Cooking Lessons
In winter, not only do we like to hibernate like a bear, we have the appetite of one. Instead of opting for lighter fare like fish and salads, wintertime often brings the desire for heavier, fattier meals accompanied by huge slabs of bread. So, why not arrange a winter cooking class for your employees? Consider fare from spice-loving and veggie-loving cuisines, such as Jamaican, Indian, or Thai, giving your employees a way to warm their bellies while still eating healthfully.
7. Climb Some Stairwells
Taking the stairs instead of the elevator is a practical and easily-accessible way to stay fit, but it can get a bit boring after a while. Instead, turn it into a fun winter challenge: Mount Everest has an elevation of 29,029 feet. The average flight of stairs is 14 feet in elevation. That's 2073 floors. Start the challenge now, and see if your employees can climb Everest by the time summer rolls around again. If you own your building (or your landlord allows it), motivational photos of Mount Everest in the stairwell can help keep people motivated.
8. Practice Hygge
The dark and dreary winter months can do a real number on employees' emotional wellness. Fortunately, Denmark has a solution: hygge (pronounced Hue-Guh). Hygge is the art of cozy well-being and contentment with the simple things in life, and is a marvelous way to improve wintertime emotional wellness. Make your workplace hygge-like by adding attractive LED candles, cozy throws, and cushions in gathering areas, and access to comforting drinks like herbal teas and warm ciders. An electric fireplace in a break room can add an even cozier touch, giving staffers a calm and restful place to relax or meet.
When business casual involves long underwear, the snow is flying sideways, and the sun sets at 4:30pm, it can be difficult to stay focused on healthy habits. But, by providing a wide range of options and activities to your employees throughout the winter months, you can help ensure that their engagement in your wellness programming will stay strong all year long.