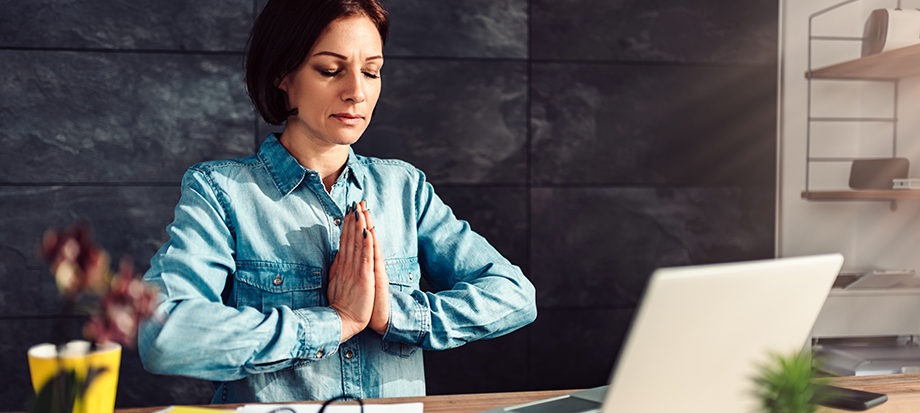 June is National Employee Wellness Month, and what a strange month it will be. Typically, this time of year is all about finally getting out of doors after a long winter and rainy spring. It's about going on weekend trips and family vacations for some much-deserved rest and relaxation. Summer is, usually, the season of wellness.
This year is different. Workplaces have been closed for months. Access to gyms, parks, and beaches has been restricted. Even as some businesses and public facilities reopen, people are anxious about going out again—a full 15% of Americans indicated on a May 26 Statista poll that they were afraid to leave their house. Many are fretting about the economic toll the COVID-19 pandemic has taken on their families while also worrying about the virus itself. Indeed, as of April, the lion's share of Americans are either very or somewhat concerned about the virus.
Emotionally, your employees are on edge. Physically, they're worn out. Is now even the right time to celebrate wellness in the workplace?
Yes! Employee well-being matters now more than ever. These are immensely stressful times, and when your employees are overstressed, their productivity falters, their engagement drops, and their creativity plummets.
More importantly, when people are stressed, they tend to make unhealthy choices to compensate. They overeat, neglect exercise, sleep poorly and even turn to alcohol and drugs. This behavior feeds back into a loop of unhealthiness that leads to chronic diseases such as depression, obesity, high blood pressure, and gastrointestinal issues.
Well-being is all about learning to make healthy choices to manage stress and to flourish in every aspect of our lives.
If the COVID-19 pandemic has taught us one thing, it's that life is unpredictable. Even the most carefully planned and managed life is not immune to unexpected forces. But by prioritizing wellness, your employees can be ready to handle whatever life throws at them, whether it's a public health crisis, an economic downturn, or the next pressing work deadline.
So, let the celebration begin!
Here are some ideas for celebrating National Employee Wellness Month this June. Each idea addresses one of the six key dimensions of well-being: emotional, financial, occupational, social, physical, and purpose.
Emotional Well-being: Teach Mindfulness
Emotional resilience—the capacity to calm your mind after a difficult experience—will serve your employees well right now in the workplace and their personal lives.
One of the ways you can help your employees gain emotional resilience is through mindfulness exercises. Mindfulness teaches us to be present in the moment, acknowledging our thoughts without judgment. When stressful situations occur, mindfulness helps us approach them rationally, without forming wild ideas about the future.
Mindfulness is also easy to teach to a remote workforce. There are plenty of skilled mindfulness educators who would be happy to lead online workshops with your employees. The great thing about mindfulness is all you need is a quiet space to meditate and a comfortable place to sit.
Financial Well-being: Provide Resources
Money is a huge source of stress for most Americans even in the best of times. Now, as the economy threatens to dip into a recession or even a depression, financial stress is higher than ever.
We recently wrote about helping your employees manage financial stress brought on by the COVID-19 pandemic. As an employer, you can serve as a trusted source of information and resources in these uncertain times. You can provide coaching on topics such as making a budget, creating a savings program, avoiding scams, and navigating state and federal financial benefits.
Occupational Well-being: Focus on the Future
Employees become disengaged when they feel their jobs are dead ends, with no hope for advancement or professional growth. Occupational wellness is a sense of satisfaction with our work. It also includes satisfaction about the potential of our jobs, that they will lead to something even more fulfilling down the road.
This month, encourage your employees to think about what they want their jobs to look like when they return to the office (or even if they continue working from home permanently). This pandemic has made many companies realize that there may be other, more flexible ways to do business, so employees should feel free to share their thoughts and aspirations with supervisors who can help them work toward their goals. Life coaches can also help your employees reach for the job of their dreams.
Social Well-being: Host Virtual Events
This is what we're all missing right now: human connection. We all grumble about work from time to time, but we tend to overlook what a valuable source of social support our colleagues can be–until they're not around.
Companies may have to try a little harder to bring remote workers together socially, but it can be done. Some ideas include:
An online happy hour.

Online games such as trivia, board games, or escape rooms.

Virtual dance parties.

Virtual walk and talk.
Especially now that things are starting to reopen, you might even consider socially-distanced outdoor activities, such as meeting for a walk or playing lawn games.
Physical Well-being: Introduce a Wellness Challenge
Experts agree that one of the best ways to manage stress is to get some exercise. Exercise reduces stress hormones and stimulates the endorphins that combat depression and anxiety.
The beginning of summer is the perfect time to launch a new wellness challenge at your workplace. Even though your employees are working from home, they can still work together to achieve fitness goals. A steps challenge, for example, will get your employees out in the fresh air, burning off calories and their worries as they walk.
Purpose: Encourage Mission Statements
Setting goals is easy. Achieving goals takes hard work, discipline, and the resilience to bounce back from setbacks. That's why it's essential to not just have a goal, but to have a purpose reminding you why the goal matters.
For example, quitting an addictive habit like smoking is physically and emotionally draining. If you're just doing it to please your doctor, you might not have the drive to push through the cravings. But if you know you're doing it to be there for your children, you'll have the motivation to carry on.
You can help your employees find their purpose this month by encouraging them to write mission statements. This video explains how the process works.
Enjoy Employee Wellness Month!
We hope these suggestions inspire you to celebrate National Employee Wellness Month at your workplace. We know this is a tough time to think about celebrating anything, but we believe a touch of positivity and fun can bring some light to even the darkest times.