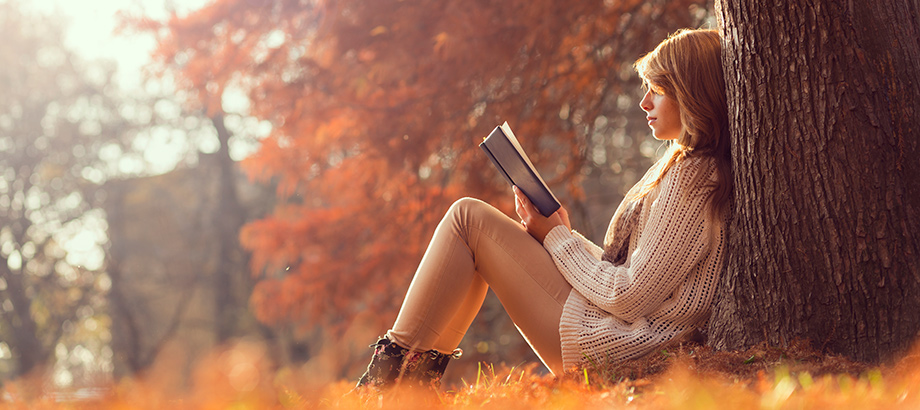 The change of seasons may be a little bit harder to recognize this year. In many areas, the kids aren't going back to school full-time. Traditional events like Halloween and Thanksgiving may look quite different. Football season is opening to empty stadiums.
Yet, fall is happening, nevertheless. The air will get crisp, the leaves will change, and the coffees and candles will be pumpkin spiced.
You can help your employees feel the seasonal shift—and along with it, a bit of normalcy—by introducing some new wellness challenges to change up their routines for the fall.
Traditionally, we focus on improving ourselves in January. But why not give your employees a head start this autumn, with wellness challenges centered on the six dimensions of wellbeing: emotional, financial, occupational, social, physical, and purpose?
Here are some of our favorite fall wellness challenges, each of which can be done from home while social distancing.
1. Purpose Challenge: Coming Soon – Anticipate Today
In challenging times, it's easy to overlook the good things that happen in our lives. The Coming Soon challenge invites participants to acknowledge that, even in the depths of the COVID-19 pandemic, it's not entirely (or even mostly) bad.
Each morning for 30 days, participants write down something they're anticipating in the next 24 hours. If they can't think of anything, the challenge is to adjust their schedule to add something they will enjoy, such as a favorite meal or time to work on an enjoyable project or hobby.
Simply anticipating something can be just as satisfying as actually experiencing it. The Coming Soon challenge will allow your employees to enjoy their best daily moments twice.
2. Emotional Challenge: Excuse You – No Blaming
Feeling resentful toward others has been scientifically demonstrated to impact physical and emotional health. Anger and bitterness are associated with high blood pressure, heart disease, headaches, fatigue, and elevated stress. But unfortunately, it's so tempting to blame others when things go wrong in our lives.
The Excuse You challenge involves going 30 days without blaming others. Sound impossible? Well, it's a skill, and participants will get better at it as the month progresses.
As they learn to stop blaming others aloud, eventually, participants will stop casting blame in their minds, as well. The outcome is a sense of liberation that comes from knowing they control their own lives.
3. Financial Challenge: Money Smart – Read a Financial Book
Fall is the perfect season for reading. The weather is just right for cozying up indoors with a good book or putting on an audiobook while you walk outside in the cool air.
The Money Smart challenge says, as long as you're reading this season, why not brush up on your financial literacy? There are a number of excellent financial self-help books available. If participants don't feel comfortable going to a library or a bookstore, they can download a digital book.
Financial health is a lot like physical health; it takes practice to build good habits. And there's always room for improvement. Your employees can significantly reduce the stress in their lives by learning to make smart choices with their money.
4. Physical Health: No Snoozing – Don't Press Snooze on Your Alarm Clock
The title of this challenge is self-explanatory. Just don't hit snooze! Punctual waking sets the groundwork for a successful day.
Of course, rising without snoozing is often much easier said than done. If employees find it challenging to get up without hitting snooze, they may realize they need to get to bed earlier (and turn off their electronics earlier). They can also use the week before the challenge to cut down to just one snooze session instead of three (or more). The science is indisputable: a good night's sleep is critical for good health.
5. Social Challenge: Inspire Me – Learn from Others
An extended period of working from home can make anyone a little self-absorbed. The Inspire Me challenge invites participants to rediscover the value of the people in their lives.
The challenge is to write down one thing someone did to inspire you each day for 30 days. It could be a colleague who responded well to a tough situation, a family member who went above and beyond, or even a complete stranger who showed unexpected kindness.
In addition to being inspired, this challenge will help your employees feel a deeper connection to people and the world in general. Their stuck-at-home lives will become less mundane, and their burdens will feel lighter. And as they draw inspiration from others, your employees may become motivated to act in inspiring ways themselves.
6. Occupational Challenge: Paper Less – Avoid Using Paper
Paper printouts are a staple of office culture, but are they always necessary? We know the demand for paper is a significant contributor to deforestation worldwide (which, in turn, leads to more greenhouse gases in the atmosphere). A decrease in paper usage is a boon for the environment and a strong first step towards limiting your overall ecological impact.
We've all learned how to work differently during the pandemic, so switching from paper to digital alternatives should be a smooth transition. The Paper Less challenge invites participants to take notes electronically, maintain to-do lists on their phones or computers, use revision features to provide feedback on documents, and opt for emailed receipts when shopping.
Autumn usually brings festivals, football, and long drives to see foliage. Whether those things will happen or not is still up in the (increasingly crisp) air. But at least your employees can take this time to engage in some fun new wellness challenges that will set them up to be their best selves in 2021 and beyond.
Did you enjoy these fall wellness challenge ideas? Find 98 more in our free ebook, "104 Challenges: Become the Best You."