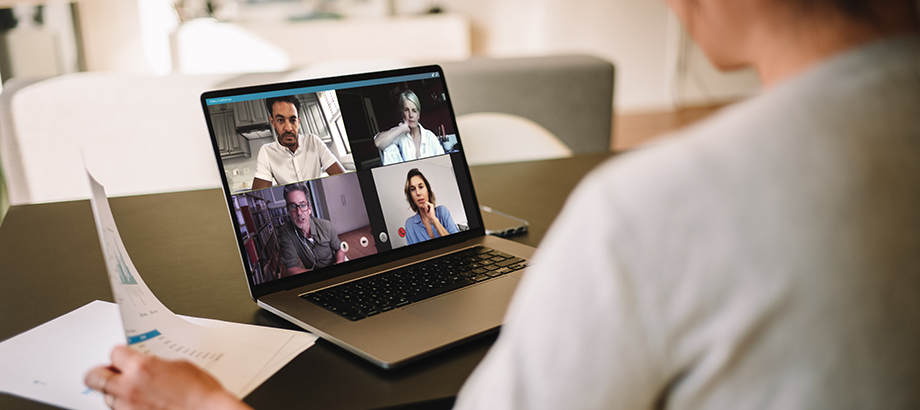 Is digital technology good for employee mental health, or does technology inflict more emotional harm than it alleviates?
It's a surprisingly nuanced question, and one that couldn't be more relevant these days, as millions of workers around the globe have been uprooted from their customary office workspaces and now find themselves working from home.
The COVID-19 pandemic lit a fire under a movement that was already underway among America's white-collar workers: a shift toward remote work. Experts say the pandemic has obliterated any stigma that remained about working from home, meaning that many jobs that became remote during the pandemic will remain so.
Of course, a working-from-home economy wouldn't be possible without modern technology. The latest collaboration platforms—along with "old" communication tools such as email, texting, and cellphones—allow distributed workforces to share tasks over long distances, hold meetings virtually, and even engage in watercooler chat from their home offices.
We know this tech can make work easier. But what is it doing to our employees' mental health and emotional well-being?
On one hand, this collaborative technology can encourage an always-on, always-connected lifestyle that's tied to higher levels of stress, anxiety, and ultimately, burnout among employees.
On the other hand, technology can be a positive force for wellness and mental health, giving harried workers access to resources and educational tools that help them manage stress, burn off steam productively, and make healthier choices.
So, which is it? Overall, does technology benefit or detract from employee wellness?
Technology and Employee Mental Health: The Data
As luck would have it, we don't have to guess, thanks to a timely study performed by Aetna International in March, 2020 … just as millions of workers were settling in to work from home for the duration of the pandemic.
Aetna polled over 4,000 employees of mid- to large-sized businesses across the UK, the U.S., the UAE, and Singapore. The data revealed interesting insights into how companies can use technology to promote employee mental health.
The key takeaway: Technology is neither entirely harmful nor entirely beneficial when it comes to the mental well-being of employees. It's all in how it's used.
The most effective employers recognize the toll that constant connectivity takes on employees. These employers invest in innovative wellness technology to help their employees unplug, recenter, get healthy, and access help when they need it.
Using the Aetna study as evidence, here are four ways technology is impacting (or can impact) the mental health of your employees.
1. Workers Recognize Overuse of Certain Technology Can be Harmful
If you check your phone for work-related messages first thing in the morning or just before you go to bed, you're not alone. About two-thirds of the Aetna study's respondents reported doing the same.
A similar share of respondents told the survey:
They would exercise more if they spent less time on their PCs (70% of respondents).
PC use has damaged their eyesight (64%).
They check their phones on weekends and holidays for work-related messages (65%).
They worry they use their phones too much (64%).
That last statistic reveals a majority of workers are aware of the dangers of the always-on mindset. Indeed, 56% of respondents agreed, "a reliance on and overuse of communication platforms increases stress."
How can you help as an employer? This statistic may have the answer: 76% of survey participants agreed restrictions on out-of-hours use of work-related technology could help them manage their health better.
Employers can set a healthy tone for employees by making it clear (and modeling from the top down) that employees are not expected to be available all hours of the day. Time away from communication technology should be encouraged.
There are several fun wellness challenges that can help, such as "Wire Less," which encourages participants to put down their phones at least an hour a day for 30 days.
2. Technology Is Helping Employees Manage Their Time
While work technology can make demands on your employees' time, it can also help them make the most of their workdays. Being more productive, communicating quicker, and accessing information faster can help employees meet their deadlines and stress less.
In Aetna's study, an overwhelming percentage of respondents—80% or higher—said technology enables them to complete simple tasks quickly, provide support across different locations at busy times, and communicate better with colleagues.
84% of survey participants agreed technology enables them to work remotely and balance life and work.
About three-quarters of survey participants said technology lets them manage their time and workloads better, therefore reducing stress and leaving more time for exercise.
The clear message is that most of your employees do not see technology as a threat to their mental health. They believe technology will help them take control of their busy lives.
You can help your employees harness the time-saving power of modern technology by providing time-management workshops and offering wellness challenges that encourage digital organization.
3. Workers Think Technology Has the Potential to Improve Their Physical Health
The Aetna researchers write, "Employees clearly believe that technological innovation and digital tools and services could further help them to improve their health."
Many workers would eagerly embrace digital health solutions offered by their employers:
82% would use or currently use a fitness tracker.
65% would use or currently use video coaching.
76% would use or currently use apps that provide physical health tips and tracking.
The COVID-19 pandemic has temporarily closed gyms, canceled yoga classes, and forced running clubs to adapt. Fitness has gone virtual, and your company can help your employees keep up with their goals by integrating fitness trackers and apps into your corporate wellness program.
4. Employees Look to Digital Resources to Manage Their Mental Health
Mental health counseling fits well with a work-from-home lifestyle. There's no need to visit a counselor in person to benefit from their support and advice.
Prior to the pandemic, many employers were already offering access to mental health resources online. The shift toward remote work may make remote counseling even more common. It's clearly something employees want:
In the Aetna survey, 61% of respondents said their employer could help them manage their mental health through workplace technology.
69% said they currently or would connect with mental health counselors by phone.
66% said they currently use or would use video-based mental health coaching.
People are feeling isolated these days, cut off from many of their friends and loved ones. A sympathetic ear or a word of encouragement may be hard to come by.
You can help your employees make the human connections they miss by choosing a wellness program that includes free unlimited online life coaching for employees and their families.
The Opportunity Is Now
The Aetna report concludes by noting that today's employers "face a once-in-a-generation opportunity to rewrite existing practices and transform the way their workplaces operate."
The COVID-19 pandemic has shone a bright light on how we do business, making companies take a good long look at what they can do to make their workplace more welcoming, more empathetic, more productive, and more human. Technology, for good or for ill, will play a large role in this shift.
By keeping employees' mental well-being at the forefront, employers can tap technology's unlimited potential to help people live their best lives, at work, at home, and where the two come together.
If you're ready to start discovering how the latest technological solutions can improve your employees' mental health, contact WellRight today.